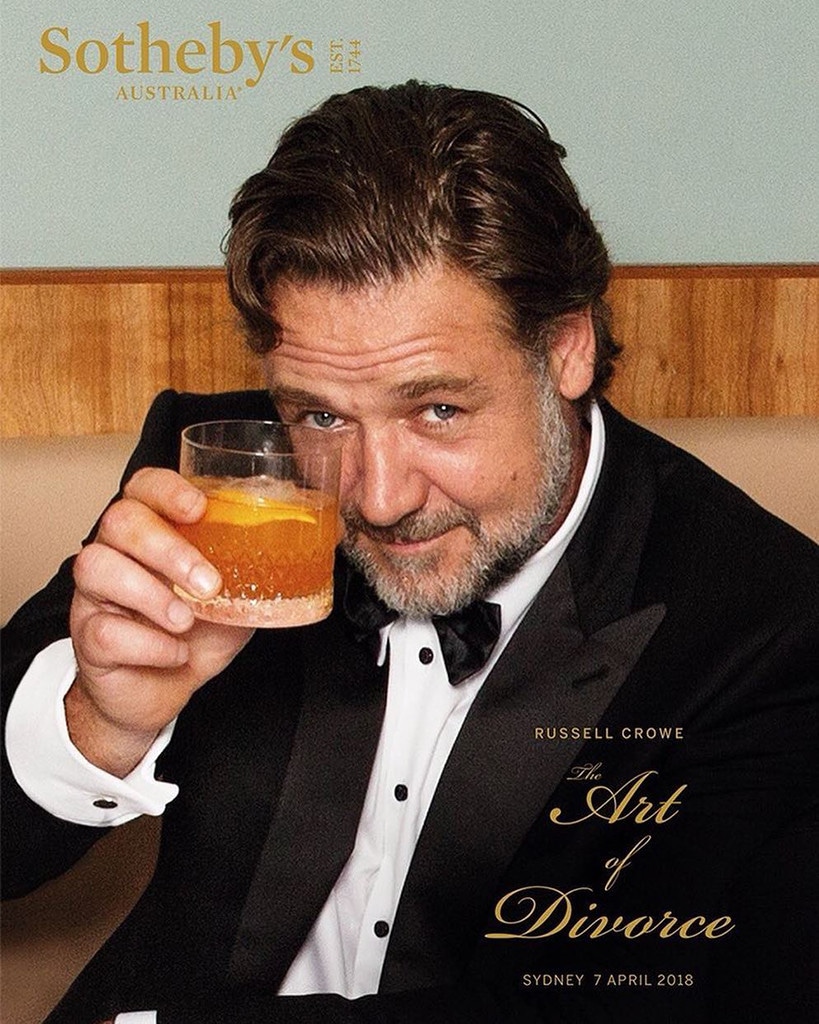 Sotheby's Australia
Not bad for less than a day's work and only a decade of memories!
More than five years after splitting from his wife of nine years, Russell Crowe is almost officially divorced, but before all that's said and done, the Aussie actor's pulled an unusual move to mark the end of his marriage—with an auction called "The Art of Divorce." Turns out that one of the most popular items up for auction was a leather jock strap from his 2005 film, Cinderella Man, which went for $7,000.
In addition to the high-priced support wear, the superstar sold off some of the treasures, including art, furniture and keepsakes from his time with soon-to-be ex-wife Danielle Spencer.
On April 7 (which is both the actor's birthday and wedding anniversary), Sotheby's Australia auctioned off 200 items from the Oscar winner, including movie memorabilia, art, and furniture to the highest bidder. The event was live-streamed on Facebook.
Afterwards, Crowe took to Twitter to tell his followers that the auction brought in nearly $4 million.
The Gladiator star tweeted, "In case anyone is interested ... $3.7m at the coal face and around $350k of conversations ongoing."
According to Sotheby's website, "The sale represents the dispersal of a highly personal collection that was assembled by Crowe over many years, including those shared with his former wife, Danielle Spencer."
Sotheby's continues, "The Russell Crowe Collection comprises important paintings by some of Australia's most significant historic, modern and contemporary artists, furniture, movie memorabilia, musical instruments, watches and sporting memorabilia."
On Friday, Crowe told Good Morning Britain that the jock strap was "one of the most popular items" ahead of Saturday's aucution.
He said it was put in as a joke, "It was my jock strap when I won the heavyweight championship of the world as the character James J. Braddock in the film Cinderella Man. I put it in the collection as a piece of whimsy and a bit of a gag. Funny enough, it's garnered a lot of attention."
In addition to the pricey jock strap, one notable piece was the molded polyurethane "armor" that Crowe wore in Gladiator, which was estimated at $20,000-$30,000, but sold for $125,000.
Other items from the Ridley Scott-directed film went for the most money. An aluminum prop sword and spare blade combo sold for $70,000, a Roman chariot replica got $65,000 and a pair of black leather wrist cuffs fetched $32,000.
The item that sold for the most money was Charles Blackman's 1960 painting "The Suitor," which earned $360,000.
BEN RUSHTON/EPA-EFE/REX/Shutterstock
George Pimentel/WireImage
Despite splitting in 2012, Crowe and Spencer have still been legally married. In 2015, Crowe told The Sunday Times he still loved his estranged wife.
"I've loved Danielle Spencer since 1989—that's never going to change—and that's one of those things where I stare at her and go, 'How did it fail?' I still can't work it out, because my feelings for her have never changed."
When asked about the chances of them rekindling their relationship, Crowe added, "Once I commit to something, I stick with it, so you never know."
But it seems that relationship has sailed.
Crowe and Spencer have two children together, sons Tennyson, 11 , and Charles, 13.