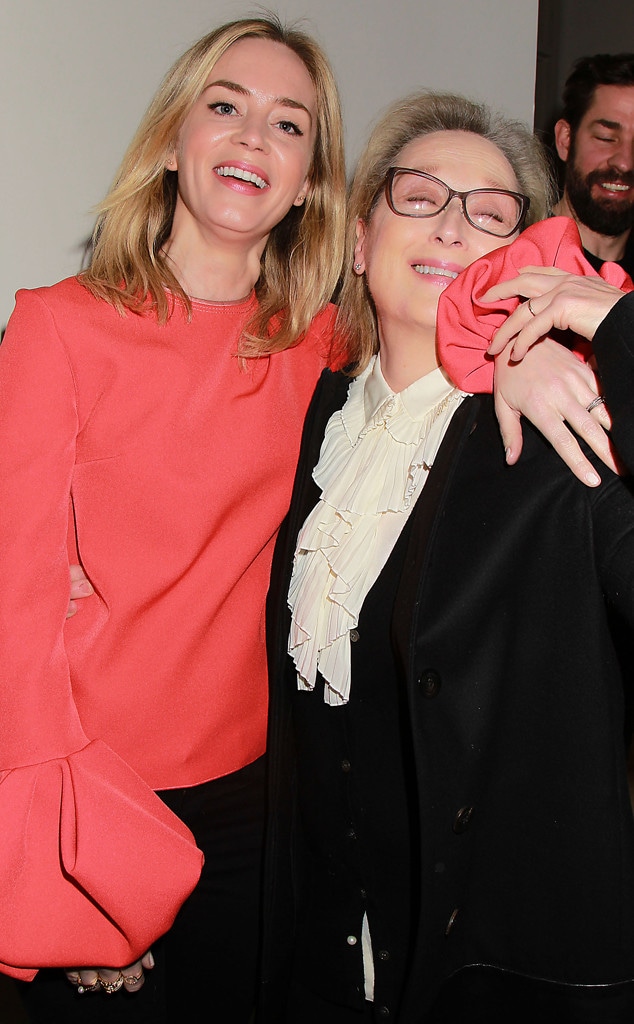 Dave Allocca/Starpix/REX/Shutterstock
When an acting icon like Meryl Streep gives you a compliment, it's enough to make you cry of happiness. 
Just ask Emily Blunt, her co-star from the beloved 2006 rom-com The Devil Wears Prada. As fans well know, Blunt played lead assistant to Streep's cutthroat character, Runway Editor-in-Chief Miranda Priestly. 
While the star kowtowed to Streep on screen, behind the scenes, the Oscar winner was cheering her on.
"There was this crazy moment when I wrapped and I remember seeing her across the parking lot," Blunt recalled to Sunday Today's Willie Geist. "She burst out of her trailer—the wig was off. She was just Meryl. She was in a puffy jacket. She was like, 'You were so great' and I was just like [crying] and I just started to weep. It was sad."
Michael Loccisano/FilmMagic
While Blunt may have been weepy, Streep thought she had been "so funny." After the exchange, the tears followed Blunt home. 
"I just was crying the whole way home," she told Geist. "I didn't realize how much her sort of stamp of approval would mean."
More than a decade ago, Blunt was a rising star and the film turned her into a familiar face. 
Though she and the rest of the cast—including Anne Hathaway and Stanley Tucci—have had continued success since their Prada days, Blunt is hesitant to return to Runway. 
"If everyone did it I would be up for it," she recently told People. "I almost hope it doesn't [happen] because I think sometimes when you sequel everything kind of dilutes how special the original is."
Her silver screen sidekick has expressed similar sentiment. "Should there be [a sequel]?" Hathaway asked in an interview with Variety in 2016. "I'd love to make a movie with all the people again that's something totally different. But I think that one might have just hit the right note. It's good to leave it as it is."
The extended interview airs Sunday on NBC. 
(E! and NBC are both part of the NBCUniversal family.)