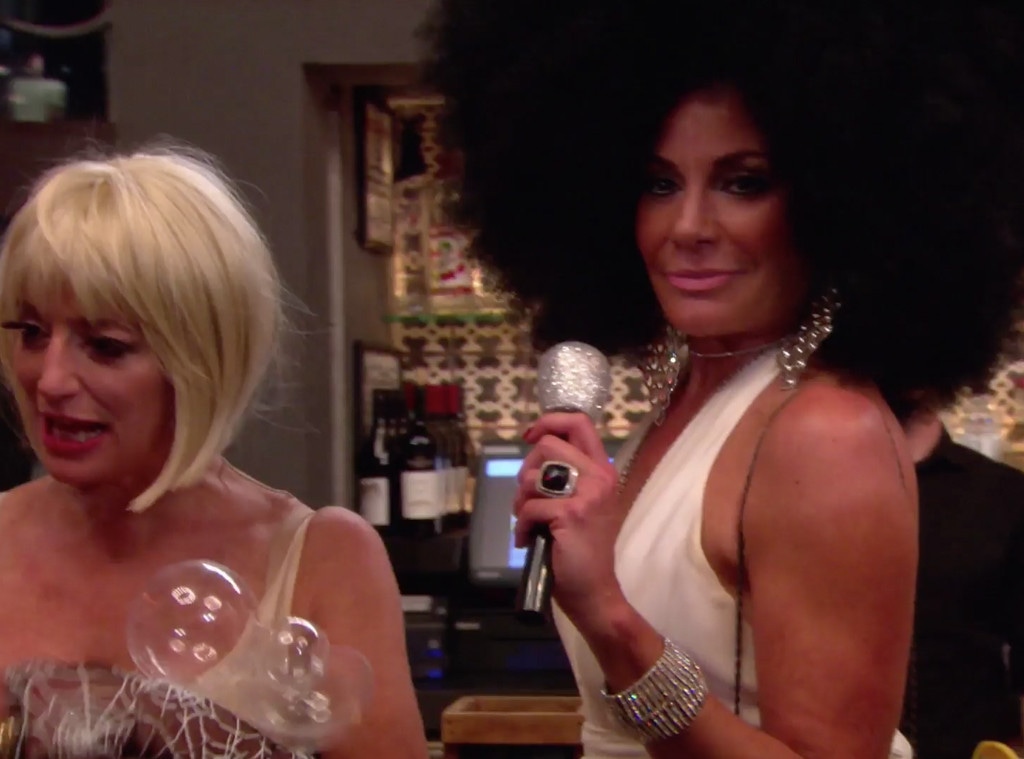 Bravo
Luann de Lesseps made an unintentional splash in The Real Housewives of New York City season 10 premiere. Luann attended Dorinda Medley's Halloween party as Diana Ross, complete with a large wig, and appeared to alter her skin color. Viewers on Twitter took issue with Luann's costume, but Luann denied charges she altered her skin color and appeared in blackface as part of her costume.
"I would like to clear the air, I love and respect Diana Ross, this was my tribute to her I was showing my sincere admiration. I in no way altered my skin color and I did not mean to offend anyone," Luann tweeted.
The reality star also addressed the controversy on Watch What Happens Live with Andy Cohen. On the late-night talk show she told Real Housewives executive producer and WWHL host Andy Cohen she reiterated her claims that she did not alter skin color for her costume.
"I'm horrified, meaning I never meant to hurt anybody's feelings…I love Diana Ross and I totally respect Diana Ross…and I was really kind of a tribute to her…it was Halloween," Luann said.
Andy pressed the issue that it looked like she altered her skin tone to match that of Diana Ross. "No, I didn't. I had bronzer on that I wear normally, like the rest of my skin. I'm tan like right now, so I didn't add anything to or try to do…would ever, ever dream of doing a blackface ever. So, I'm very sorry to everyone out there if I offended anyone," Luann said.
"I'm surprised anyone noticed skin when she had a 60-foot afro," fellow WWHL guest Jackie Hoffman cracked.
"I respect Diana Ross, I think she's fabulous and it was really my little tribute to her," Luann said.
The season 10 premiere of RHONY only featured Carole Radziwill addressing Luann's costume choice.
"Luann's costume is so disrespectful. I think she's tone-deaf when it comes to cultural stereotypes. She's generally tone-deaf, anyway," Carole said.
Watch What Happens Live airs Sunday-Thursday, 11 p.m. on Bravo. The Real Housewives of New York City airs Wednesdays, 9 p.m. on Bravo.
(E! and Bravo are both part of the NBCUniversal family.)