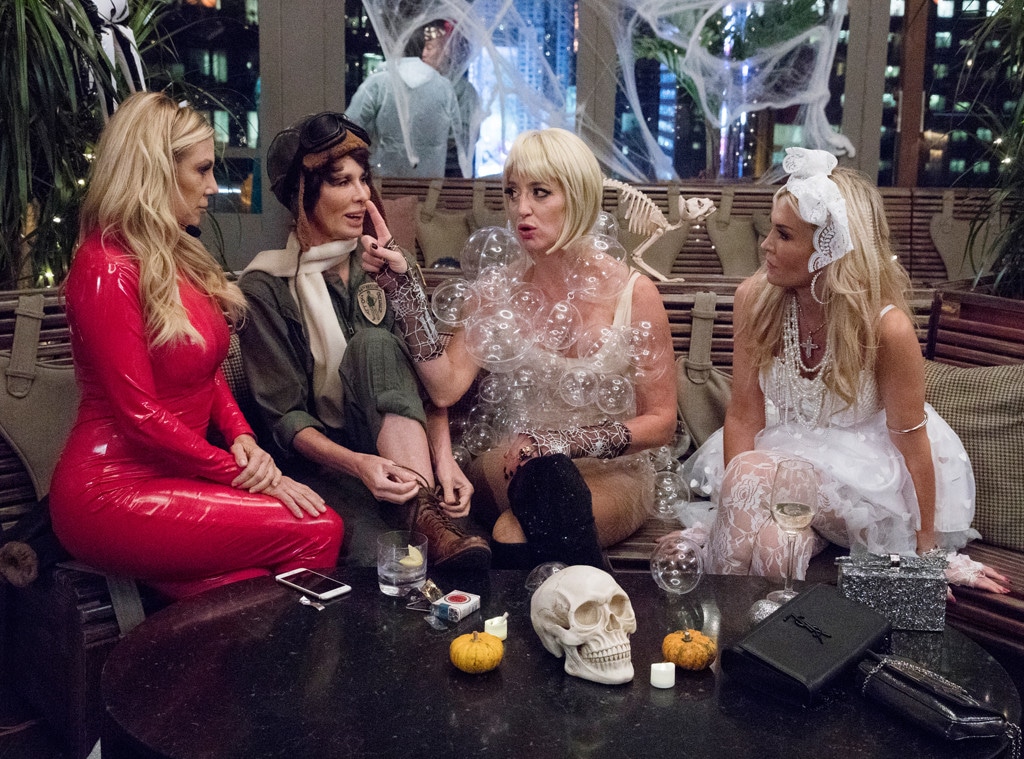 Bravo
Oh how nice it is to have the ladies of the Big Apple back for The Real Housewives of New York City season 10. Bethenny Frankel, Dorinda Medley, Carole Radziwill, Sonja Morgan, Tinsley Mortmier and Luann de Lesseps wasted no time getting into the drama at Dorinda's Halloween party. The drinks were orange, bubbly and flowing. The outfits were tight and the weaves were almost as big as the attitudes.
Let's break it down.
Dorinda Medley
Is there anything more perfect than Dorinda talking to her Halloween decorations? Yes, there is: It's drunk Dorinda trying to explain how she got her Lady Gaga costume made by way of Saturday Night Live, Andy Samberg and possibly Adam Sandler. Before she hosted her party—and got mad at Sonja for not greeting her as the host of the party—Dorinda hosted Luann for a post-divorce lunch.
Luann de Lesseps
Fresh off her divorce—this is in October 2017—Luann wasn't holding anything back.
"I had blinders on, I didn't want to see it," Luann said. She told Dorinda that Tom D'Agostino got worse when they got married. He was going out, meeting with old girlfriends—basically everything he was doing before he got married. "After a certain amount of time, everything the girls were saying was kind of true," Luann said. "Ultimately for me the last straw was the lack of respect…It didn't stop and I couldn't breathe…I was drowning. I suffered a lot, I really suffered a lot."
Luann said she's still texting Tom, but there is no temptation to reconcile. "Listen, I have no regrets," she told Dorinda. Luann showed up to Dorinda's Halloween party as Diana Ross, complete with a giant afro wig and just enough fake tan to question whether she did blackface.
"Luann's costume is so disrespectful. I think she's tone-deaf when it comes to cultural stereotypes. She's generally tone-deaf, anyway," Carole said.
None of the ladies actually call out the costume in the episode besides Bethenny saying Luann looked great. It was…probably not a wise choice by Luann.
Speaking of Carole, Luann was upset she never received a text from Carole about the whole Tom situation. Carole countered with the fact that she never ran around telling Luann he was a bad guy, she saw that as a respectful thing so why would she need to text after the breakup? And Lu never reached out after Carole and Adam called it quits on the labeled relationship (even if they're still having coffee and "having coffee").
Carole Radziwill
Carole and Adam are still hanging out, sexually and non-sexually, but they don't have labels. She's busy training for the New York Marathon. Her absence from Bethenny's charity dinner was noted by Ramona.
Bethenny Frankel
When the RHONY cameras started rolling, Bethenny was well into her B Strong disaster relief charity. Cameras followed her as she received an award and brought Tinsley and Ramona along. Her charitable efforts continue throughout the season.
"I'm proud of Bethenny. Yes we have our ups and downs and we have our moments, but this was an emergency so I gave as generously as I could," Ramona said.
"I didn't do it because I wanted it to be recognized, I did it just because I was good at it. And it has changed my life in an incredible way, I am so grateful," Bethenny said.
Bethenny also opened up about the loss of her beloved dog, Cookie. "That was rough," she said. "She had a great run. It was so loved…She was my family."
Ramona Singer
She's still in renovation mode on her homes, and possibly her friendships. According to Ramona, she reached out to Sonja several times, but has not connected with her BFF. What's the deal?
Later in the episode, Ramona showed up to Dorinda's dressed as Britney Spears, red bodysuit and call.
"If she can show her tits and camel toe, she's happy," Bethenny said about her costume.
Bethenny and Ramona went at it over where Bethenny's new property is located in the Hamptons. You know, typical things.
Sonja Morgan
According to Sonja, she's been traveling around Europe, been taking anti-depressants and then went to Costa Rica to cleanse herself and drink raw juices. She's still dating Rocco, but Frenchie is gone. When she showed up to Dorinda's party dressed as Lucille Ball, she didn't make her way over to greet Dorinda—a party no-no, according to Dorinda.
Tinsley Mortimer
Tinsley and Carole traveled together this summer, but since the Spain trip she and beau Scott have called it quits. The distance is too much, but she still loves him. She's still living in a hotel and now has a tiny dog that pees on the floor. She too is wondering what the deal with Sonja is.
The drama continues Wednesdays, 9 p.m. on Bravo.
(E! and Bravo are both part of the NBCUniversal family.)