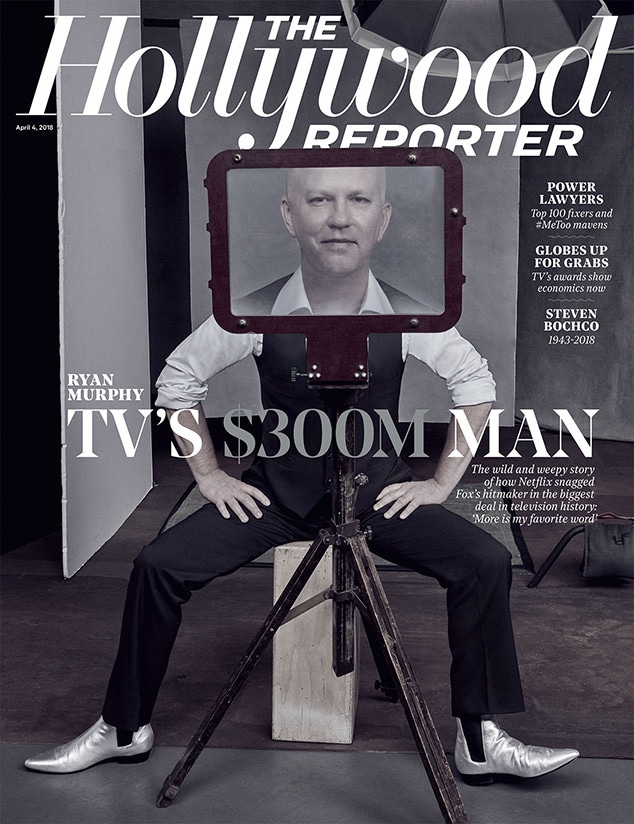 THR
Ryan Murphy is heading to Netflix, but that doesn't mean he's leaving behind his FX and Fox shows, including the wildly popular American Horror Story. Murphy revealed to The Hollywood Reporter (as part of their cover story on the producer) that he's "interested" in getting Oscar winner Anjelica Huston to join his star-studded troupe and is adding Joan Collins to the roster as well.
Season eight of American Horror Story is set in the future and will star Kathy Bates, Sarah Paulson, Evan Peters and probably many more of your AHS favorites, that's just an American Horror Story given now.
The buzzed about Coven and Murder House crossover of American Horror Story is also still in the works, Murphy previously told E! News. "You know everybody involved says they're really optimistic about it—that they would want to read a script and then everybody wants to bring the band back together..." he said. "So I think it could be great it could sort of be an all-star thing. Dylan [McDermott] said he'd be up for it, Connie [Britton] would be up for it. Angela [Bassett] said she'd be up for it. So we'll see. I'm optimistic about it."
As for American Crime Story, the third and fourth season are still up in the air. Plans for a season about Hurricane Katrina with Paulson set to star are still taking shape, but one topic ACS won't be tackling is Monica Lewinsky and President Bill Clinton.
"I told her, 'Nobody should tell your story but you, and it's kind of gross if they do,'" Murphy told THR. " 'If you want to produce it with me, I would love that; but you should be the producer and you should make all the goddamn money.'"
In early 2017, Murphy revealed his plans to adapt Jeffrey Toobin's A Vast Conspiracy: The Real Sex Scandal That Nearly Brought Down A President. The book chronicles the Lewinsky sex scandal that lead to the impeachment of Clinton.
"Sarah [Paulson] will be in it but she won't be playing Hillary [Clinton]," Murphy told us in February 2017. "That's earmarked for talks with somebody else. We're casting that now. I can't say what Sarah is playing, but it starts shooting at the end of this year."
Murphy has Pose in production for FX, 9-1-1 season two in the works on Fox, The Politician and Ratched at Netflix, and is still working out what the second season of Feud will be. FX previously announced the season would tackle the divorce of Princess Diana and Prince Charles.