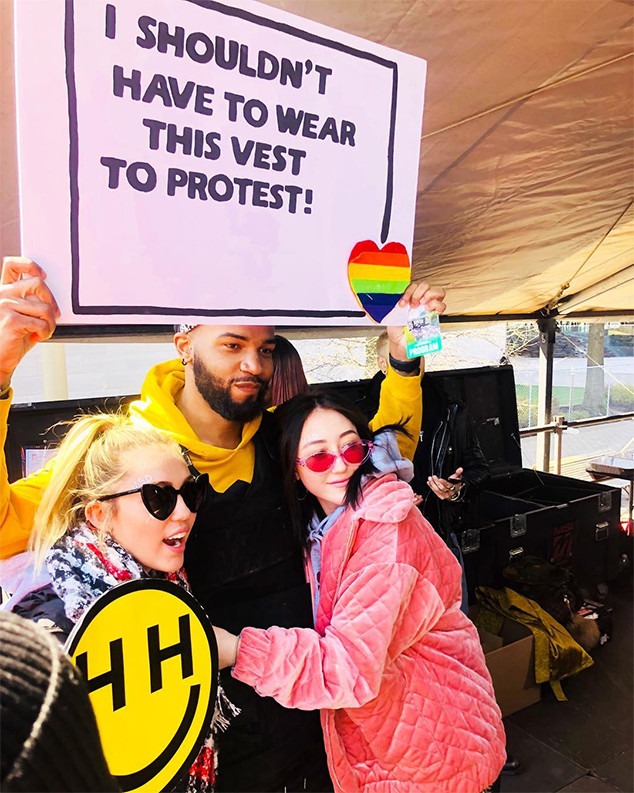 Instagram
Celebs such as Miley Cyrus, Demi Lovato, George Clooney and Amal Clooney, Kim Kardashian, Lady Gaga, Padma Lakshmi and Charlize Theron joined hundreds of thousands of students and other people at March for Our Lives rallies on Saturday to demand an end to gun violence.
The nationwide protests are aimed at toughening gun laws to help stop school shootings and other massacres. Teens organized the rallies after the February 14 mass shooting at Marjory Stoneman Douglas High School in Florida that killed 17 students and staff members.
"We hereby promise to fix the broken system we've been forced into and create a better world for the generations to come," Cameron Caskey, a junior at that high school, said in a speech at the main March for Our Lives event in Washington D.C. "Don't worry. We've got this."
The teen was among several fellow students who spoke out against gun violence at the rally.
"My grandfather had a dream that his four little children will not be judged by the color of their skin, but by the content of their character," said the late  Martin Luther King Jr.'s 9-year-old granddaughter Yolanda Renee King. "I have a dream that enough is enough. And that this should be a gun-free world—period."
The Clooneys attended that rally, as did singers Cher and Halsey, as well as many former stars of Parks of Recreation, who had a mini reunion. Kim and Kanye attended the Washington D.C. march with their 4-year-old daughter North West.
Cyrus, Lovato, Ariana Grande, Jennifer Hudson, Andra Day, Common, Hamilton creator Lin-Manuel Miranda and Dear Evan Hansen star Ben Platt performed at the Washington protest.
"Hello everyone, thank you so much for having me and I'm so excited to be here with all of you sharing our voices so we can be heard together," Lovato told the crowd.
She and Cyrus later posed for pics together.
"Been friends forever & happy to stand with you on important days like this!" Cyrus tweeted.
Miranda and Platt performed a mashup of two songs from their Broadway shows called "Found/Tonight" that they recently released as a single to raise money for the initiative.
"It's not about the second amendment, it's about children's lives vs money in the NRA's pocket," Lakshmi, who attended a demonstration in New York City, wrote on Instagram. "Enough. Is. Enough." 
Paul McCartney, whose Beatles band mate John Lennon was shot and killed in 1980, also marched in New York.
"One of my best friends was killed by gun violence right around here," he told CNN. "So it's important to me."
Amy Schumer, Yara Shahidi and Willow Smith appeared at the March for Our Lives protest in Los Angeles.
George, Oprah Winfrey, Steven Spielberg and producer Jeffrey Katzenberg have donated $2 million to the March for Our Lives movement, Reuters reported.
Madonna, who lives with her family in Portugal, posted on her Instagram page a video of four of her six children—David Banda, 12; Mercy James, 12; and twins Esther and Stella, 5—relaying a message of support to the marching students.
"We are inspired by you and stand with you," they said. "We are there for you in spirit all the way from Portugal. We support you and we demand and end to gun violence in our schools. Our voices cannot be silenced anymore. We have had enough. This can never happen again"
"We support you! We support you! We support you!" they said.