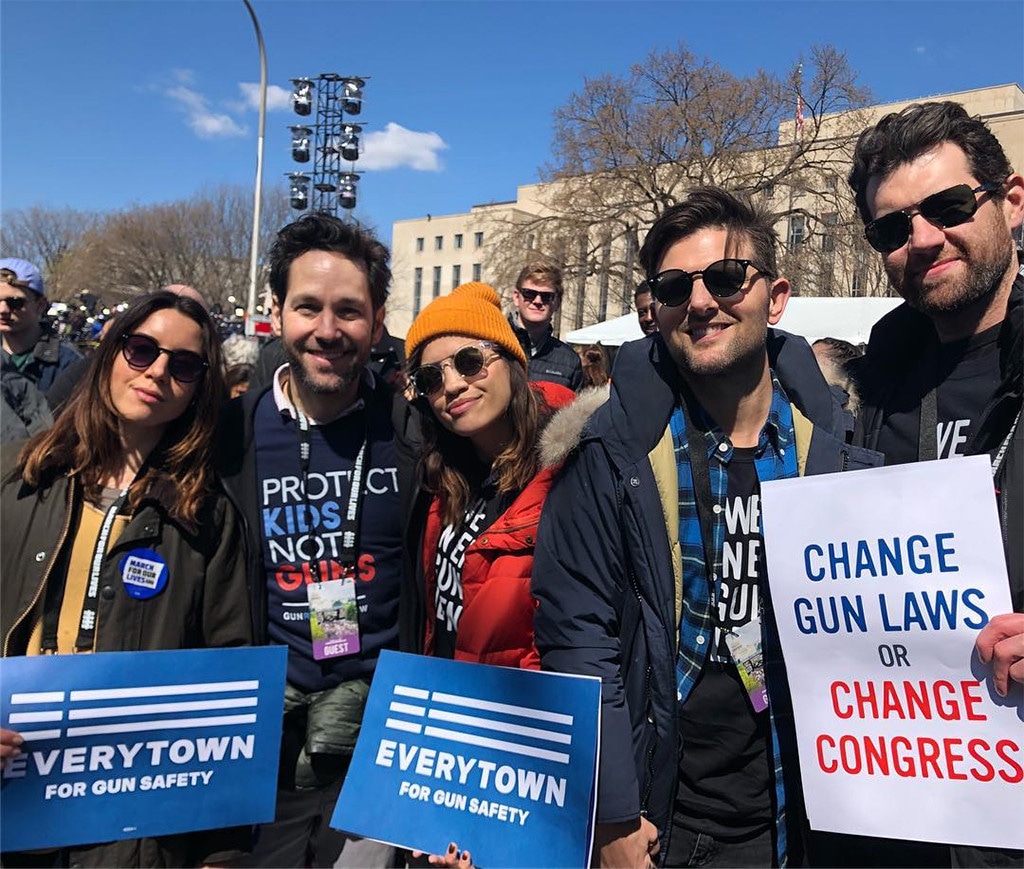 Instagram
Pawnee, Indiana came to march.
Many members of the cast of Parks and Recreation reunited on Saturday at the main March for Our Lives protest to end gun violence.
Natalie Morales, who played Lucy on the NBC show, posted on her Instagram page a photo of herself at the Washington D.C. event with past co-stars Billy Eichner (Craig Middlebrooks), Adam Scott (Ben Wyatt) and Aubrey Plaza (April Ludgate) as well as past guest star Paul Rudd (Bobby Newport). They held up signs that promoted the Everytown for Gun Safety movement as well as one that read, "Change gun laws or change Congress."
Rudd wore a T-shirt that read, "Protect kids, not guns."
Eichner reposted the pic, writing, "Enough. #ParksForParkland #MarchForOurLives @everytown."
The March for Our Lives protests, held in several cities, are aimed at toughening gun laws to help stop shootings, namely at schools, and were organized by teens after the February 14 massacre at Marjory Stoneman Douglas High School in Florida that killed 17 students and staff members.
Main Parks and Recreation star Amy Poehler (Leslie Knope) posted on her Instagram page a selfie showing her wearing a March for Our Lives Los Angeles T-shirt.
"We stand with you, young people," she said on Instagram. "I applaud your bravery and your incredible poise, and the fire that you have started will not go out. It will only get stronger, and we will help fan the flames."
Fellow Parks and Recreation alum Nick Offerman (Nick Swanson) posted on his page a selfie showing him wearing a T-shirt bearing the likeness of Poehler's character, which read, "Don't be a dope, vote like Knope...f--k the NRA."
He also said that until Monday, for every purchase made at his wood shop, they will donate $10 to the Everytown for Gun Safety movement. He also said they have already raised more than $4,000.
"Thank you all for your common sense and patriotism," he said.