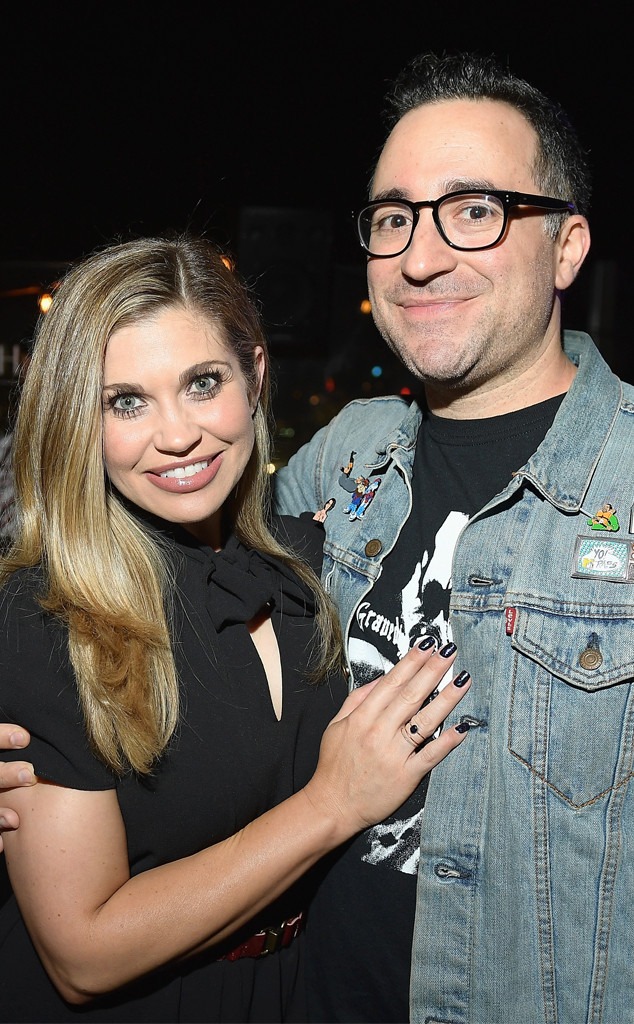 Matt Winkelmeyer/Getty Images for TBS
Danielle Fishel is officially off the market!
The 36-year-old Boy Meets World alum announced her engagement to Drop the Mic executive producer, Jensen Karp, on Instagram today.
"I woke up today thinking it would be a normal day and it was anything but normal," she wrote. "I put on my Genghis Cohen t-shirt and went to see @jensenclan88 at work where I proceeded to screw up a very romantic marriage proposal by being too efficient (this is very on brand for me). The future Mr. and Mrs. Karp are now engaged and no one is more excited than I am."
The show's co-host, Hailey Baldwin, also shared the exciting news on her Instagram story.
"We have a Drop the Mic engagement!!!!!!" Baldwin wrote, paired with a photo of Fishel and Karp.
While it's unclear how long the pair have been dating, Karp has been sharing photos of Fishel on Instagram since last June.
And back in November, Fishel uploaded a video with a heartwarming post on Instagram in honor of her man's birthday.
"I'm not fond of public happy birthday messages but you're my exception," she wrote. "With certainty I can say there's not a single person who knows you who wouldn't say you've made his or her life better in some way. You encourage and motivate people to be the best version of themselves, partially because you've worked so hard on yourself and know the benefits of self-improvement first-hand."
She concluded, "You are my partner, the only man with whom I'd hold hands while he's wearing socks and sandals, the brightest light in my life, the answer to a prayer, my biggest supporter, the power moons that fuel my ship, and the only proof I need to know I'm lucky. Special shout-out to Larry Karp and @haroldine for getting you here and raising you to be the MAN I am proud to call mine. Happy birthday, @Jensenclan88."
As E! News previously reported, Fishel married Tim Belusko in 2013, though the couple's divorce was finalized in May 2016 after two years of marriage.
Congrats to the newly engaged couple!