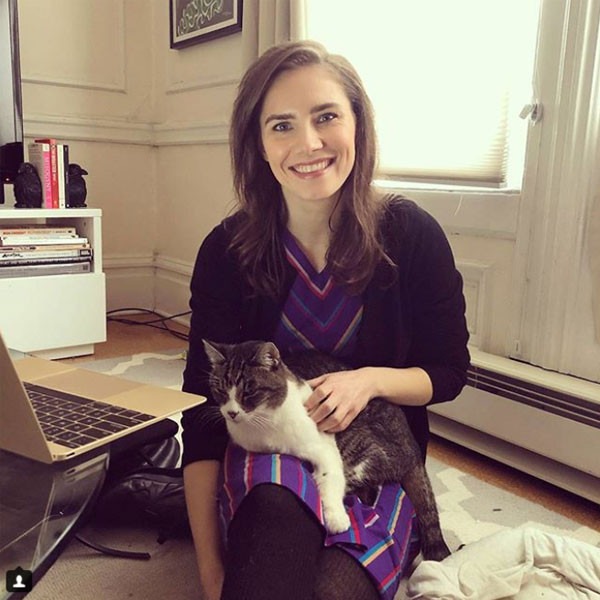 Instagram
Amanda Knox is on Instagram.
There's nothing too exceptional about that, it's a pretty normal state of affairs. But the photographic evidence of Knox living a normal life is quietly remarkable when you remember that a decade ago she was in an Italian prison awaiting trial on murder charges.
Overall she spent four years locked up, from being arrested in 2007, through being convicted of her roommate Meredith Kercher's murder in 2009 and until she was released on Oct. 3, 2011, her conviction overturned on appeal. The Seattle native was back in Washington by the following afternoon. She returned school and wrote a book about her experience, 2013's, Waiting to Be Heard: A Memoir. 
Then, in 2014, she was retried in absentia, found guilty and sentenced to 28 1/2 years in prison.
All the while, Knox's story captivated a mass audience: 20-year-old kid studying abroad, accused with her Italian paramour of brutally murdering her British roommate in what, according to wild tabloid speculation spurred on by local authorities, looked like some sort of sexual game or cult ritual gone wrong—a crime perhaps masterminded by the brash American vixen, "Foxy Knoxy," the "sphinx of Perugia." Even if it wasn't of murder, the quirky college student who enjoyed having a good time was presumed guilty of something. Of being too cold, too promiscuous, too inscrutable to be truly innocent. What's innocent, anyway?
As Knox herself noted in the eponymous 2016 Netflix documentary about the case, the read on her has been split down the middle almost from the beginning.
Her long international nightmare wasn't officially over until March 27, 2015, when Italy's highest court, the Supreme Court of Cassation, vacated her conviction. She was finally free.
"The knowledge of my innocence has given me strength in the darkest times of this ordeal," Knox, then 27, said in a statement. "And throughout this ordeal, I have received invaluable support from family, friends and strangers. To them, I say: Thank you from the bottom of my heart. Your kindness has sustained me. I only wish that I could thank each and every one of you in person."
The saga wasn't Knox's alone, of course.
Raffaele Sollecito, an Italian whom Knox had been dating when Kercher was killed, was also convicted and and then found not guilty—then rearrested and convicted again—and exonerated by the high court three years ago along with Knox. Rudy Guede, an Ivory Coast native whom Knox remembered seeing hanging out with her downstairs neighbors, was convicted of killing Kercher while "acting with others" in 2008. Guede, who's serving a 16-year prison sentence, maintains his innocence but last year his final appeal for a new trial was rejected.
And there's Meredith Kercher, the murder victim who was just as soon relegated to a bit player in the Amanda Knox drama. "The Kerchers will handle this as they always have, with respect, but it is a difficult moment for them," her family's attorney Francesco Maresca told reporters in 2015. "But they are ready to end the legal battle and start remembering Meredith outside the courtroom."
"Meredith was my friend," Knox said. "She deserved so much in this life. I'm the lucky one." She paid tribute to Kercher on the 10th anniversary of her murder in November, writing on her blog, as someone who doesn't take the concept of normalcy lightly, that she most remembered the "beautiful, banal moments we shared in the weeks we lived side-by-side." Lugging their groceries home. Sipping espresso. Sunbathing on the terrace of their hilltop villa where they were renting rooms for the year.
The young women had known each other for a month and a half, with Kercher having moved into their flat in Perugia, which they shared with two other female housemates, 10 days before Knox. They were fast friends who came from similar backgrounds—middle class, divorced parents, self-starters who worked hard to make their dream of studying abroad in Italy a reality.
"I could already see us keeping in touch by email when our year abroad was over," Knox wrote in her book.
Kercher was sexually assaulted and killed on Nov. 1, 2007, All Souls' Day in Italy. The next morning, coming home, Knox saw drops of blood on the floor and an unflushed toilet in the bathroom, an indicator that someone else was home. Later that day, police found Kercher's body and questioned Knox, who said she hadn't been alarmed by Kercher's door being locked when she looked for her earlier. She accused a local bartender of being involved, further muddying the waters. On Nov. 6, Knox and Sollecito, whom she'd just met at a concert on Oct. 25 and fallen head over heels for, were arrested. They were in jail for 11 months before charges were filed.
"We spent four years in a circle of hell, we suffered unspeakably and it ruined our lives," Sollecito, whose journey mirrored Knox's minus the morbid celebrity status she was awarded on day one, told Oggi magazine in October 2011 upon their release from prison on appeal. 
At the time, Knox's father, Curt Knox, said that his daughter was adjusting well to being back home—since her return to the States weeks earlier, she had been photographed with her old college friend Madison Paxton and going for a drive with stepfather Chris Mellas, but still mostly stayed inside, for her safety and to avoid the media. They had received hate mail and threatening phone calls at the house, Curt told the Daily Mail, and Knox went places with a bodyguard.
It would've been easy to understand if Knox also considered her life to be ruined. She would forever be linked to a terrible crime, no matter what. There would always be people who think she more or less got away with murder. 
And at one point Amanda Knox certainly did feel, from her isolated days in jail to the unforgettable sound of her being found guilty—"colpevole!"—and the clanging of the prison bars behind her, that life as she knew it was over. 
Somehow, she didn't let it ruin her. Even in prison she studied Italian, read voraciously and kept up with college course work to continue earning credits toward her bachelor's degree. "I got really obsessed with making each day count," Knox told University of Washington's The Daily in 2014. "Which sounds really cliché, but I would get really angry with myself if I felt like I had not made the day worth living, because then I would feel like I had just lost a day of my life. And I hated the idea of them taking my life away."
She returned to UW in Seattle in January 2012, and was pleasantly surprised by the encouraging reception from most people she encountered, though she was still fodder for nasty online commentary and the occasional surreptitious photo taken of her in class. Hayden Panettiere had played her in a Lifetime movie, after all—she wasn't expecting anonymity. Bit by bit, she re-surrounded herself with the trappings of normalcy: friends; a cat; a boyfriend, musician and UW alum James Terrano. She worked on her book, fulfilling a dream she had of becoming a writer.
In 2013 she found out that an Italian court planned to retry her and Sollecito for Kercher's murder.
"I feel like after crawling through a field of barbed wire and finally reaching what I thought was the end, it just turned out that it was the horizon," she told ABC News' Diane Sawyer in her first TV interview about her experience. "And I had another field of barbed wire that I had ahead of me to crawl through."
And she pressed on when an Italian court found her guilty again of murder in January 2014.
Ahead of her graduation that spring, she told The Daily, "I feel like after so much time in dealing with this, I've gained a store of inner fortitude, but only so much...that this doesn't completely debilitate me. That doesn't mean that I feel okay, and that doesn't mean that I don't feel hurt...In Italy, I'm a convicted murderer. That shouldn't carry weight because it's not true, but it does. We are social, that is what human beings are, we have a place in society and it seems like that is taken away from me for nothing."
While she didn't exactly embrace her circumstances, Knox seemed largely unfazed—at least outwardly—by the unshakable shadow of what she'd experienced and the lingering possibility that, once Italy's multi-part appeals process was exhausted, she'd be extradited and have to return to prison. That stoicism had been in evidence before, only before it was used against her in an Italian court of law, and equally in the court of public opinion.
Ultimately, "I'd like to be reconsidered as a person. What happened to me was surreal. But it could've happened to anyone," Knox told Sawyer in April 2013. The notion that what happened to her—swept up in suspicion, wrongfully convicted and publicly maligned overnight—could indeed happen to anybody was a chilling proposal she'd revisit over the years, including in the 2016 documentary Amanda Knox.
On Good Morning America in May 2013, Knox explained that she wrote a book because "I wanted people to know who I was because I felt that I was lost in the middle of this storm and I was taken over. It was very important to me to be honest. There's no use to me writing this if I wasn't completely honest and completely bare."
Though Meredith Kercher's family had stated they would not be reading the memoir, Knox said she hoped they would have a change of heart.
"Meredith Kercher died and her family deserves answers, and the prosecution didn't give them that," she said. "I want them to be able to come away with my perspective, because they're seeking answers and they deserve to have answers, and I give every answer that I can in my book. It's the first way that I can reach out to them, and I really hope that we can connect one day."
Meanwhile, Sollecito went through the surreal experience up close and personal all over again. He said on Today in September 2013 that he understood why Knox didn't come back—why would she if she didn't have to?—and that he didn't blame her for what was happening. They were both caught up in the same miscarriage of justice, he maintained.
"I never regret it [meeting her], because it's not her fault," Sollecito said. "What is happening is a big, huge mistake against two human beings. We are innocent and we are fighting for our innocence. It's not our fault to be in this situation. Actually, I don't regret to have met her because she has nothing to do with all this tragedy and me neither."
When they were both re-convicted, the next step was to send the case to the high court, so Sollecito remained free while they awaited the final outcome. However, as he said on Today, "Even if I'm outside, they still hold me in jail because I cannot think of anything else but this trial." 
Back home, Knox continued to live her life in the parallel universe of freedom that the States provided. She graduated from college in May 2014. She worked at a bookstore and wrote for the West Seattle Herald newspaper. She and Terrano broke up but she reconnected with an old friend from middle school, musician Colin Sutherland, who had just moved back to Seattle from New York, and they got engaged in February 2015.
AP Photo/Andrew Medichini
The following month, on what was a Friday night in Italy, Knox and Sollecito were once and for all exonerated by the Italian court. Sollecito still sounded melancholy when he addressed reporters in Rome. "It is time I will never be able to recoup. My mind and my soul will be marked for life, and the wound will never stop bleeding, it will never heal," he said. He did say getting the call from his sister about the Supreme Court's decision was a "beautiful moment."
For all that was made of his and Knox's relationship at the time, it was "simply affection between two young adolescents," Sollecito said. "Neither of us could have envisaged this absurd and never-ending story."
Addressing reporters outside her mother's Seattle home, Knox thanked everyone who had supported her over the years. "You saved my life, and I am so grateful. I'm so grateful that I have my life back. Thank you," she said. "That's all I can say. Right now I'm still absorbing what all of this means."
And to be sure, it wasn't that easy. She was still "Amanda Knox," after all.
But she didn't start running from the past as fast as she could. Rather, she agreed to participate in Amanda Knox, being directed by Rod Blackhurst and Brian McGinn.
"What I'm trying to convey is that a regular person like me, just a kid who was studying abroad who loved languages, could be caught up in this nightmare where they're portrayed as something that they're not," Knox said on GMA in 2016, explaining why she readily got involved with yet another retelling of her story. Sollecito was interviewed for the film as well.
Next up for her, she wanted to work with the wrongfully accused and others who faced the prospect of rebuilding their lives after being cleared of crimes. She also wanted to become an advocate for women who have experienced the sort of misogyny she did in the course of the investigation against her and the media circus that ensued.
"Now my attention is turning towards the next person," she said. "My name's cleared. I'm fine. I'm moving on with my life. I'm going back to graduate school. I'm redeveloping my relationships. I'm redeveloping my relationship with freedom."
And that's what she proceeded to do. Knox started working with the Innocence Project and speaking about her experience as a murder suspect, convicted murderer and eventual exoneree.
"I was told that my best-case scenario would likely consist of writing my memoir and then disappearing," Knox told People in August 2017. "Whether I deserved it or not, there was nothing I could do but accept that the story of the girl accused of murdering her roommate would be the frame through which people viewed and consumed me, and through which I had to pass to live my life."
In December, Vice announced a planned five-part series, The Scarlet Letter Reports, to be hosted by Knox. "While on trial for a murder I didn't commit, my prosecutor painted me as a sex-crazed femme fatale with magical powers to control men," she said in a statement. "The tabloids loved that story. So did the public. So did the jury. I lost years of my life to prison because of two-dimensional and misogynist stereotypes. In The Scarlet Letter Reports, I'm hoping to re-humanize others who have been similarly shamed and vilified, and elevate the standard for how we think and talk about public women."
In March she appeared in a Broadly. video entitled "Women Can't Believe They're Still Dealing With" that featured women from all over the world revealing what they can't believe is still a thing.
Knox remained in disbelief that there's "still an audience—especially a female audience—for tabloid magazines that objectify, demean and vilify women for entertainment."
She also attended the Innocence Network Conference in Memphis, a series of talks with subjects like "What's New and What's Next in Forensic DNA Analysis" and "Reclaiming Your Life: Moving from Survival to Self-Sufficiency" (the latter for exonerees only).
Meanwhile, "Amanda Knox" has also become Amanda Knox—31-year-old woman who loves her family, her friends, her boyfriend, her cat, traveling, eating, taking pictures of food, tattoos (she and her three sisters got matching ink in August 2016, and she and the bf got inked together a year ago), pretty views, selfies, coffee and Christmas decorations.
That's right, Knox has cultivated an Instagram life as well—one that she began on April 13, 2015, but was not ready to make public until June 21, 2017.
What's more refreshingly ordinary than that these days?
It didn't work out with Sutherland, but in June 2016, writer Christopher Robinson popped up on Knox's Instagram feed and they've been together ever since.
After they moved in together, she wrote on Westside Seattle that August, "The coming together of homes has finally caught up with the coming together of minds and hearts. If all goes well, and we work really really hard, there won't ever be another home for us without each other. Bam!"
She also discussed that long, slow, still-ongoing trip back to normal.
"As I sit here in a bookstore-café, sipping a Cortado, tapping away on my laptop in a line of similarly industrious mid-to-late-twenty-year-olds, I appreciate how normal this is. Momentous, yes, but normal," Knox wrote. She acknowledged that it hadn't just been a process for her, but for her entire ever-supportive family as well, that there were "leftover emotional and psychological barriers" they all had to breach.
"Slowly, bit by bit, I'm recovering," Knox concluded. "It may still be the case that, when I call Puget Sound Energy to set up a new utility account, I'm reminded that I'm 'That girl in Italy?! That Amanda Knox?!' Yeah, I'm her. I'm also the Amanda Knox who is so excited to be living my life alongside people I love and respect, lugging furniture, scooping cat poop, paying the bills, moving on."
She told People in the summer of 2017 that she didn't want to get married for marriage's sake, but that she wanted a partner she could "take on the world with," and Robinson was that guy.
"I very much love Chris and feel like he is my partner and he would be a wonderful dad," she said. "And we talk about it all the time, so I look forward to that part of my life that I had always taken for granted growing up and then had to let go of in prison, and then suddenly find myself with that as an actual opportunity again."
Not your average chat with a public figure about future plans for marriage or having kids.
"I can only be insanely grateful for that," Knox continued. "You can't take those kinds of things for granted, that just because you always thought they were gonna happen it's gonna happen. I'm really lucky and I think we all have to work hard to make the most of the opportunities that are presented to us."
For anyone thinking that Knox had thoroughly cashed in on her heinous experience, she mentioned that she and Robinson couldn't yet afford to buy a house or have a baby, but they were extremely lucky to be able to support themselves as writers.
But that was over a year ago. In February, Knox shared a photo of a pint-size pair of lederhosen and wrote, tagging Robinson,"...I guess I have to make a baby to wear these cute little lederhosen I just found! @emcee_carbon."
If anyone knows the importance of seizing the day, it's Amanda Knox—and, apparently, Chris Robinson.
He went ahead and proposed on Sunday, the magical moment captured for posterity on, where else, Instagram.
(Originally published March 27, 2018, at 6 a.m. PT)