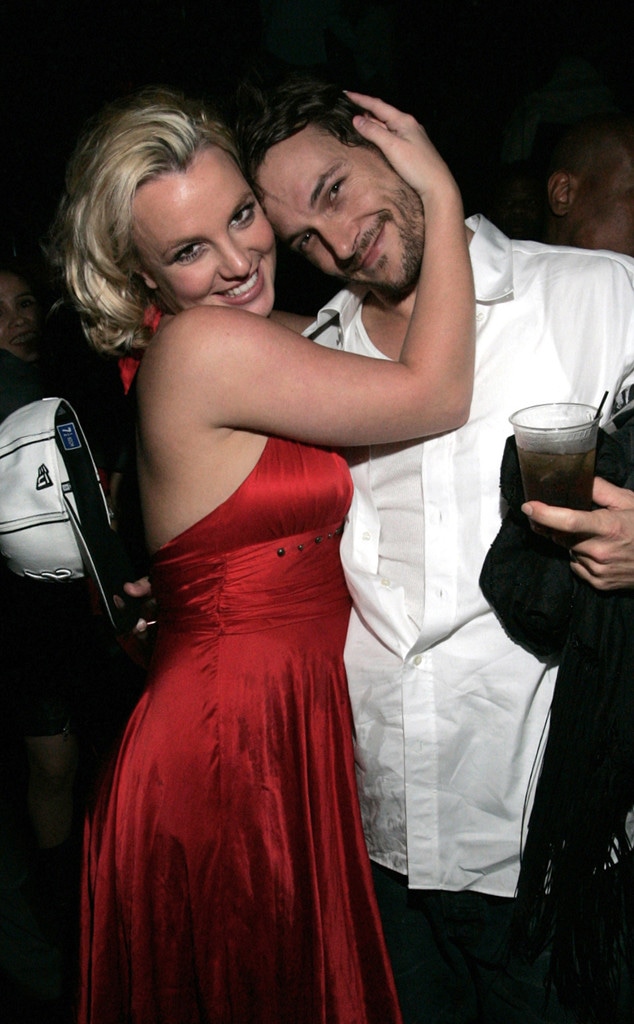 Ben Rose/WireImage.com
At the end of the day, what's important is that Britney Spears has two beautiful children, son Sean Preston and Jayden James.
That being said, the events leading up to the end of the day remain a collective head-scratcher, 12 years later.
They were only married for two and a half years, but since Kevin Federline is the father of Spears' kids, he will forever be a part of our, oops, her life—and his recent request for bigger child support payments from his pop-icon ex to help care for 12-year-old Sean and 11-year-old Jayden is a brass-tacks reminder of that fact. Federline, now a father of six overall, said last June that his relationships with both Spears and the mother of his two oldest kids, Shar Jackson, are "a lot easier now" than they used to be. 
Darn it, though, if money doesn't get in the way of congeniality.
But once upon a time, Brit and K-Fed were so in love. Messy, chaotic, well-this-isn't-going-to-end-well love. And the world, already increasingly mystified by some of the choices the pop princess was starting to make, couldn't have been more there for it to watch it unfold.
Just weeks after she spent 55 hours married to hometown pal Jason Alexander, whom she swapped vows with in Vegas in January 2004, Spears met Federline, a former backup dancer for Justin Timberlake who sported cornrows and was known among his colleagues as "Meat Pole." He was already dad to daughter Kori with Jackson, and the Moesha actress was pregnant with their second child. 
Not not wanting to stick it to Timberlake, Spears invited Federline to join her Onyx Hotel Tour, which kicked off that March. Midway through the month, however, the "Oops!...I Did It Again" artist hurt her knee onstage, which forced her to cancel two shows. She pulled it together and was selling out arenas and stadiums all over Europe, but the then-22-year-old re-injured the knee while shooting a video in June, enough to require arthroscopic surgery and force her to cancel the rest of the tour.
Spears was ordered to rest for four months, during which she took the opportunity to propose to Federline. He jokingly declined but returned the favor moments later, and she said yes. By then they had matching dice tattoos and what turned out to be a trippy reality show's worth of home movie footage of each other.
On Sept. 16, 2004, Spears went brunette, technically her natural state. On Sept. 17, 2004, a Friday, she had a bachelorette spa day with girlfriends while Federline and some buddies played golf and had dinner.
And then, about a month before people thought they were going to be tying the knot at the posh Bacara Resort in Santa Barbara, Calif., the couple married on Sept. 18, 2004, at what their 27 guests thought was just supposed to be an engagement party at a Studio City home. The bride wore Monique Lhuillier. After the ceremony, the bridesmaids donned pink Juicy Couture track suits embroidered with "The Maids" on the back (gifted to them upon arrival, as even the wedding party, family members included, was in the dark) and the groomsmen were given white track suits emblazoned with "Pimps," and they all went out dancing.
People bought the wedding pics for a reported $1 million.
The newlyweds felt "awesome," Spears told the magazine two days later in a suite at the Hotel Bel-Air, where she and her hubby were staycationing before their honeymoon. "Elated."
Explaining why they scrapped the original plan, she explained, "I just thought it would be too much if we had done it when we were supposed to. It became this huge thing and I was like, 'What are we waiting for? We know this is the real thing, why not just do it now?' That's why I wanted to sneak and do it our little way."
K-Fed recalled the feeling of validation he claims he got on their wedding day, from Britney's dad, Jamie Spears, who four years later would be appointed co-conservator of Britney's estate when a court deemed her unable to manage her own affairs. Now TMZ is reporting that Mr. Spears would like to see his ex-son-in-law's tax returns before they give him any more of his daughter's hard-earned cash.
"The way he was looking at me," Federline said, "he was just letting me know that everything was okay. I was worried, because you want your wife's father to be okay with you. But when I saw him, it was great."
Two days into being Mrs. Kevin Federline, Spears was already thinking about having a family.
"I want to be a young mom," she told People. She wasn't pregnant yet, she said uncertainly, but she could see them as parents. "I can see myself as a mom," she added. "Next year at 23, I am so there."
But first things first. She and Federline were legally married on Oct. 6, 2004, after both parties finally came to terms on a prenuptial agreement. Spears released her fragrance Curious and decided to take a break from music to start a family. Greatest Hits: My Prerogative came out in November 2004 to sate the fans. And then, things got really weird.
Utilizing all these videos they'd shot of each other during their blissed-out courtship, Spears and Federline signed up for Britney and Kevin: Chaotic—which only consists of five episodes that aired between May and June 2005 on UPN, but still haunts so many dreams.
The super-serious criticism at the time—that Spears was somehow proving, by way of doing the show, that she was proving herself to just be the worst person ever and a joke of an artist--was a little much. More like Spears had been writing her own ticket for so long that she felt she could do anything and give zero figs about it.
She would eventually—though ultimately temporarily—become a byproduct of a trainwreck-obsessed culture. She engineered her train into the station and plenty of folks were glad to watch it fly right off the rails. But Chaotic couldn't even be called a cry for help—because Britney was having a ball. By marrying Federline, she apparently felt free to shed the trappings of what was expected of her and just be Britney Jean Spears from Kentwood, La. This was her life and she was going to tell it like it was, dang it!
"I'm real, and I'm just gonna tell you like it is," Spears, cigarette in hand, declares bluntly. Of course the footage, much of it shaky, under-lit and frenetic ("I'm gonna learn how to do zoom, y'all"), was painstakingly stitched together to create any sort of narrative, but there didn't really need to be one—the whole thing ended with Britney and Kevin walking down the aisle in episode 5.
"We did everything overnight, all the adjustments," Federline talked about the last-minute change of wedding plans. "That was pretty cool." He admitted he was nervous—butterflies, sweaty palms, everything. "That was probably the most intense feeling that I've ever had in my life." But he and Britney both agreed that it had been their "dream wedding."
For the record, it took about 10 days to make the rearrangements. The home where the nuptials took place actually belonged to wedding planner Alyson Fox, who told Time in 2014 that the original plan at Bacara was for "the most beautiful but not over the top, elegant but shabby chic, gorgeous but fun event." But she was proud of how Plan B turned out too.
In hindsight, Fox added, "People are going to think what they're going to think, but I know the truth. They were wonderful people and I'll say that until the day I die. To this day I don't talk to a lot of people about it because I still feel protective over them. Unfortunately it didn't work out — but what is it, 60 percent of marriages that don't?"
And they'll always have Chaotic, which was the picture of two people gone gaga for each other.
"My ideal guy would be somebody who really hasn't seen that much, because I have, and I'd like to see through him," Spears says in one of the up-close-and-personal (as in, only half of her face fits in the screen) confessionals featured on the show. Lolling on the couch later, Kevin tells her he thinks she's scared to love him, and that makes him scared to love her. 
"My love doesn't scare me. Other people's love scares me," she says at another point, quietly.
Britney and K-Fed together scared a lot of people, perhaps none more so than her accountants. But Federline was proving to be a perfectly eligible squire, and he seemed to enjoy being Mr. Britney as well, getting a chance to record his own album, Playing With Fire, in their home studio and tooling around L.A. in a $200,000 Ferrari. 
"Our life was running at 150,000 miles per hour. I soaked up as much of the lifestyle as I could," Federline recalled to Us Weekly in 2015. "I'd walk into a club and get a table worth $15,000 a night with unlimited free drinking. To not have to worry about making my next car payment felt like a huge weight lifted off my soul. But everything got so crazy."
In April 2005, Spears—at 23, just like she envisioned—announced that she was pregnant. (Which might have made Chaotic all the weirder or more concerning, watching it knowing in real life that these two were going to become parents. At the time, it was also easy to forget that Federline had two other children. Federline publicly apologized to Jackson on a 2010 episode of Celebrity Fit Club, saying, "I know I've caused you a lot of pain and I've been really selfish. I guess I got so wrapped up in all this other s--t that I never really sat back and had a chance to apologize to you. I really do want you to know that I am sorry.")
Britney revealed the news on her blog: "The time has finally come to share our wonderful news that we are expecting our first child together. There are reports that I was in the hospital this weekend, and Kevin and I just want everyone to know that all is well. Thank you for your thoughts and prayers."
Her pals threw her a Moroccan-themed baby shower in August and Sean was born on Sept. 14, 2005—and Spears was overjoyed to be a mom at last. People bought the first pics of her son for a reported $1 million too.
That summer Spears has released the single "Someday (I Will Understand)" in honor of her first child, but otherwise she was still in no rush to get back to making music. Enter B in the Mix: The Remixes that November. She also had a cameo on Will & Grace, the guest star of Jack's dreams.
Meanwhile, Spears' valiant attempt at trying to control the narrative with Chaotic hadn't worked, because now she was a mom and the paparazzi were more interested in her than ever.
It was a confluence of unfortunate circumstances that caught Spears driving one day with 5-month-old Sean on her lap instead of in a safety seat, with one hand holding the wheel and the other holding him to her. 
She admitted later that it was a mistake, but that at the same time she'd just had a particularly frightening run-in with photographers and had been trying to get away. 
Right around that time she also told People that she planned on going back to work, "but I'm going to do it with definite balance for my baby because I want him to have the best of both worlds." But first, as it turned out, Sean would get a sibling.
In May 2006, Spears revealed that she was pregnant again in a surprise appearance on The Late Show With David Letterman, made at her request. "Don't worry, Dave, it's not yours," she assured the bemused host. 
She later revealed that baby No. 2 had not been planned. "It just kind of happened," she told People that August, adding that she planned to wait awhile before the next one. Spears was eight months pregnant at the time and she said she'd gained about 40 pounds—and had no qualms about her pregnancy cravings.
"Crunching ice and chocolate, oh my God," she said. "I'll get up in the middle of the night and I'll get a Hershey's bar, the real big ones, and I'll put it in the microwave and melt it and eat it. It sounds disgusting, but it's so satisfying."
Larry Busacca/WireImage.com
Jayden James Federline was born on Sept. 12, 2006, via planned C-section after complications had required Spears to undergo an emergency C-section with Sean.
Two months later, Spears texted Federline that she wanted a divorce.
Britney filed the paperwork on Nov. 7, 2006, revealing the legal date of their union, Oct. 6, 2004. Their date of separation was listed as the day before she filed.
According to a 2008 report in Rolling Stone, Federline first revealed his thoughts on the issue by scrawling, "Today I'm a free man--f--k a wife, give me my kids bitch!" on a nightclub bathroom wall.
Goodness, what could've gone wrong?!
"Instead of following my heart and doing something that made me really happy, I just did it for the idea of everything," Spears mused in the 2008 MTV documentary Britney: For the Record.
"That was a whole different lifestyle than I ever imagined," Federline recalled those tumultuous two years to Entertainment Tonight in 2016. "I mean, just getting around from place to place and having 20 people follow you all day long—your whole life kind of being told through somebody else's eyes. Everybody wants to put their own spin on it."
"We like, were caught right in the midst of that whole thing. It was so crazy. I look back at it and it's like, at times it was so overwhelming...That was at the, like, height of everything and you're thrown into this thing and you're thrown into that thing and the in-between stuff. I know it happened. I know why it happened. That's pretty much all that I'm going to say."
By multiple accounts, Team Spears had made sure to cross all the t's and dotted every i on the prenup, the result being that Federline was promised $1 million. The divorce was finalized at the end of July 2007, with the exes agreeing to joint custody and an undisclosed financial settlement.
"I think she's okay with the terms," Spears' A-list divorce attorney, Laura Wasser, told People afterward. "I think both of them would prefer to have more custody, and that can be worked out down the line." It was soon reported, and much later confirmed by Federline, that he was getting $20,000 a month in child support.
Meanwhile, Federline was said to have been dragging his feet on signing off on the deal because Spears had been acting erratically—a point of concern made painfully public when she walked into a tattoo shop on Feb. 17, 2007, with a shaved head. A few days later she smacked a paparazzo's car with an umbrella after he followed her to a gas station (the pap kept the umbrella and told Broadly last year on the 10th anniversary of the incident that he planned to auction it off, promising half the proceeds to a charity of Spears' choosing). 
The newly single Spears had joined the young Hollywood party circuit with the likes of Paris Hilton and Lindsay Lohan, skipping underwear on occasion and acquiring some questionable hangers-on.
And then, even more memorably, there were the 2007 MTV Video Music Awards that September, when Britney's long-awaited return to performing was ruthlessly deemed a hot mess, minus the hot.
"She went out all night and then came in for rehearsals entirely not into what she was doing," a source told E! News at the time. "It was obvious she didn't want to be there." She was said to be in tears backstage after the performance.
Meanwhile, Federline had become a regular guy, with no less than Shar Jackson telling People in January 2007 that, despite his image, he was an "amazing dad."
"He was there for [daughter Kori] every minute of her life until, you know, we weren't together anymore. He did everything for her so I guess that's why." Despite how it ended, "It's not really hard [to co-parent with Kevin] because we were friends even before we were romantic and we were friends through being romantic and there was no reason to change that."
Jackson, who gave birth to their son Kaleb in July 2004, added, "Everything he does, as far as his career, and everything like that, he does it for his kids. When he's doing that, I'm super mom. Hopefully we'll get to alternate but we always know the kids are first."
The Spears saga would soon devolve into a historically heartbreaking succession of events. On Oct. 1, 2007, having previously cited her "habitual, frequent and continuous use of controlled substances and alcohol," a judge turned custody of the kids over to Federline, with monitored visitation rights for Spears.
That Halloween morning, Spears granted a rare interview to Ryan Seacrest on KIIS-FM, revealing that she and some pals had celebrated the release of Blackout, her first album in several years, at home with cookies and fried chicken. Asked about the charges that she was a bad mom, she lamented that people were questioning her as a parent, but told Seacrest, "Like I said, people say what they want and do what they do. It's sad how cruel our world can be. At the end of the day, you just have to know in your heart that you're doing the best you can."
But it was to get worse before it would get better.
After multiple failed trips to rehab over the previous year, she was hospitalized twice in January 2008 on 5150 psychiatric holds and ultimately had no choice but to turn over her medical, business and money decisions to her father and various attorneys.
The immediate unexpected moral of the story, as told by headlines anyway, was that Kevin Federline turned out to be the reliable parent.
"I was going through so much artificial stuff with my kids and Kevin at the time. He'd just left me and I was devastated," Spears recalled that trying time in Britney: For the Record. "People thought that it was me going crazy and stuff like that, but people shave their heads all the time. I was going through a lot, but it was just kind of like me going through a little bit of rebellion, or feeling free, or shedding stuff that had happened, you know?"
Federline admitted in a 2015 interview with Us Weekly that he could've done more to be there for Spears after they broke up.
"I really thought I'd spend the rest of my life with her… There were a few drastic things that went down, which I'll never talk about, but overall we still had fun," he said. "So when she filed for divorce, I was completely caught off guard. Look, there are a million things I could say about her that would make huge headlines and cause a ton of drama, but for what? The truth is I loved her to death."
He continued, "It was extremely tough watching her go through a phase where she was clearly not OK right after the divorce. There's a lot more I could have done to help. Taking full custody of the boys sucked the life out of me, but it was for them. I have to give Britney's dad, Jamie, a lot of credit for saving her. He made it so I could actually deal with her again."
Happily we know now that Spears clawed her way back from the abyss, remains as beloved as ever—revered by many, in fact, for proving every single person who wrote her off as an irredeemable cautionary tale dead wrong—and is happily dating, parenting (she's since regained primary custody of her boys) and performing.
And perhaps not quite as happily still subsidizing Federline's parenting endeavors. About receiving child support, K-Fed—who went on to have two more kids with wife Victoria Prince—told ET back in 2016, "It's not something that I asked for...It's all about the kids. That's what it's for...They're supposed to be able to live a life that they're accustomed to. If the shoe was on the other foot, I'd be in those shoes. Smiling and being full-willing."