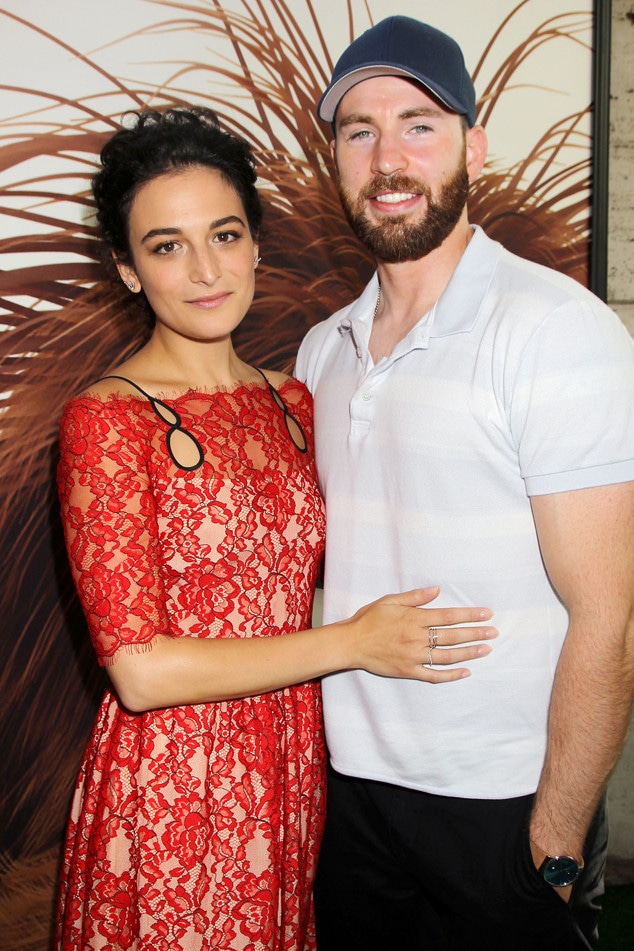 Dave Allocca/Starpix/REX/Shutterstock
Unlike Jenny Slate, Chris Evans doesn't discuss his love life.
In a New York Times profile on Evans published Thursday, Reggie Ugwu casually revealed the couple has broken up for a second time, writing that "their on-again, off-again relationship, beloved by the internet, recently ended." Evans, for his part, did not offer additional insights, and Slate made no mention of their split when she appeared on The Late Late Show this week.
E! News has reached out to reps for Evans and Slate for comment.
Ugwu's reference to Slate was made in regard to how Evans has been an ally to women during the #MeToo movement. "One book he found eye-opening was Rebecca Solnit's The Mother of All Questions. Mr. Evans read it while dating the actress Jenny Slate," Ugwu wrote, "...and decided that he needed to listen more and speak less." Evans is outspoken about cultural and political issues on Twitter, but in the #MeToo era, he said, "The hardest thing to reconcile is that just because you have good intentions, [that] doesn't mean it's your time to have a voice."
Evans is currently starring on Broadway in Lobby Hero, which ends its limited run May 13. He first began dating Slate in 2016 after meeting on the set of the drama Gifted. The actors broke up in early 2017, but later reconnected as Evans was shooting Avengers: Infinity War in Atlanta.
After their initial break up, Slate described how it felt to date Evans, whose exes included Jessica Biel and Minka Kelly. "To be quite honest, I didn't think I was his type. Eventually, when it was like, 'Oh, you have these feelings for me?', I was looking around like, 'Is this a prank?'" Slate told New York. "I mean, I understand why I think I'm beautiful, but if you've had a certain lifestyle and I'm a very, very different type of person—I don't want to be an experiment." To his credit, Evans never made her feel inferior, she said. But in Hollywood, "I'm considered some sort of alternative option," she added, "even though I know I'm a majorly vibrant sexual being."
Despite portraying Captain America onscreen, Evans is "so unpretentious," she said. "...Chris is truly one of the kindest people I've ever met, to the point where sometimes I would look at him and it would kind of break my heart. He's really vulnerable, and he's really straightforward. He's like primary colors. He has beautiful, big, strong emotions, and he's really sure of them. It's just wonderful to be around," Slate said. "His heart is probably golden-colored, if you could paint it."
Around the same time, Evans told USA Today, "You know, relationships are tricky. There are lot of moving pieces. But I am endlessly grateful for having met her. She will be in my life always." Calling Slate a "very, very special person" and an "incredible human being," he added, "You spend five minutes with her and you cannot find something bad to say about her if you tried."