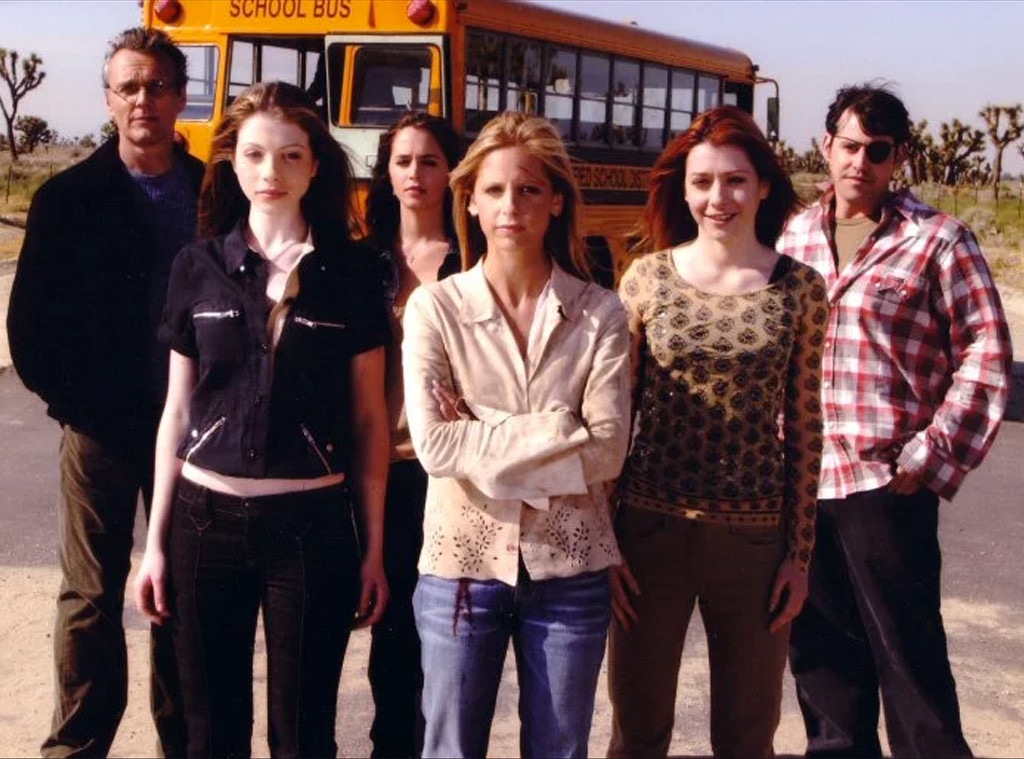 WB
Does Buffy Summers have it in her to come back from the dead a third time? Fox thinks so. At the INTV Conference in Jerusalem, Fox boss Gary Newman spoke openly about his desire to bring back Buffy the Vampire Slayer.
"I think if you look in our library, Buffy is probably the most ripe show we have for bringing back," Newman said, according to Variety.
"It's something we talk about frequently, and Joss Whedon is really one of the greatest creators we ever worked with," Newman continued. "When Joss decides it's time, we'll do it. And until Joss decides it's time, it won't happen."
Fox has brought back 24, Prison Break and The X-Files in the latest revival boom. Other recently revived shows include Gilmore Girls, Arrested Development, The Comeback, Roseanne, Will & Grace and Murphy Brown.
Buffy the Vampire Slayer, which premiered 21 years ago on The WB and was based on Whedon's movie of the same name, starred Sarah Michelle Gellar as the titular character, a young woman with special abilities tasked with protecting the world from all sorts of demons and supernatural forces. The show ran for seven years across The WB and UPN and continued as a comic book series both written and sanctioned by Whedon.
Jason Kempin/Getty Images for Equality Now)
The cast reunited for the show's 20th anniversary and told Entertainment Weekly their thoughts on a revival.
"At a certain point, when things are magical, you don't want to go back and Godfather III it—right?" Gellar told EW in 2017. "I'm sure the fans are incredibly disappointed to hear that answer, but I think they'd be more disappointed if we created something and it didn't live up to the expectation because the expectation is so incredibly high. And I love that it can live in comic form and graphic novels. There are so many worlds it can live in."
Whedon indicated there is more story to tell, but would he want to tell it?
"Everything sort of finds its way back somewhere," he told EW in 2017. "I've been trying deliberately to move forward and do something a little bit different. But yeah, the great thing is everybody looks great, and the other great thing is the show is about growing up. If we did it with these guys, they'd be the age they basically are. They'd probably play a little younger because they can do that. But yeah, you'd see somebody going through their life at a different stage."
Gellar recently celebrated #SlayDay, the day Buffy premiered back in 1997, with an Instagram tribute to the character she helped make famous. "I don't think it's a coincidence that the anniversary of #btvs is the same week as #internationalwomensday," Gellar wrote. "I have always believed that the world is changed by your example, not by your opinion. We have all learned a lot from Buffy, and the best part is, that never ends. From now on, we won't just face our fears, we will seek them out. We will find them, and cut their hearts out one by one. There is only one thing on earth more powerful than evil, and that's us.'"
Do you want Buffy the Vampire Slayer to come back?