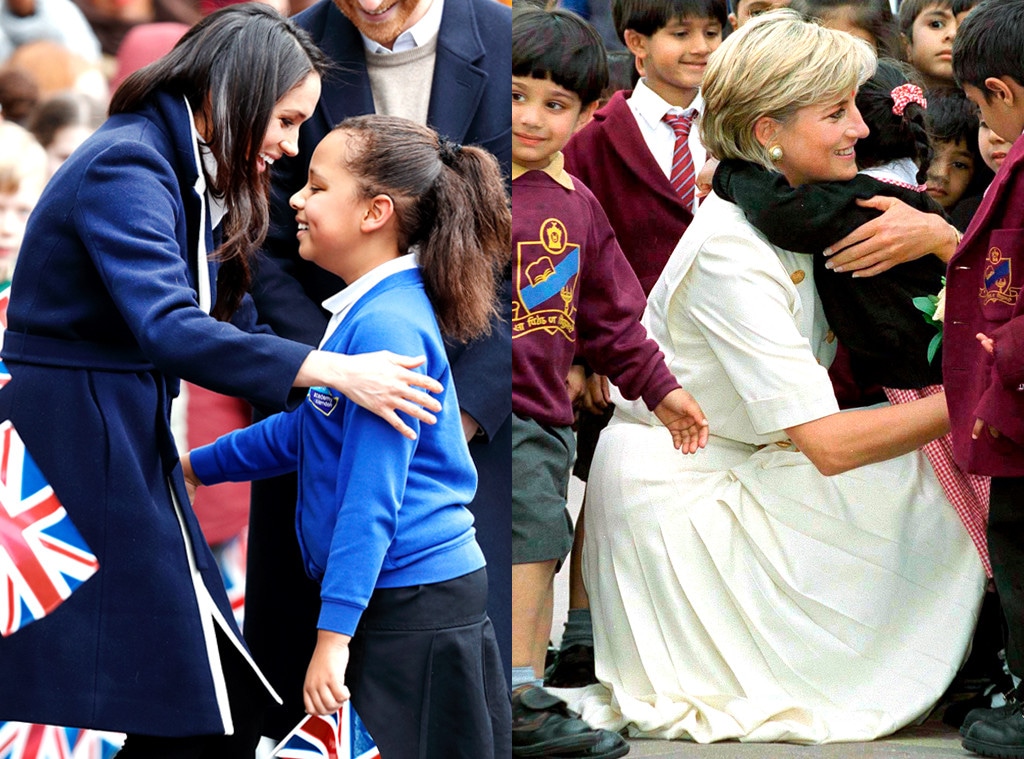 Max Mumby/Indigo/Getty Images, Tim Graham/Getty Images
Meghan Markle is creating a unique spot for herself within the royal family. 
With only two months remaining until Prince Harry marries the American actress, there's no doubt Meghan is in full-on prep mode as she prepares to bid civilian life farewell. Today marked her first official appearance alongside Queen Elizabeth II, a major step for someone that just two years ago had not officially met her future husband yet.
Grant Harrold, "The Royal Butler" who is known as Britain's etiquette expert and former royal butler to Prince Charles, Camilla, Duchess of Cornwall as well as Prince William and Prince Harry, spoke to E! News exclusively about Meghan's "modern approach" to royalty, what she can still learn from etiquette protocol and the similarities he sees between her and the late Princess Diana. 
Harrold, who worked with the royal family for seven years up until 2011, says he was reminded of Princess Diana when Markle stopped to embrace a young schoolgirl during a recent engagement with Harry. 
He describes Meghan's gesture as "really, really sweet," but adds it's not "normally" something the Queen would do. "It's something younger people do," Harrold explains, later continuing, "She's got her own way of doing things... You look at the energy of Princess Diana and she was very much somebody that would hug people. She was famous for it, wasn't she?" 
At the peak of Princess Diana's global reach, Harrold says, "None of the rest of the royal family hugged. It just wasn't the done thing. Now the younger royals, Princes William and Harry, you see them hugging... So it's their way of doing it. They are very much copying what their mother did, which is fantastic." 
Max Mumby/Indigo/Getty Images
Hugging commoners aside, Harrold believes she'll have to give up two very important aspects of the celebrity lifestyle—autographs and selfies. He predicts Meghan will "definitely [be] discouraged" from signing photos of herself for fans and notes that posing for photographs is "obviously a big thing" that royals stray away from. 
He explains, "She has to be careful what she says, how she says it, and how it's taken because after the 19th of May, it will be very much the reflection of the royal family. It's every day things—from the way she walks, the way she speaks, the things she does, how she eats, how she holds her cup, how she dresses—everything will be looked at the right way or the wrong way... There will be a lot for her to adapt to." 
Chris Jackson - WPA Pool/Getty Images)
And unlike Kate Middleton, who grew up in England, Harrold says that coming from the United States puts Meghan at somewhat of a disadvantage. 
"It's a different way of life," he remarks, "a different culture, completely different upbringing. So it's probably more difficult that she's got to learn not just about how to be a royal, but also learn the British way of life." But "what's great" for the former Suits star, Harrold adds, is that "she's got a wonderful sister-in-law who she can speak to, follow her lead and watch how she does it." 
Additionally, Harrold says she's learning etiquette and protocol "from within," and the royal family has made it "very easy for her to just ask the question as she goes along."
After marrying Prince Harry, he tells E! News Meghan will have the opportunity to "create the rules" regarding etiquette. "They do things how they want to adapt them," Harrold explains. "If it's something she does and if the rest of the family lets her do it, it becomes the done thing and that's it."
Speaking to Prince Harry and Meghan's relationship, Harrold says it makes "complete sense" that the pair found each other. Describing Meghan as "very caring" with a "lovely personality" and passion for charity, he predicts Prince Harry "recognized" many of his own attributes within her. 
"Not to mention she's a very pretty girl, and again when two people meet and fall in love who's to say? it's very much a personal thing. As far as the actual personalities go, I think it was a matched made in heaven," Harrold shares.