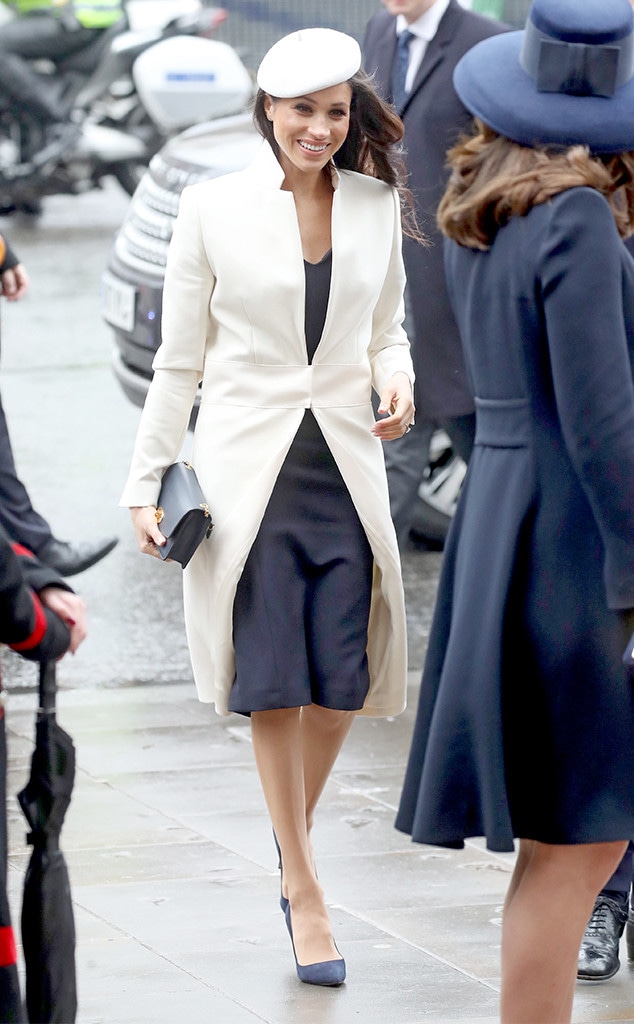 Chris Jackson/Getty Images
While she's not officially part of the family just yet, Meghan Markle got perhaps her biggest dose of royal life so far when she attended her first Commonwealth Day on Monday. 
Sporting a vivid cream beret-style Stephen Jones hat and matching coat by Amanda Wakeley, it was hard to miss the American star as she entered Westminster Abbey beside her British beau, Prince Harry, and behind her future in-laws, Duchess of Cambridge Kate Middleton and Prince William for the recurring interfaith service synonymous with the occasion. 
Following suit with the rest of the royal family members, Markle shook hands down a line of public figures as Charles, Prince of Wales and Duchess of Cornwall Camilla Parker Bowles arrived not far behind them. The siblings and their partners then followed in a procession down the aisle to their seats. 
Not long after, Queen Elizabeth II arrived without Prince Philip to the church, trumpets sounding off as she stepped inside. This marks Markle's first official event with the monarch. 
DANIEL LEAL-OLIVAS/AFP/Getty Images)
DANIEL LEAL-OLIVAS/AFP/Getty Images
Chris Jackson/Getty Images
If she was suffering any nerves, the Suits alum certainly didn't show it, She appeared to fit right in from the start of the service as cameras zoomed in to find her singing the national anthem. During the ceremony, the star was spotted following along on her pamphlet, singing and taking in the performances, including one of John Mayer's "Waiting on the World to Change" by Liam Payne. The engaged pair was seated directly behind the queen and to the right of William and Kate. The expectant royal sported a navy Beulah dress and coat and coordinating wide-brimmed hat by Lock and Co. The royal brothers both opted for classic navy suits. 
On their way out, Prince Harry and Meghan were presented with posies from some school children. 
The annual occasion is meant to pay tribute to the network of 53 member states or former territories of the British empire that currently remain within the Commonwealth of Nations with Queen Elizabeth II serving as the head of most of the nations for more than six decades.
It was this time last year that Prince Harry had just returned from a trip to Jamaica with Markle for his best friend Tom Inskip's wedding. It provided one of the first sightings of the two together and, upon his return, Harry attended the ceremony with his grandmother and grandfather. Prince William controversially did not attend the event after enjoying a ski trip in the Swiss Alps with friends. 
A year later, a royal wedding is just around the corner! As the actress told students and teachers outside of Westminster Abbey after the ceremony, she is "very excited" about her wedding.