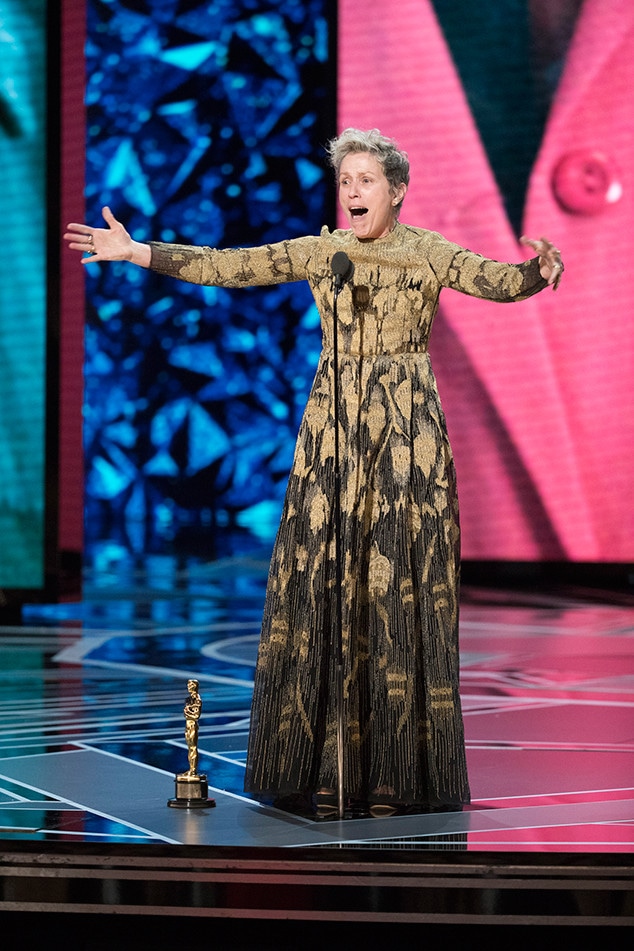 Craig Sjodin/ABC
Frances McDormand is all about inclusion.
At the 2018 Oscars Sunday, McDormand was named Best Actress for her leading role in Martin McDonagh's Three Billboards Outside Ebbing, Missouri, edging out fellow nominees Sally Hawkins (The Shape of Water), Margot Robbie (I, Tonya), Saoirse Ronan (Lady Bird) and Meryl Streep (The Post). In her acceptance speech, she called on her peers—and the rest of this year's female nominees—to stand and be recognized for their accomplishments in film. "Look around, ladies and gentlemen, because we all have stories to tell and projects we need financed. Don't talk to us about it at the parties tonight; invite us into your office in a couple days, or you can come to ours—whatever suits you best—and we'll tell you all about them," the 60-year-old artist said. "I have two words to leave with you tonight, ladies and gentlemen: inclusion rider."
For those not in the know, McDormand explained what an "inclusion rider" entails when she appeared in the pressroom backstage. Admitting that she "just found out about this last week," McDormand said that when someone negotiates for a film, an inclusion rider means "you can ask for and/or demand at least 50 percent diversity in not only the casting, but also the crew."
"And so, the fact that we—that I—just learned that after 35 years of being in the film business, it's not...We're not going back. So, the whole idea of women trending? No. No trending. African Americans trending? No. No trending. It changes now, and I think the inclusion rider will have something to do with that. Right?" the actress told the assembled journalists. "Power in rules."
(Stacy Smith, founder of the Annenberg Inclusion Initiative at the University of Southern California, was the first to explore the idea of adding an "inclusion rider" as part of a contract clause in a 2016 TED Talk. "The typical feature film has about 40 to 45 speaking characters in it. I would argue that only eight to 10 of those characters are actually relevant to the story. The remaining 30 or so roles, there's no reason why those minor roles can't match or reflect the demography of where the story is taking place," she said at the time. "An equity rider by an A-lister in their contract can stipulate that those roles reflect the world in which we actually live.")
McDormand argued the shift in Hollywood "happened way before" the rise of the #MeToo movement and Time's Up initiative. "What happened last year, with Moonlight winning Best Picture, that's when it changed. And it had to be acknowledged! That had to be acknowledged, and it was acknowledged in the best possible way—not just by fixing the mistake, but actually recognizing that it won Best Picture," the actress added. "Moonlight won Best Picture of 2017."
Regarding the changing tide in Hollywood, McDormand said, "The message that we're getting to send to the public is that we're going to be one of the small industries that try to make a difference, and I think $21 million in the legal defense fund is a great way to start. And the commission that's being headed by Anita Hill, that's really smart. See, we didn't just...We didn't just put out commercials about it. We actually started a conversation that'll change something."
Be sure to watch E! News Monday for more Oscar coverage at 7 and 11 p.m., only on E!