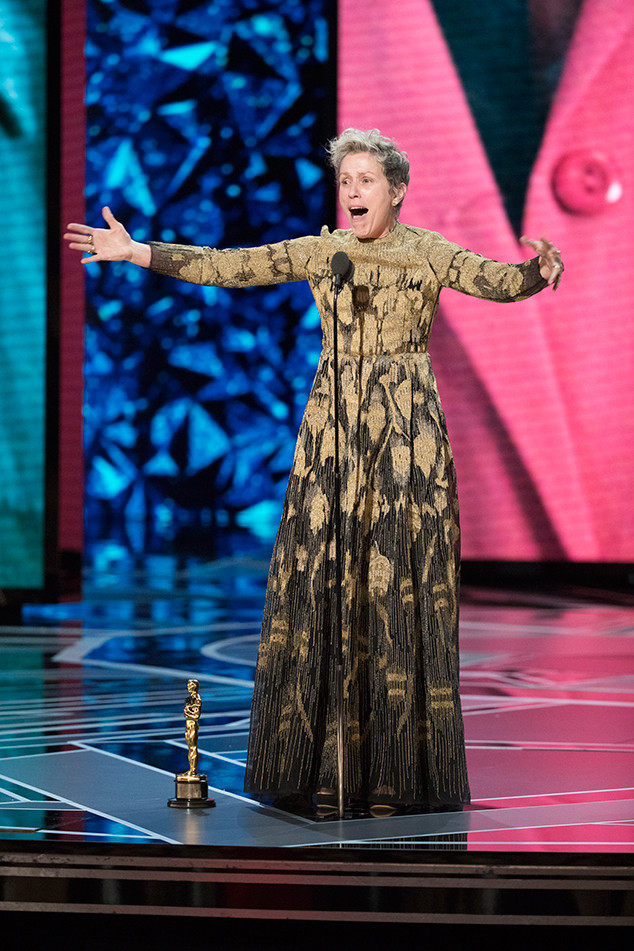 Craig Sjodin/ABC
Frances McDormand is all about inclusion.
At the 2018 Oscars Sunday, McDormand was named Best Actress for her leading role in Martin McDonagh's Three Billboards Outside Ebbing, Missouri, edging out fellow nominees Sally Hawkins (The Shape of Water), Margot Robbie (I, Tonya), Saoirse Ronan (Lady Bird) and Meryl Streep (The Post). In her acceptance speech, she called on her peers—and the rest of this year's female nominees—to stand and be recognized for their accomplishments in film. "Look around, ladies and gentlemen, because we all have stories to tell and projects we need financed. Don't talk to us about it at the parties tonight; invite us into your office in a couple days, or you can come to ours—whatever suits you best—and we'll tell you all about them," the 60-year-old artist said. "I have two words to leave with you tonight, ladies and gentlemen: inclusion rider."
For those not in the know, McDormand explained what an "inclusion rider" entails when she appeared in the pressroom backstage. Admitting that she "just found out about this last week," McDormand said that when someone negotiates for a film, an inclusion rider means "you can ask for and/or demand at least 50 percent diversity in not only the casting, but also the crew."