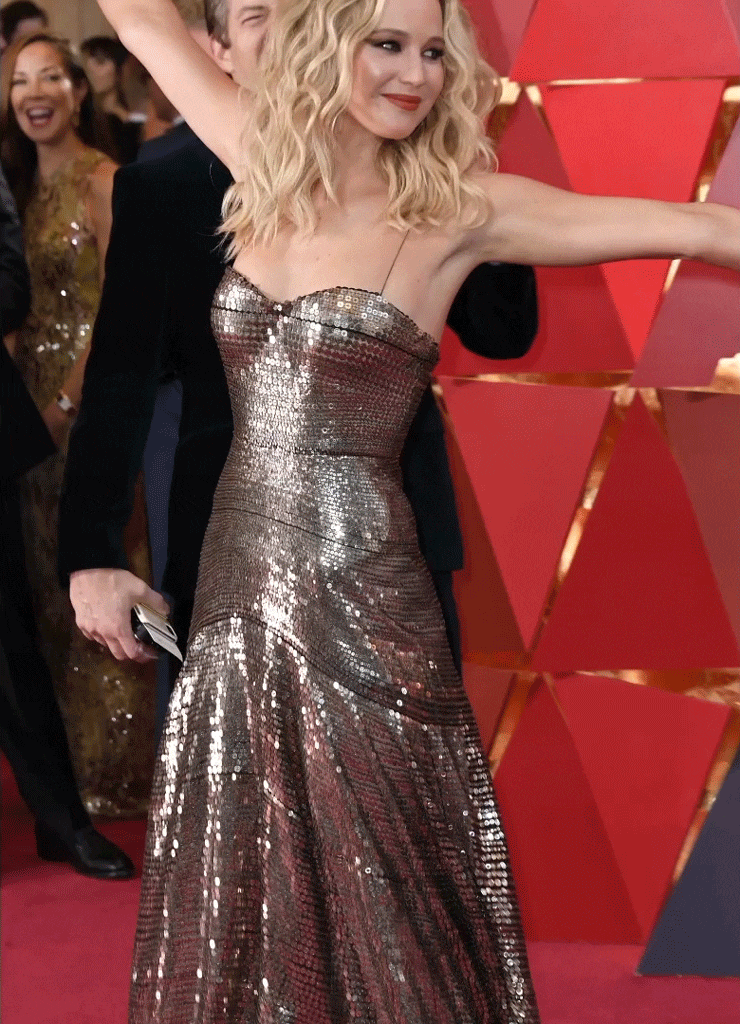 Getty Images
Who's the queen of award shows? Why, Jennifer Lawrence of course, and the 2018 Oscars was no exception.
The Oscar winner, often dubbed J.Law, is one of the most relatable actresses. She is known for her candor and free spirit and does not act differently on an award show night. At this Sunday, she again let her hair down—literally!
Playful Poses: Lawrence began the fun early. Wearing a metallic Dior gown and her mid-length hair in waves, Lawrence made her way down the red carpet into the Dolby Theatre at the Hollywood & Highland Center, stopping to strike some playful poses.
Thankfully, she avoided any falls. Lawrence has fallen at the Oscars twice before, in 2013 and 2014.
ANGELA WEISS/AFP/Getty Images
Pour the Wine! Once inside the Oscars venue, she grabbed a glass of white wine.
Sporting a mischievous smile, and with her wine in hand, she climbed over some seats to talk to fellow guests.
Kevin Winter/Getty Images
Lawrence was photographed chatting with Meryl Streep, director Steven Spielberg, and also reunited with her Hunger Games co-star and friend Woody Harrelson.
Kevin Winter/Getty Images
Meet-Up With Emma Stone: 
Lawrence and her BFF, also a past Oscar winner, sat together inside the venue. They were later spotted drinking wine in the downstairs bar. The two appeared to be in great spirits and Lawrence was overheard saying she had "nothing to do" but present one award.
Be sure to watch E! News Monday for more Oscar coverage at 7 and 11 p.m., only on E!