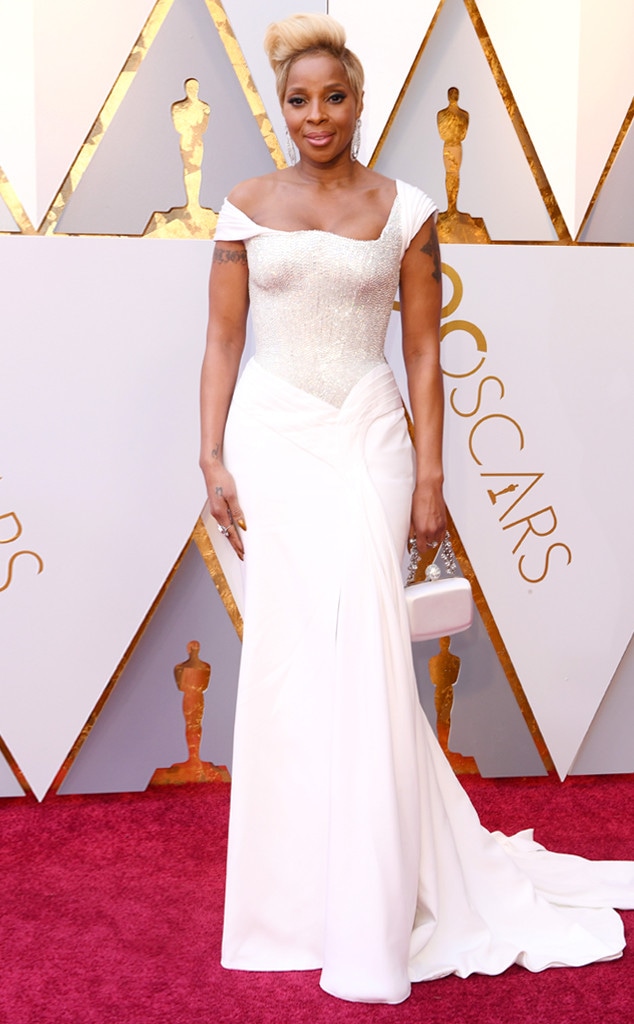 David Fisher/REX/Shutterstock
Mary J. Blige is having a moment, to say the least. The singer is performing at the 2018 Oscars and is a multi-nominee for her work in Mudbound. She's up for Best Supporting Actress and Best Original Song for her work in the Netflix movie.
"I'm so excited," Blige told Ryan Seacrest at the 2018 Oscars. "I don't even know what to do with myself."
Blige is the first person to be nominated for acting and original song in the same year.
In the movie, Blige plays Florence Jackson and she told Seacrest the character's strength jumped off the page for her. "It's love, love is the silver lining, the thing we need. It kind of saved the day. No one was expecting for everyone to end up loving each other the way they did…that's the thing that drew me to the script."
Watch:
Mary J. Blige Spills on "Mudbound" Performance
Blige said director Dee Rees also brought her to the project. "I'm a fan of her work, that drew me to the script as well," she said.
While the acting nomination is something to celebrate, Blige said the Best Original Song nod means so much to her because "this is what I've been doing for 25 years."
"To have the Oscars recognize me as a songwriter and a singer, oh man, it's just the cherry on top of the 25-year music business cake," she continued. "It says we keep doing this."
Blige will perform "Mighty River" from Mudbound at the 2018 Oscars. She's nominated along with Raphael Saadiq and Taura Stinson for writing the song.
Next up for Blige is the Netflix TV series The Umbrella Academy and a voice in Sherlock Gnomes.
Be sure to watch E! News Monday for more Oscar coverage at 7 and 11 p.m., only on E!