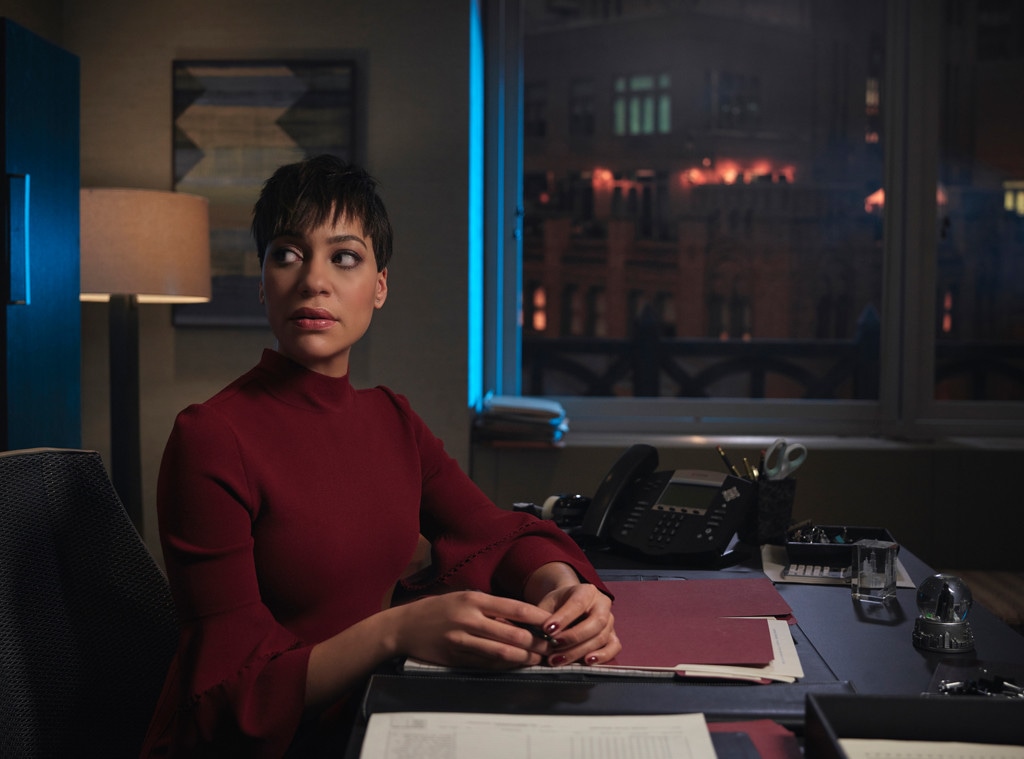 CBS
Cush Jumbo was nervous. She had something she needed to get off her chest before returning to work on The Good Fight, the CBS All Access spinoff of The Good Wife, and she wasn't sure how her bosses, Robert and Michelle King, would take the news. She's pregnant.
"I was terrified to tell them even though they would never have a bad reaction," Cumbo, who plays Lucca Quinn on the series, told E! News during a recent set visit. Jumbo was seated behind her desk in her TV office and eating oatmeal, she had just wrapped for the day. This is her third season as Lucca, she originated the lawyer character in the final season of The Good Wife.
"You're really emotional at the beginning anyway. And I was only a few weeks when I found out…I didn't plan it. I was doing a play in London when I found out...I was on a bachelorette party in Ibiza when I found out, so you can imagine how not drunk I was," she said with a laugh.
She told the Kings about her pregnancy before her own parents. "Because I had to," the actress said.
Jumbo said it was an interesting process to tell her employer because in her line of work, acting, a pregnancy either has to be written in or hidden. "And I'd heard horror stories about people kind of being, downgraded," she said. Her mind began racing about all of the possibilities that could happen to her and her character. She even consulted The Good Wife's Julianna Margulies, her former costar, about sharing her news and how the producers on the show would handle it.
Having her character regulated to sitting behind desks and wearing big coats with large bags was "exactly what I didn't want," she said.
"I actually had a conversation with Julianna and she was the person who was like, 'It's gonna be fine. Whatever way,'" she said. "I went to Jules about it and I was like, 'Oh my god. What am I gonna do?' And she said, 'Whichever way it goes…it's such a great team that you'll be fine.'"
Margulies was pregnant while working on the short-lived Fox legal drama Canterbury's Law and told Jumbo about her experience on camera while with child. "She said, 'I wish that I had had it written in.'" Not because of the physical aspects, but Jumbo said Margulies told her "how difficult it is to play a non-pregnant woman when you are a pregnant woman."
"'Cause as an actor, you're always working from a neutral place of kind of yourself as a baseline. Some days, you know I come in and I cry at every thing. Or I want to eat a banana at the worse time of the day or, like, I have to pee, again. I just peed. Or you just might have a very low day…to be able to incorporate that as opposed to fight against it—because from the breasts upwards, absolutely fine."
With the pregnancy, the show has found new material to mine for stories. Jumbo said her panic about telling her bosses even made it into the scripts.
"Your professional head kicks in and…there's a big panic…I've worked so hard to get to this place. And now, is this going to…? You know, they actually put that in the script at some point," she said about her fears becoming her character's. "So then, they were so excited about it, because the prospect of the narrative and the fact that her and Colin aren't together, that they'd have to navigate this situation."
Even though employers legally can't penalize a woman for getting pregnant, some do. "It's been really cathartic for me to play that out with them and play it out on the show," she said. "So I guess for her, Lucca's whole top layer of being like, together and sorting people out and being the kind of the Angela Lansbury of the situation and fixing things...can you apply that same framework to being pregnant and working? Or do you sometimes need to ask for help? Does it reveal some vulnerability in you that you actually do need your friends? You need to share that."
Lucca, like Jumbo, does not want impending motherhood to derail her career and makes that perfectly clear on and off camera. For the character, who has been so closed off from others, this "opened up a whole other door in Lucca," Jumbo said. "I think she's a lot funnier this season. She was always a bit funny but I think she is like funnier...She has to acknowledge that there is somebody else to think of besides herself and that sometimes, to say, 'I need help,' or to say, 'I need support,' doesn't make you weak."
Don't expect a child to necessarily mean Lucca and Justin Bartha's character Colin will reunite and have a happy ending. At the moment, "this is not happy ever after," Jumbo said. "It's real life…this is not a man saving woman situation, which I quite like."
The Good Fight drops new episodes Sundays on CBS All Access.