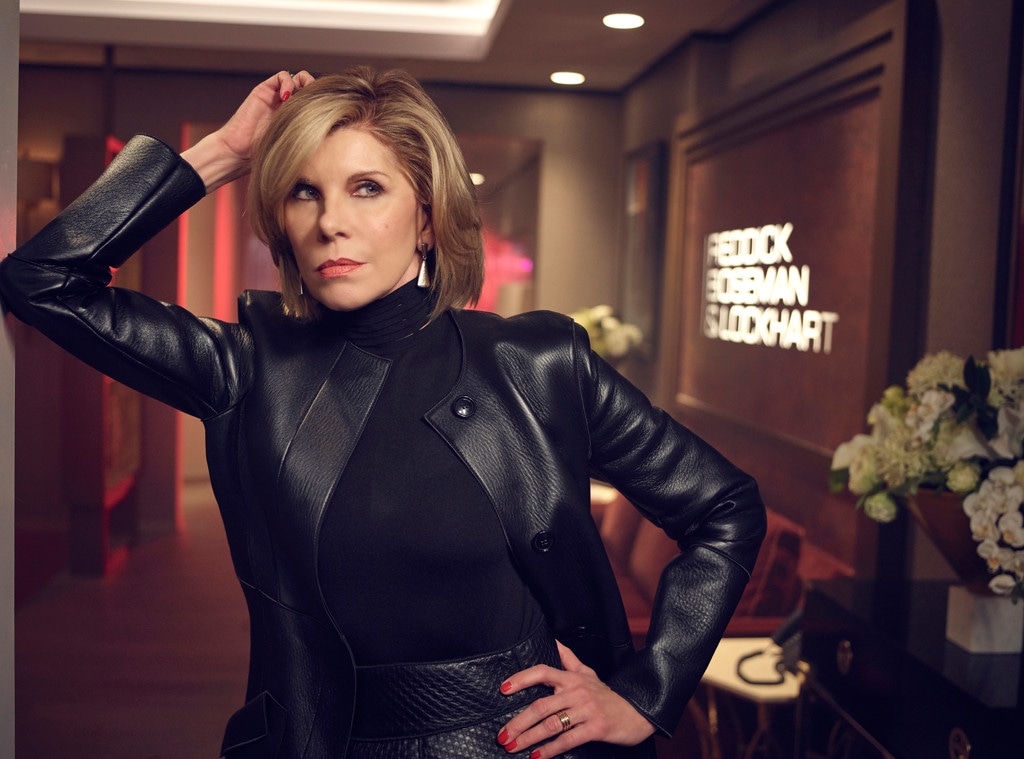 CBS
When Christine Baranski sat down to talk on set of The Good Fight, she was coming off a busy (and fabulous) 24 hours. The day before, she filmed all day for her CBS All Access drama, headed out for an interview—complete with a musical performance—on The Late Show with Stephen Colbert, and closed out her evening taking in costar Bernadette Peters' opening night in Hello, Dolly!. All that on a "school night." Back at work the following day, Baranski was ready to go on this gray, rainy Friday in February.
"I would do anything for Bernadette," the Emmy winner said while snacking on bite-sized chocolates in her dimly lit dressing room during a scene turnaround. Being there for your costars is a leading actor staple.
Baranski is in her ninth season as the brooch loving, inspirational lawyer Diane Lockhart, the role she originated and played for seven seasons on The Good Wife. Now, in her second season playing Diane on The Good Fight, she's moved from supporting player to lead actress. Just as Diane has had ups and downs over the years, Baranski has experienced her own, like new life, the birth of a grandchild, and death, her husband passed away in 2014, allowing for her to bring noticeable depth to her portrayal of Diane. Through it all, Baranski has emerged, along with Diane, as a true TV leading lady.
On her Good journey, Baranski has gone from sage, martini-sipping lawyer to the emotional core of a critically acclaimed series. As the top of The Good Fight's call sheet, she sets the show's tone, both on and off camera.
"With someone like Christine, it is the most fantastic thing to ever be within the woman's aura. She is extraordinarily generous as an actress and specifically speaking as a person…She gives you all the time that she has on set to come chat with you and catch up with you," The Good Fight's Rose Leslie told E! News in a phone interview. "She is essentially the captain of our ship and she sets a fantastic precedent on how to be professional and how to treat and interact with others. She's a real gem."
Season two of The Good Fight picks up with Diane quite literally surrounded by death. One of the founding partners of her current law firm is dead (natural causes), and attorneys around the city fear for their lives after a client kills his lawyer over perceived overcharging. All that death, coupled with Diane's continued inability to cope with the current political climate under President Donald Trump, is weighing on Baranski's character. This is a new frontier for Diane and Baranski.
"I always aspire to be like Diane in so many aspects of my life. I wish I had her education, I wish I had her legal mind, I wish I had her rationale—her ability to just see the whole picture. She's a very evolved human being, I think. She was always the center—she was the grownup in the room. I always say she's the Angela Merkel who might have looked good in couture and Stilettos," Baranski said. "She was the reasonable one, which is why season nine is so interesting, because she's unhinged in season nine. She can't actually deal with reality anymore because it's too surreal. Like a lot of people who are rational and liberal-minded and believe in a kind of logic to things, she just can't process what's going on in the world. I think the writers are addressing that through Diane."
Back for the craziness in season two are Leslie playing Maia Rindell and Cush Jumbo as Lucca Quinn, two of the firm's more junior attorneys. Game of Thrones veteran Leslie is a new Good addition with The Good Fight, and Jumbo joined the Good-verse in season seven of The Good Wife. Both were fans of The Good Wife before joining the casts.
"Well, I suppose in the character of Diane Lockhart, I had always been kind of drawn towards the resilience that she has," Leslie said. The character's ability to appear in control of her life, coupled with her passion and dedication to her job, is something Leslie appreciated when she was watching The Good Wife. "Christine's ability in playing her is fantastic because there's a humanistic aspect where she is flawed as well. That kind of pulls you in as a viewer and as a result you always long for Diane Lockhart to be on screen because she is magnetic."
Jumbo, who watched The Good Wife back home in England, said the character of Diane "always had a quality to her, that on the surface somebody might see quickly and say, 'Oh, she's very regal. Oh, she's very well put together.' But she's almost like a predator in a lot of ways because she's like a cat. She sits, she waits, she watches, and when she loses it, she loses it in a way that's useful. She was always the one who—you just didn't want to f--k with her. But you didn't quite know why, because it's not like you saw her storm into rooms and scream at people. She doesn't have to do that."
The Good Fight, according to Jumbo, has allowed viewers to dive deeper into Diane Lockhart's emotional life, to see how deeply she's moved by politics and the world around her. "It's probably what I admire about her as an actor as well," Jumbo said at her character's desk on set. "I spend all day watching Christine's eyeballs. She's always thinking and that comes across in tiny things that she does."
Baranski said her character exudes "female authority" at a time when "you can see the tide changing where female authority is coming into the culture," she said, citing the uptake in women running for office.
"Nine years I've been playing this character and I think she's always been a great role model and a person that people feel comfortable with. She's not in any way a female stereotype in that…she's strong, she's bitchy, or she's unhappy in her personal life and because she's successful or makes money she's a certain type. She's sort of defied stereotypes and because I'm playing the character I try and bring as much subtlety to it as possible and nuance. I love that she's not flashy. It's not like Diane appeared on The Good Wife and was the breakout character, like 'Oh my god, we've never seen anything like her,'" Baranski said.
"She's had a quiet, steady authority and elegance that I think now captivates people because we're living in an insane time. People are looking for, 'OK, who's the strong, sane person in the room?' She's not only strong, sane and intelligent and well spoken, but she's always pulled together rather nicely, and looks great. People have followed her story over the years, and she's oh, I don't know, kind of Walter Cronkite in that reliable sense," Baranski suggested with a laugh.
"She is a comfort. It's like, 'If she's in the room, then things will calm down,' 'OK, here comes the voice of reason,' and once again that's why I say season nine will be quite a wonderful surprise for the viewers," she continued.
The Good Fight, like its predecessor, has a knack for being ahead of the curve when it comes to current events. Both shows, which hail from Robert and Michelle King, feature unapologetic, successful women living their lives and speaking their minds. Diane Lockhart was a character for the Time's Up and #MeToo movements before they were at the forefront of social change.
"I would say Diane was just ahead of her time, always. I just think she was dealing with that years before it became—It takes a long time for things to become part of the general conversation," Baranski said of the current shifts in sexual harassment awareness and accountability. "I think she was just way ahead of it."
CBS Photo Archive/Getty Images
Like Diane, Baranski has often seemed ahead of the curve with her performances, seamlessly bouncing between elegance and camp, truly showing off her range. She picked up one Tony for the drama The Real Thing and another for Rumors, a comedy. On TV, she won an Emmy for playing the boozy best friend Maryann Thorpe in the CBS sitcom Cybill and has received 14 other Emmy nominations. Her versatility is on display in virtually every project she takes on, from The Good Wife's heavy drama episodes—who can forget Baranski's emotional breakdown and steely resolve when Will Gardner died during season five?—to The Big Bang Theory's zingers and the lavish Mamma Mia! musical numbers. Her acting chops have attracted a fan following along with the accolades.
Baranski's penchant for playing strong-willed, often impeccably dressed women, like Diane Lockhart, Katherine Archer in The Birdcage and Tanya Chisham-Leigh in Mamma Mia!, has endeared the actress to many in the LGBTQ community. When asked if being a gay icon was something she sought to cultivate with her roles, Baranski laughed.
"Oh, I never set out to be that, but it's a happy place to be! I can only say watching Bernadette go down the staircase yesterday [in Hello, Dolly!], I thought, 'Yeah, that's the way to do it!' [Laughs.] Have those gay men love you, you must be doing something right," she said with another laugh before popping another chocolate in her mouth and leaving her dressing room to continue The Good Fight.
 The Good Fight season two premieres Sunday, March 4 on CBS All Access.