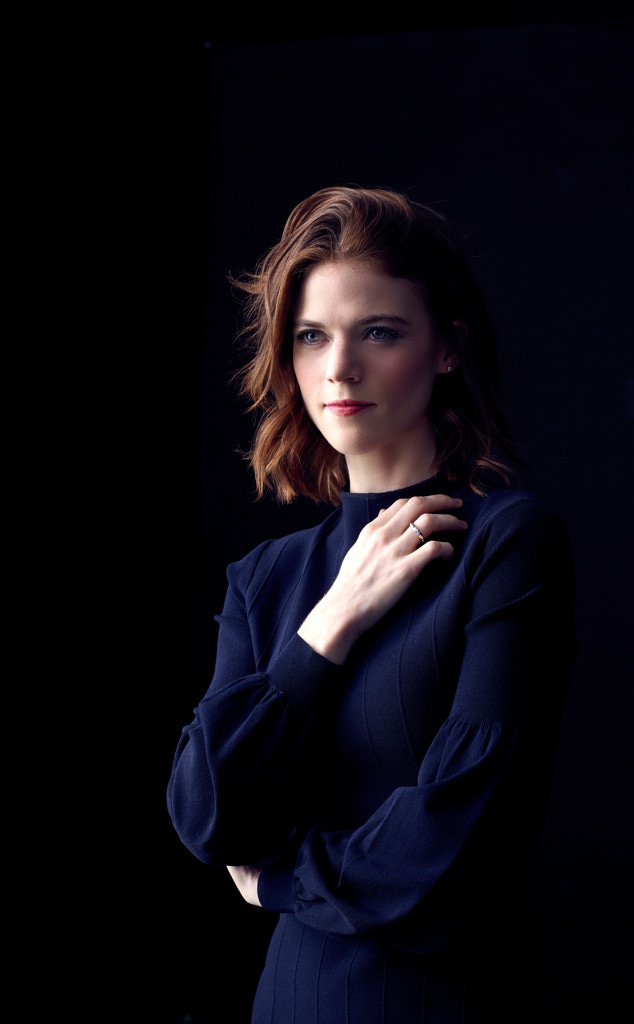 CBS
Rose Leslie is no stranger to playing characters facing indomitable odds on television, now her turn as Maia Rindell on The Good Fight has the actress facing them in a TV courtroom.
Leslie made a splash on Downton Abbey as Gwen, a housemaid who longed for a better life outside of the downstairs. Her character eventually left the service industry with the help of Lady Sybil. To American viewers, she followed up Downton Abbey with Game of Thrones where she played Ygritte, the Wildling warrior and romantic interest for Jon Snow (played by her real-life fiancé Kit Harington). The character was adorned in furs with a dirt smudged face, slung bows and arrows and charged into battles with the best of them. Now, Leslie's TV battles are little more civilized, but which does she find the more formidable character?
"Well, I think they're two very, very different characters. The physique that one has to adopt in high heel shoes—automatically your shoulders are kind of pushed back because you're trying to walk in them and your core strength is being used. I think that that informs the kind of body language on screen, and I think that as a formidable character it's going to be hard to counteract that if you're going to be, I don't know, wrapped up in furs and running over a hill. I find both of them formidable in their own unique ways," Leslie said.
"With Maia, there's a sharpness to the world of The Good Fight and the beautiful outfits we get to wear absolutely inform the kind of determination we have, kind of episodically speaking with all six court cases that we find ourselves in. So I think the shoes, the clothes and the hairstyles and the kind of badass outfits that we get to wear definitely help getting across as a formidable presence," she continued.
Season one of The Good Fight ended with Leslie's Maia Rindell facing arrest following several twists in the investigation into the financial scam perpetrated by Maia's parents (played by Paul Guilfoyle and Bernadette Peters). Leslie's character, a lawyer just out of law school, faced a baptism by fire during her first season. She's changed by the experience.
"She had an absolutely kind of awful time of it in season one…All aspects of her life were crumbling, and yet what I love and what has inspired me about her, is that she's managed to kind of spin that incredibly traumatic experience into what essentially is the makings of her," Leslie said. "I think that's very noteworthy because in life it's easier to admit defeat, but there has now been a turning point within Maia and a realization that the dilemma that she has managed to kind of get through has allowed for an opportunity for her to mature and evolve as a woman."
One thing that hasn't changed about Maia is the way her sexual orientation is portrayed on screen. Maia is a lesbian on the series, but her sexuality does not define her. It's just a matter of fact.
"What I enjoyed about Maia is that yes, it doesn't define her, it's how I feel sexuality should always be portrayed on TV. So I feel that it is written and the way the character presents herself, I don't necessarily feel responsibility simply because you are who you are and as a result there's no need to project or kind of milk the situation or the sexuality. It just is what it is, and that simplicity is something that I hold in high regard because it should be accepted and one should move on and be regarded for their actions rather than their sexual orientation," Leslie said.
Season two of the CBS All Access series will continue to mine the current political landscape for drama, but will also introduce a new layer: Lawyers are scared, not for their paycheck, but for their lives.
"There's an overarching sense within this season of the lawyers being targeted and killed by disgruntled clients and they all have their own reasons as well for targeting us as a law firm. I think the brilliance of undertone of fear and that makes people react in all sorts of different manners. And I think the challenges with Maia is for her to keep her head above it all, carry on working and carry on fighting for what she believes in. There's a resolve to her character," Leslie said. "She is kind of searching for a mentor and finds it in Liz Reddick [Audra McDonald] and I think that speaks volumes of her and who she wants to become and evolve into…She's no longer the kind of vulnerable girl. There's a transition that you see in her and that's exciting to the audience as well."
Neilson Barnard/Getty Images
Leslie has her own challenges as well. She's in Brooklyn, New York filming The Good Fight while husband-to-be Harington is overseas filming the final season of Game of Thrones. The wedding planning is still ongoing, and figuring out "tiny little details" over FaceTime or email "is hard" and the distance "does make things a little bit trickier, but no, for the most part we agreed on most things," she said with a laugh. "Which is good."
And a message to fans, one she made clear to her Good Fight cast and crew from the beginning: Don't ask her for Game of Thrones spoilers.
"Oh, Chris! I've hands down said from the beginning, sadly as season eight is now being shot I don't want to know anything about Game of Thrones in terms of any spoilers and what the storyline is going to be. I want to be sitting down on my sofa along with the rest of world, as excited and as pumped. Genuinely, I don't have a clue! I don't have a clue and I'm very happy about that because all of this anticipation, all of this building up is just going to be so satisfying when we finally get to watch the first episode," she said with a laugh.
The Good Fight drops new episodes Sundays on CBS All Access.