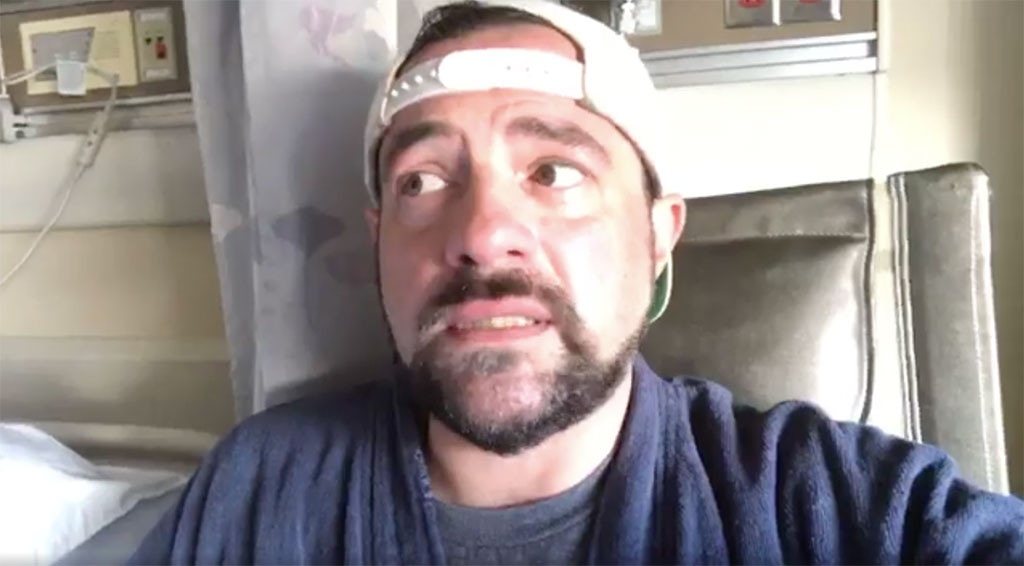 Facebook
In the face of death, Kevin Smith was looking back on an "incredible" life. 
At 47 years old, the famed comedian suffered a "massive" heart attack Sunday night. As he later explained, his LAD artery was completely blocked, triggering the attack and his emergency hospitalization in the midst of filming a stand-up special, Kevin Smith Live!, in Glendale, Calif.
Two days later, the star was on the mend and addressed his concerned fans and followers in a Facebook Live from his hospital room—robe and all. "Hey, it's me. I'm fine...kinda," the lighthearted jokester began. 
Smith took viewers through the entire chain of events, from the moment he started feeling nauseous backstage—"I was honestly under the impression that I had gotten some f--king bad milk"—to struggling to catch his breath. After realizing something was not right, he got into an ambulance and headed to Glendale Adventist Medical Center, where the emergency doctors quickly realized the star had suffered a near-fatal heart attack. 
As he recalled, doctors planned to go up his groin and into his heart to figure out what was causing the attack, but that posed a bit of a conflict for the self-conscious star. "My biggest fear in life: death—number one. Number two: people seeing my d--k," he said into the camera. 
After somewhat bargaining about having to get his penis shaved for the surgery, his doctor found the LAD blockage and put a stent in. "Bam—here I am. Crazy! Dude literally saved my life," Smith pointed out. 
However, the star took a slightly more serious tone as he reflected on what it was like to experience the outpouring of love that comes in the wake of a near-death experience like this. 
"It was kind of like reading your eulogy. I saw what life will be like when I die—kind of what the reaction would be if I died," he explained, noting how appreciative he was for all of the well wishes and acknowledgement, including from none other than Chris Pratt. "It was very, very sweet."
While life from this point forward will be different for Smith—to start, he's on several medications and will start seeing a cardiologist regularly—the attack also forced him to take a significant look back on his life. 
"There was this moment where I was like I might die," the comedian remembered. "I just thought about everything and thought about my parents and how they raised me and my brother and my sister and my friends and my wife and my kid and this weird wonderful career that I've had for so long and stuff and I was like content."
As he got choked up, Smith clarified he didn't want to die, but had that been the outcome, he was "ready."
"What a ride it's been," he said. "What an incredible f--king ride."