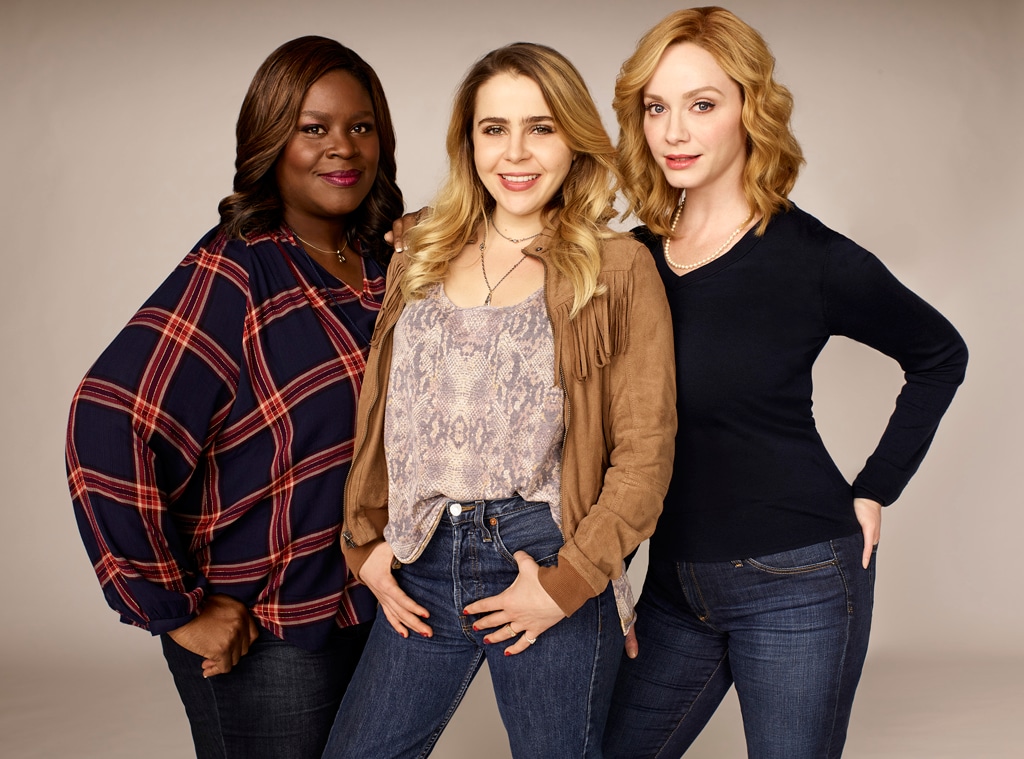 NBC
Good Girls wasn't meant to feel so timely.
The new NBC dramedy, premiering Monday, Feb. 26 in the plum post-The Voice timeslot, tells the story of three suburban Michigan moms, tired of the men in their lives and the world at large letting them down, who decide to stick up for themselves by sticking up a local grocery store. It's wickedly funny, divinely cast (with Christina Hendricks, Mae Whitman and Retta as the titular girls) and, arriving at the height of the #MeToo and Time's Up movements, certainly feels a piece of the general zeitgeist, as its main characters finally say "Enough is enough" to their crappy circumstances.
"The timing feels strange to me, too," creator Jenna Bans (Grey's Anatomy, Scandal), who wrote the pilot script at the height of the 2016 presidential election, tells E! News. "All I can say about it is sexual harassment is obviously timeless"
For Bans, that contentious campaigning between Donald Trump and Hillary Clinton was inspiration enough. "Every morning, I would wake up and see these insane rallies of people screaming 'Lock her up' and the Access Hollywood tape came out. I was really feeling like we were at a moment in time where women in general, at least speaking for myself, I was feeling really powerless and frustrated and backed into a corner," she says. "I remember this pivotal phone conversation I had with my mom who is a 70-year-old lawyer in Minnesota. And I said, 'I can't believe the sexism in the election is just that overt.' And she said, 'Where have you been?' Like so salty and so over it, and it just got me really want to channel my frustration and anger and all of that into what I was writing at the time."
Enter: Good Girls.
The series follows Hendricks' Beth, Whitman's Annie and Retta's Ruby, each with enough of their own personal turmoil that they think robbery is their only hope (one's child has a debilitating and expensive chronic illness, one's livelihood has been threatened by a philandering husband's ineptitude, and the other is worried about losing custody of their kid), as they learn that crime never pays. What? You thought it would stop at the grocery store robbery? This ain't no movie.
"I think what you see with Good Girls is it not only follows their descent into this life that is more than they bargained for, but it also really follows their personal lives, too, and balancing what they're doing in terms of their illegal, extra-curricular activities with their personal relationships at home," Bans teases. "I think the combination of those two things gave us more story than I think people would realize just based on the log line or based on the concept."
Good Girls also arrives as the latest in a recent string of shows that seem to have broken the proverbial glass ceiling wide open when it comes to what female characters can get away with, beginning with Bans' old Shondaland stomping grounds and continuing with Lifetime's Unreal and TNT's Claws, among others. However, while the network describes the show as "a little Thelma & Louise with a bit of Breaking Bad," don't expect this latest trio of anti-heroines to go full Heisenberg—at least not yet.
"I think what makes this different is that...they're not Walter White. They're women with really strong moral centers and they're playing multiple roles in their lives. They're wives, their mothers, and providing for their families," Bans says. "I think it's important for the tone of the show—we sort of straddle the line between comedy and drama to keep them morally centered as much as possible, as much as they can be throughout the journey."
As the season progresses, however, look for the ladies to begin questioning how much longer they can really keep their new lives up. "When you get to the end of the first season, we're actually having pretty overt conversations about how far can we go here and still be the mom who wipes chocolate off our child's cheek? How can we look ourselves in the mirror if we keep going down this path we've set ourselves up on," Bans continues. "I think, in Breaking Bad, Walter White was just so ready to go full Heisenberg from the moment you met him in the pilot, and these women are different. They're sort of doing what they do as a means to an end, but they're sort of morally justified the whole way, which is a fun sort of tight rope for the writers and I to walk to keep them feeling like they can be moms and mothers and wives and humans at the end of the day."
That said, Bans readily admits that she hasn't felt any pressure, either overt or implied, to keep the trio in the traditional broadcast TV realm of female "likeability." "Even though we play with their morality and they try to morally justify what they're doing, I wouldn't say they're by any means completely likable or perfect characters. I think they're always relatable, but like anyone, like any person, woman or man, in the world, I think they have flaws which makes them interesting to play and interesting to write for," she tells us. "So, I would say, no, it's not like we're holding them up to this feminine ideal of perfection. If anything, I think we're sort of doing the opposite and showing that women can just be as complicated and as flawed and messed up as men can be. Those are the fun characters to watch, at least in my own opinion."
While the show may not have been influenced by the movement it finds itself debuting as a perfectly-timed example of its necessity, Bans is hopeful that her series will not only entertain the masses, but keep the momentum of change moving forward. "It really was sort of a product of the times and obviously that hasn't changed a year and a half, two years later, as were in this sort of groundswell of Me Too and Time's Up and women are really feeling empowered to speak out," she says. "So if Good Girls can be a small part of that, I think everybody who's made the show would be really satisfied."
Good Girls premieres Monday, Feb. 26 at 10 p.m. on NBC.
(E! and NBC are both part of the NBCUniversal family.)