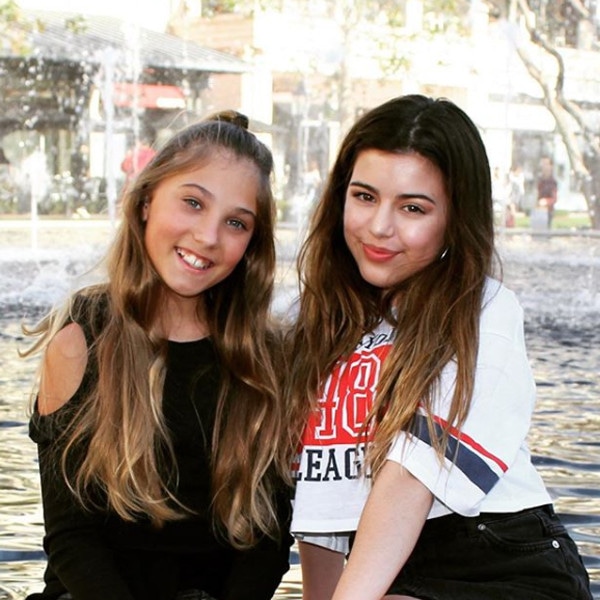 Instagram
Guess who's back together again?!
Just a few short weeks after Sophia Grace and Rosie appeared on The Ellen DeGeneres Show to celebrate the talk-show host's 60th birthday, E! News has learned the pair reunited again in Los Angeles.
In an Instagram posted Thursday afternoon, Rosie gave a sneak peek into the surprise reunion on Valentine's Day.
"Back where it all began!" the caption read. "#cousins #bestsurpriseever @therealsophiagrace."
Sophia Grace would also capture a selfie with her family member on Instagram Stories. So what brings this talented pair together again? Perhaps it's just a small world after all.
"Rosie is in town recording her first song and Sophia FaceTimed her and surprised her that she was in town," Rosie's rep shared with E! News. "The girls spent yesterday shopping together and trying out makeup! They literally ran to each other when they saw each other. It was so cute!"
During her trip to Southern California, Rosie posted a photo from the Universal Music Group offices in Los Angeles. And just last month, fans learned more about Rosie's new song that is expected to be released soon.
"It's fun, upbeat, has a positive message, and is an excellent reflection of Rosie's personality," her rep shared with us. "We're working with an amazingly talented producer named Jordan Richman along with his writing team of Heather Miley and Griffith Frank. This is the same writing team behind JoJo Siwa's mega hit, 'Boomerang,' which currently has over 440 million views on YouTube and over 7 million streams on Spotify."
 "I'm not saying that we're going to match those numbers, but the song Jordan and his team wrote is awesome, and I am expecting a great response from Rosie's fanbase," Rosie's team added.
Anything is possible. After all, Rosie was one half of the duo who earned 53 million views of their "Super Bass" cover on YouTube. As for the moment they met Nicki Minaj on The Ellen DeGeneres Show, that clip has received a whopping 126 million clicks.
Cheers, ladies!