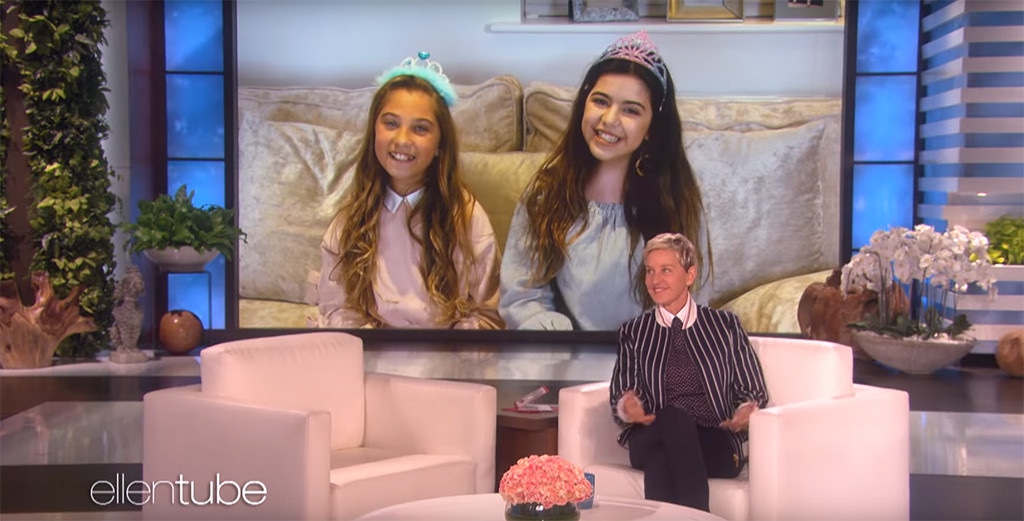 Warner Bros. Television
Sofia Grace and Rosie are back on the Ellen DeGeneres Show again! 
British cousins Sophia Grace Brownlee and Rosie McClelland rose to fame in 2011 at ages 8 and 5 after a video of them performing Nicki Minaj's "Super Bass" went viral. They then became even more famous when they appeared that year on Ellen DeGeneres' show, in what marked their first TV appearance. Ellen even arranged for them to meet Minaj on her program. The talk show host brought the girls back on her show several times since then.
On Friday, Ellen celebrated her 60th birthday and aired on her show a special video message Sophia Grace, now 14, and Rosie, now 11, had recorded for her.
"Look at them all grown up," the talk show host said.
"We just wanted to wish you a very happy birthday," Sophia Grace said.
"We've had so many amazing memories, Ellen," said Rosie.
They then presented clips of their top ones, which included the time the girls got slimed on the Ellen DeGeneres Show.
"I loved it but it was freezing cold," Rosie said.
Sophia Grace said her "best funniest memory from the show" was when the girls got to wear Nicki Minaj wigs in front of the hip-hop star.
"We hope you have a lovely day," Sophia Grace told Ellen.
"And we hope to see you soon," Rosie said.
"We love you Ellen!" the girls shouted in unison.
"That's when you feel the aging, 'cause you see them age and then you compare it and so now, I feel old," Ellen joked. "And Rosie wasn't even talking at the time. She never talks. She's talking now."
She's singing too. Both girls have ventured into music in recent years, releasing solo videos. Rosie plans on releasing a new song soon.
"It's fun, upbeat, has a positive message, and is an excellent reflection of Rosie's personality," her rep told E! News exclusively. "We're working with an amazingly talented producer named, Jordan Richman, along with his writing team of Heather Miley and Griffith Frank. This is the same writing team behind Jojo Siwa's mega hit, "Boomerang," which currently has over 440 million views on YouTube and over 7 million streams on Spotify. I'm not saying that we're going to match those numbers, but the song Jordan and his team wrote is awesome, and I am expecting a great response from Rosie's fanbase."