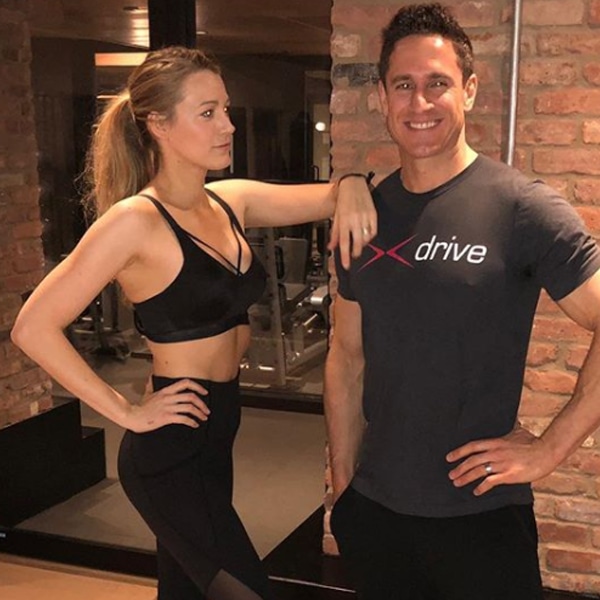 Instagram
Blake Lively is feeling herself!
The stunning blond took to Instagram today to detail her 61-pound weight loss after giving birth to her second daughter in September 2016. She shared a photo in her workout gear while standing next to her personal trainer Don Saladino, who she thanked for helping her through the process.
"Turns out you can't lose the 61 lbs you gained during pregnancy by just scrolling through instragram and wondering why you don't look like all the bikini models," she wrote beside the pic. "Thanks @donsaladino for kickin my A double S into shape. 10 months to gain, 14 months to lose. Feeling very proud."
Meanwhile, Blake gave birth to little Ines Reynolds on Sept. 30, 2016. Just a little less than two years before that, she welcomed her first daughter, James Reynolds, into the world.
Following her second pregnancy, she admitted she had to relearn to love her body.
Watch:
Blake Lively Opens Up on Losing Baby Weight
"It's all a process. You know after the second kid it's really different," she told E! News last February. "So this is not my normal body, but I like it."
She continued, "I'm learning to love my body in every iteration, and I think that's hard for women, and so I learned a lot."
Aside from working out hard, Blake has also been busy on the set of her upcoming film, The Rhythm Section. Directed by Reed Morano, the film is an adaptation of Mark Burnell's thriller novel series and centers on a woman (Blake) who seeks revenge after her family dies in a plane crash.
The actress went under a complete transformation for the role, looking unrecognizable in photos on set.
Production was recently halted after Blake suffered a hand injury while filming. However, according to the Instagram photo she posted today, it looks like she finally had her cast removed.