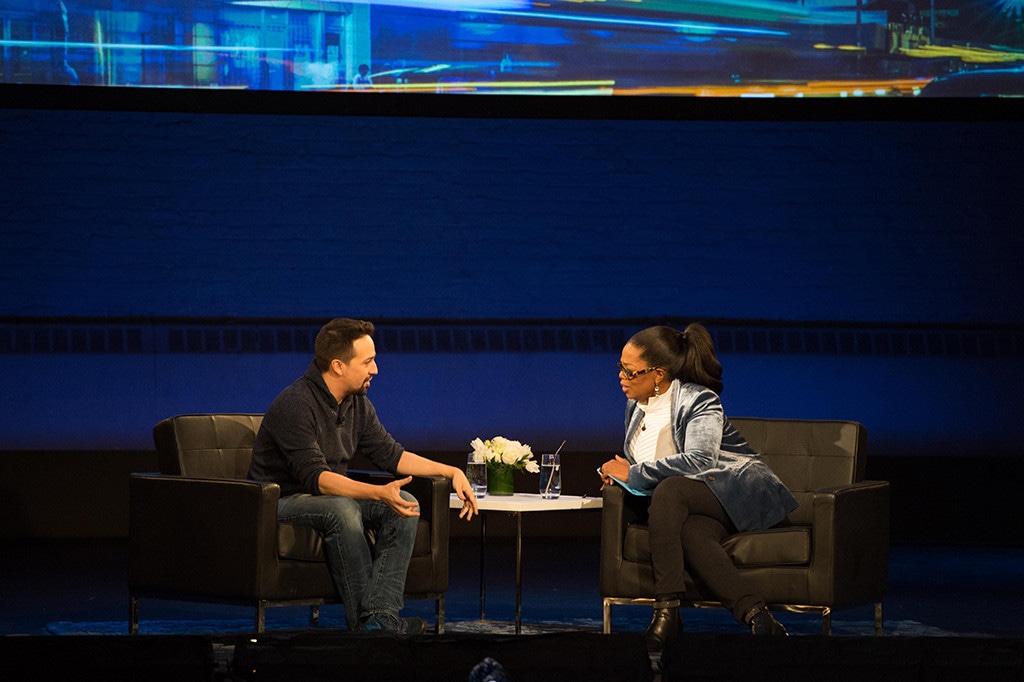 JoJo Whilden/Courtesy of OWN
Oprah Winfrey gathered an all-star lineup for Oprah's Super Soul Conversations, which was taped at the Apollo Theater in New York City Wednesday. For nearly six hours, Winfrey interviewed Stephen Colbert, Lin-Manuel Miranda, Trevor Noah, Salma Hayek Pinault, Jordan Peele and Yara Shahidi.
On Feb. 2 Miranda officially became a father or two boys, the actor and his wife Vanessa Nadal welcomed their second son, Francisco. With the excitement of a new baby, there isn't much that could've gotten the "Almost Like Praying" singer away from his new little bundle of joy, but just like for all of us, Oprah reaching out would do the trick. 
 "Just got back from having a new human head on my chest. [He was born] a week ago," Miranda says. "I said, 'I'm not leaving the house for two months!' And then Oprah called. The only thing I'm leaving the house for.'"
"[After looking at a picture of him] He looks so different! It's only been a week! We had a day of brilliance, and my other son, when we brought him home, he was like, 'Oh, I love him,'" he explains.
The couple, who welcomed their first child
Sebastian Miranda
on November 10, 2014, announced the news of their new addition on
Twitter
 sharing a heartfelt photo of the baby being held by Nadal. 
"It was peaceful for a day. Sebastian's 3, and he got the stomach bug, so my wife and that beautiful child have been with her parents all week being sequestered, and I have been in the diarrhea upside down," Miranda says. 
The entire special, Oprah at the Apollo, will air Feb. 27 at 10 p.m. on OWN: Oprah Winfrey Network. All of the interviews will be available on Oprah's Super Soul Conversations podcast.