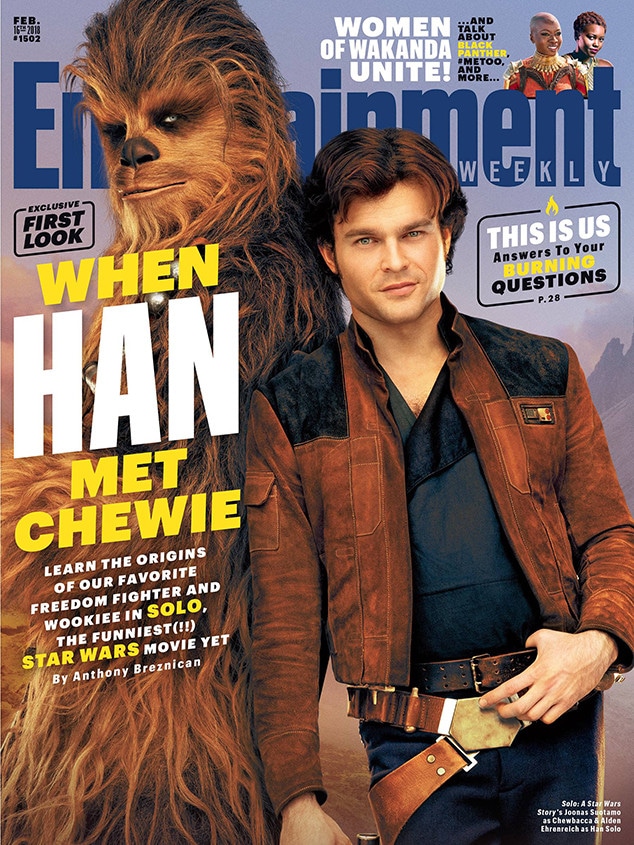 Ed Miller/Lucasfilm, Ltd.
On Super Bowl Sunday, viewers got their first look at Solo: A Star Wars Story, the origin film set before the events of 1977's Star Wars: Episode IV – A New Hope. The full-length trailer debuted on Good Morning America Monday, but it left fans with more questions than answers. Luckily, Entertainment Weekly rectifies that very problem in its Feb. 16 issue, on newsstands this Friday.
Alden Ehrenreich, playing a younger version of the role Harrison Ford made famous, is the first to admit that his character may not have the confidence associated with Han. "I think the main thing that's different is that the Han we meet in this film is more of an idealist. He has certain dreams that he follows, and we watch how it affects him as those dreams meet new realities," the 28-year-old actor says. "Realities that are harder and more challenging than he'd expected."
Phil Lord and Chris Miller left the blockbuster last summer due to creative differences with Lucasfilm. So, when Ron Howard was hired to replace the directing duo, he thought it wise to reach out to Ford for guidance. "Harrison's a very thoughtful actor and an artist, and I wanted to know what he learned about the character. He said that Han is always torn between that sense that he was, in a way, an orphan, and therefore both yearned for connection with people and struggled with it at the same time," Howard reveals. "I thought that was pretty interesting."
Lucasfilm president Kathleen Kennedy describes Solo as "a heist, gunslinger type movie." Regarding Ehrenreich's take on the character, she says, "He might be a little more immature, he may be a little less experienced, and he may hone his cynicism over time, but he's very wary. He needs to gain the respect of the people he interacts with, even if they're the lowest of the low."
"To me, this is a love story between Han and Chewie," says Larence Kasdan, who co-wrote the movie's script, after co-writing 1980's Star Wars: Episode V – The Empire Strikes Back, 1983's Star Wars: Episode VI – Return of the Jedi and 2015's Star Wars: Episode VII – The Force Awakens. "Their relationship has always been my favorite part of the saga, and the fact that only Han understands what Chewie is saying, I find a very funny possibility for comedy." Joonas Suotamo returns as Chewbacca, after replacing veteran Peter Mayhew. "Wookiees have so many positive qualities," Kasdan says. "But what they don't do is make it easy for you to get in."
For more on Solo: A Star Wars Story, pick up Entertainment Weekly's Feb. 16 issue.