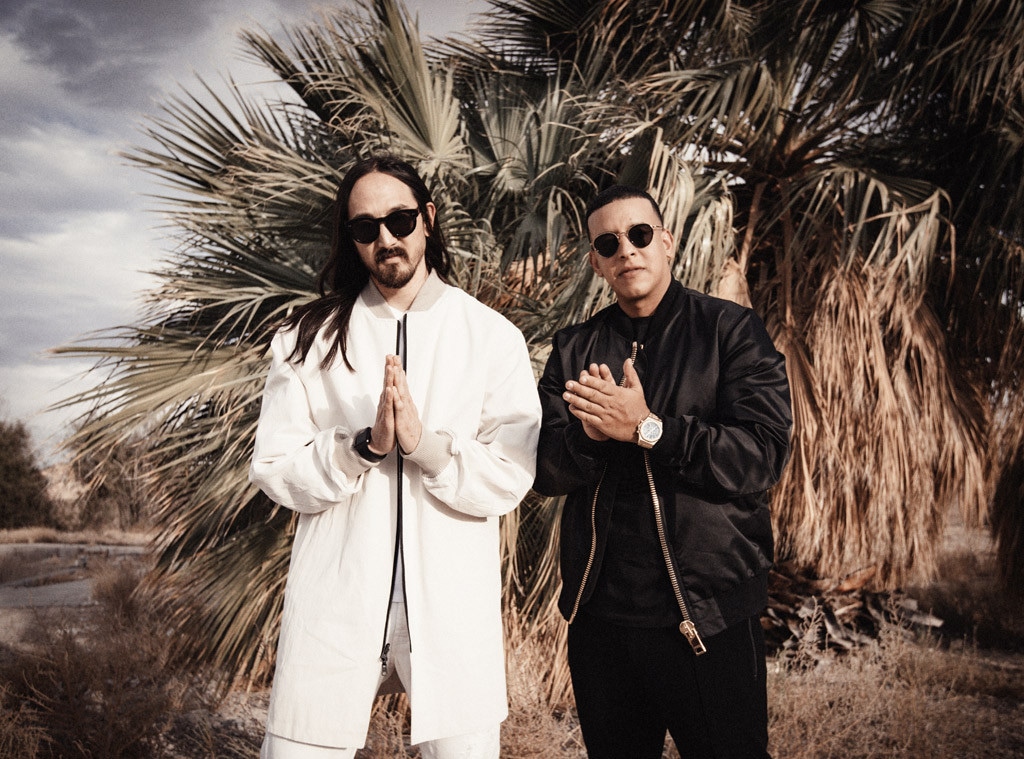 Deckstar
EDM and Latin music fans, your worlds have just collided in the best way.  
Steve Aoki joined forces with Daddy Yankee, Elvis Crespo and Play-N-Skills for "Azukita."
"I was working with Play-n-skills on some beats and some music, and then Daddy Yankee shows up in the studio with Play-n-Skillz, and they called me on Facetime. You know, I'm a big fan of Yankee. I've been playing his records for a long time, and he wanted to work with me. So, we were like, 'Alright, we're already working on music together, let's do something with the legend, Daddy Yankee,'" the DJ Tells E! News. "So we went back and forth, between Play-N-Skillz and me and we found a beat that Yankee loved and he went back in the studio and finessed some vocals. Elvis Crespo joined in and added some vocals because I was already talking to him about doing some songs too. So, there were a lot of different worlds aligning and it was all synchronicity, it's all about the timing on this one."
Aoki says he wanted to make sure that the song had his signature beat drop and could be a track that he plays at his music festivals. 
"I wanted it to feel and sound like a collaboration between Latin music and EDM. You really get that sensibility throughout this whole song. And we're all very proud of this song. I think it's going to cross over into many different people, many different cultures, and that's what this day and age are all about, it's about bringing everyone together around music," he says.  
The "Despacito" singer says that it was a variable of things about Aoki that made him want to do a collaboration with him. 
"I have been a fan of EDM music.  I found Steve Aoki and love his charisma, his energy on stage, his brand and his creativity. Without a doubt the most prominent DJ in the industry," Yankee says to E!. "This track unites all races."