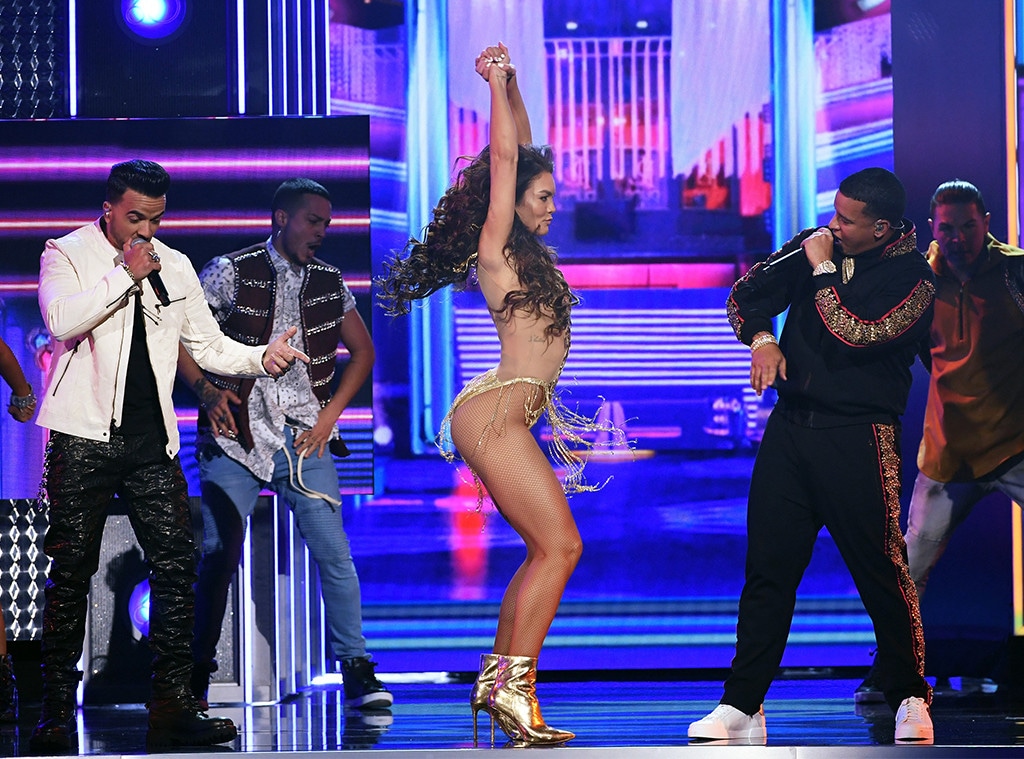 Kevin Winter/Getty Images for NARAS
Des-pa-cito...
Luis Fonsi and Daddy Yankee heated things up at the 2018 Grammy Awards with their "Despacito" performance, which also included former Miss Universe Zuleyka Rivera. The beauty queen, who appeared in their music video, almost steals the show with her dance moves. Noticeably absent from the performance is Justin Bieber, who did not attend this year's show. 
Their music video for "Despacito" has set the record as the most played video in YouTube history currently with 4.7 billion views and counting. 
Victor Cruz, who was born to a Puerto Rican mother, introduced the performance along with Sarah Silverman. 
"Despacito" Remix by Fonsi and Yankee featuring Justin Bieber received nominations for Song of the Year, Record of the Year, and Best Pop Duo/Group Performance. The song was also recently certified diamond by the RIAA (Recording Industry Association of America), and joining the ranks of 18 other hit songs like Katy Perry's "Firework" and Carly Rae Jepsen's "Call Me Maybe." "Despacito" is the first Latin song to earn the coveted title. 
While chatting with Ryan Seacrest, the singer sent a message to his beloved island.
 "To everybody in Puerto Rico, you know it's been a tough couple of months after the hurricane so we hope that we bring a just a little light and joy to that beautiful island," he says. "Los quiero mucho, Puerto Rico. And thank you to everybody for singing in Spanish a little bit." 
"The day of the announcement, I was in Rome. I had a show that night, so I went along my day to prepare for it, gym, soundcheck, etc.… all of the sudden my phone just went crazy," Fonsi recalled exclusively to E! News about the day he found out about his nominations.
"Calls, texts, whatsapps, emails. I thought: 'Maybe we got a nomination? How cool would that be?' When I found out we were nominated for three major categories; I was so overwhelmed that I didn't even know who to answer first or what to do next. I was lucky to have been surrounded by my tour family. I'm still celebrating."