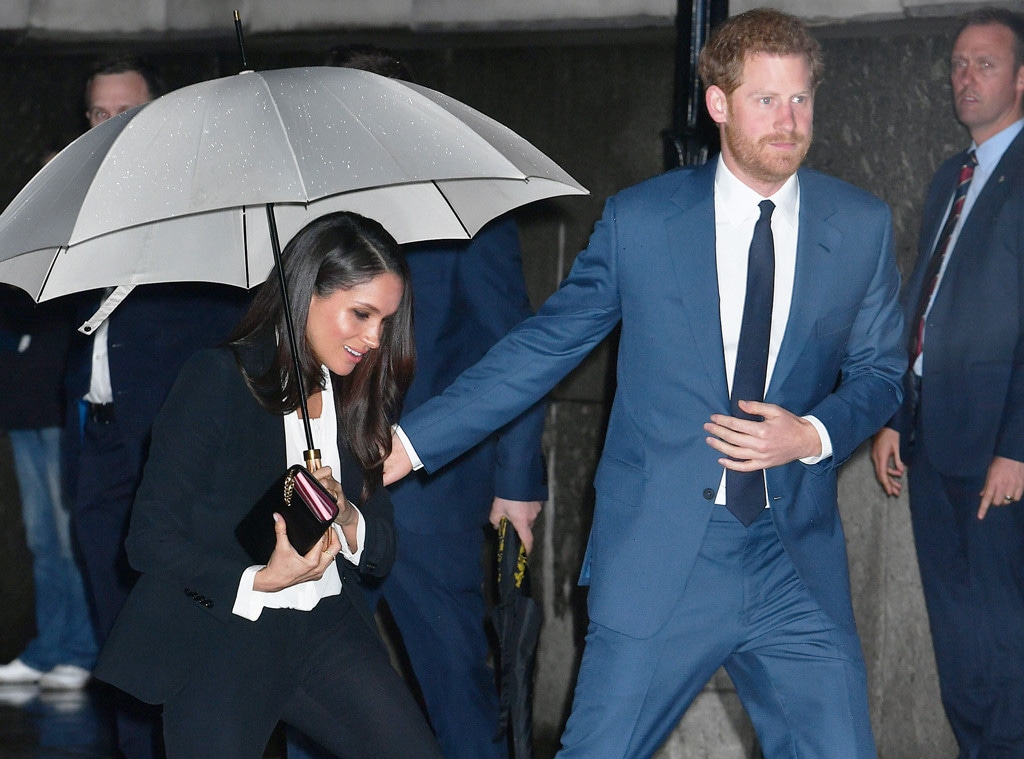 John Stillwell/PA Images via Getty Images
Meghan Markle's independent style is going steady. 
It may have been raining outside, but Mother Nature's effect didn't show on the the future royal as she arrived to the Endeavour Fund Awards Thursday night  at Goldsmith's Hall in London looking as polished and sophisticated as ever. 
Donning a sleek Alexander McQueen classic suiting jacket ($1,995) layered over a Boss ivory bodysuit ($280) with McQueen black cigarette pants ($795) and matching pumps, the actress and activist protected herself from the unruly weather under an umbrella as she and Prince Harry made their way into the main event. Meanwhile, her famous beau faced the raindrops without any cover dressed in a blue suit. 
John Stillwell/PA Images via Getty Images
Sartorially speaking, Markle's ensemble gave fans an initial indication of her approach to evening wear and further solidified her independent outlook on style. 
"Meghan surprised almost everyone this evening showing up to the Endeavour Awards in...a suit! While perhaps not the most surprising choice for an actress who was on a TV show called Suits for years, or someone who has worn several iterations of the suit on the red carpet over the years, today's outfit stood out as a bold choice by a woman proving to us all that she's going to do this royalty thing...her way," Amanda Dishaw of Meghan's Mirror told E! News. 
The engaged couple showed up in support of the annual awards, which celebrate the achievements of wounded, injured and sick servicemen and women who have taken part in athletic challenges over the last year. As the co-presenter of the Endeavour Award Celebrating Excellence, Markle's no-frills ensemble may have been meant to send a subtle message. 
"The suit was a modern, fresh take on someone who I believe was trying to minimize the amount of attention to her clothes and focus them instead on the worthy cause of the Endeavour Awards themselves," Dishaw suggested. "The suit is something that I'm sure we will continue to see in years to come—it's a classic silhouette and there are so many ways to change up the look."
Ben Stansall - WPA Pool/Getty Images
The suit also highlighted an ongoing trend in Markle's public wardrobe. "Several people have commented that Meghan is not wearing a lot of color and they would like to see her in some bright, bold colors. While I think we may see those on Meghan on occasion in the future, her sticking true to styles and colors that she knows and favors actually cements the concept to me that she is going to blaze her own path as a member of the royal family,"Dishaw told E! News.
"She's her own woman and she didn't need to conform to the traditional style rules to feel confident about who and what she was representing tonight. And, besides, there was a fun dash of color on her clutch bag—a glimpse of pink [interior] to break up the black "
Chris Jackson - Pool/Getty Images
While she and Duchess of Cambridge Kate Middleton have demonstrated a few fashion similarities in recent weeks, the contrast in their distinct styles has never been as noticeable as Thursday night when Markle's future sister-in-law sported a blush embellished cape gown also by Alexander McQueen.  
"The whole look screamed the opposite of Kate tonight. Kate looked gorgeous in an ethereal flowing pale pink dress in Norway, whereas Meghan looked modern in a fresh, clean, classically tailored suit," Dishaw pointed out. 
"With both women sporting looks from such opposite ends of the spectrum, the reality is that Meghan is showing us, one event at a time, how she is not going to change her look given her new role. In fact, she'll just take it to the next level."
—Additional reporting by Alli Rosenbloom