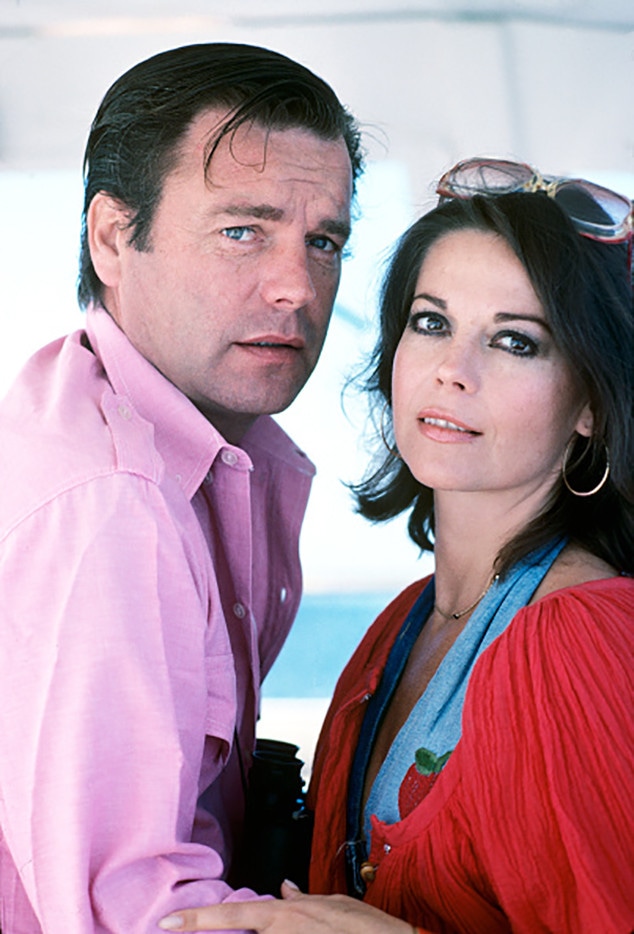 CBS News
Almost 40 years after actress Natalie Wood mysteriously drowned, Los Angeles Country Sheriff's investigators have revealed that her then-husband Robert Wagner is a person of interest. 
The investigators spoke about the reopened case to 48 Hours for the TV special "48 Hours: Natalie Wood: Death in Dark Water."
"As we've investigated the case over the last six years, I think he's more of a person of interest now," Los Angeles County Sheriff's Department Lieutenant John Corina told correspondent Erin Moriarty. "I mean, we know now that he was the last person to be with Natalie before she disappeared."
As E! News previously reported, Wood drowned in 1981 after she apparently fell off her family yacht the Splendour during a boat trip to Catalina with Wagner, friend Christopher Walken and the boat's captain Dennis Davern. Her body was recovered from the water the next morning. After conducting an autopsy, authorities determined she had consumed seven or eight glasses of wine and her death was ruled an accident.
Three decades later, the Los Angeles County Sheriff's Department decided to reopen the case. In a 2011 statement to E! News, the sheriff's department said investigators had been contacted by "persons who stated they had additional information" about the actress' death.
At the time, Wagner seemed supportive of the decision to re-examine the case.
"Although no one in the Wagner family has heard from the L.A. County Sheriff's department about this matter, they fully support the efforts of the L.A. County Sheriff's Department and trust they will evaluate whether any new information relating to the death of Natalie Wood Wagner is valid and that it comes from a credible source or sources other than those simply trying to profit from the 30-year anniversary of her tragic death," a rep for the actor told E! News in 2011.
However, investigators now tell 48 Hours Wagner has refused to speak with them since the re-opening of the case. Corina also thinks Wagner hasn't told them everything.
"I haven't seen him tell the details that match all the other witnesses in this case," Corina said. "I think he's constantly changed his story a little bit. And his version of events just don't add up."
Investigators have also re-examined whether Wood's death was truly an accident. According to CBS News, the Los Angeles Coroner's Office changed Wood's death certificate in 2012, updating the manner of death from accidental drowning to "drowning and other undetermined factors." The Los Angeles Coroner's office also released a report that said there were bruises on her body.
"The location of the bruises, the multiplicity of the bruises, lack of head trauma, or facial bruising support bruising having occurred prior to the entry into the water," the report stated.
When asked if he thought Wood had been murdered, Corina told 48 Hours, "I think it's suspicious enough to make us think that something happened," Corina says.
Back in 2011, Davern said Wagner was "responsible" for Wood's death. The captain recalled an argument the couple allegedly had on the yacht to former NBC News journalist David Gregory. When Gregory asked if Wagner was "responsible" for her death, Davern replied, "Yes, I would say so. Yes."
However, in an archived interview, Wagner said he "wasn't there" when Wood went into the water.
"We were so in love, and we had everything," he said during an old interview shown by 48 Hours. "And in a second, in a second, it was gone. I wasn't there. I wasn't there for her."
Investigators haven't ruled the case the homicide.
"We have not been able to prove this was a homicide. And we haven't been able to prove that this was an accident, either," Los Angeles County Sheriff's Department Detective Ralph Hernandez told 48 Hours. "The ultimate problem is we don't know how she ended up in the water."
It's important to note that Wagner is being considered a person of interest, not a suspect. A sheriff's spokesperson also told E! News there has been no change in the status of Wood's case.
"Actor Robert Wagner, her husband at the time of her death, has always been considered a 'Person of Interest' in the investigation, which remains open," the spokesperson said.
Before her death, Wood appeared in a number of popular films. She played Susan Walker in the 1947 film Miracle on 34th Street and received an Oscar nomination for Best Actress in a Supporting Role for her role as Judy in Rebel Without a Cause. She went on to earn two more Oscar nominations for her work in Splendor in the Glass and Love With the Proper Stranger. 
Wood and Wagner were first married from 1957 to 1962, and then again from 1972 until her death.
E! News reached out to Wagner's rep.
To see the full interview, watch "48 Hours: Natalie Wood: Death in Dark Water" Feb. 3 at 10:00 p.m. EST on the CBS Television Network.