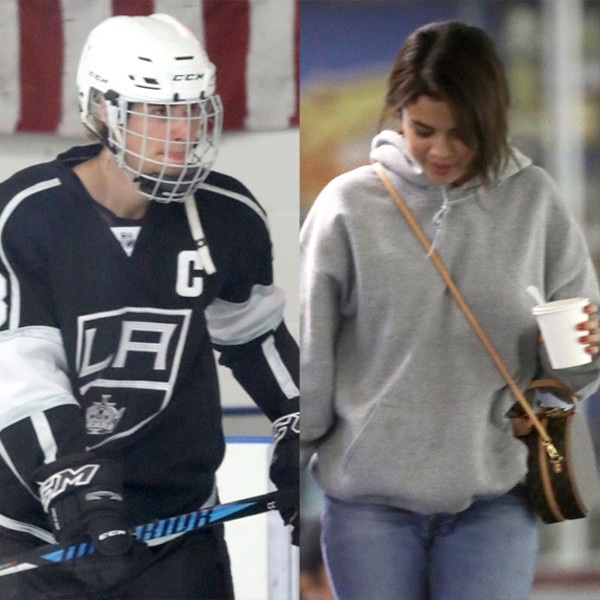 GEVA / Max Lopes / Max Lopes / Maciel / BACKGRID
Selena Gomez and Justin Bieber have been "laying low" as a couple, but photographers spotted them out together on Wednesday.
The "Wolves" singer was seen watching her beau's hockey game in Panorama City, Calif. yesterday. And earlier in the evening, the couple was spotted attending church together.
"They were very happy to see everyone there and were giving lot of hugs and saying hello as they entered," an eyewitness tells E! News. "They both seemed happy and relaxed. Justin was making funny sounds and joking around with people while Selena mostly kept to herself. Although they have come separately in the past, this time they were together."
After church, the couple went together to Bieber's game.
"Selena went inside with Justin and found a seat right on the ice," the eyewitness tell us. "She sipped on a hot beverage to keep warm with her hands cupped around it. She watched Justin's game and was focused on him the entire time. When the whistle blew she took some selfies with a friend on her phone but then she went right back to watching Justin and cheering for him."
This is the first sighting of the couple in weeks, the last time they were spotted together was in early January at a Hot Pilates class. But a source tells us that's because Gomez has been in New York City "working on several projects" with her music and campaigns.
"Justin was in LA while she was gone, but they were in communication and are still very much together," the insider tells E! News. "They have been laying low as a couple in public but keep in contact at all hours of the day."
"They are basically emotionally inseparable and attached," the source continues, adding that while Bieber's family "loves" Gomez, he is "still proving himself" to her family, including her mom, Mandy Teefey.
"Everyone around them knows how much they mean to each other and they are truly on a great path together," the insider shares. And while the duo was spotted out together last night, they will continue to "lay low" as a couple.
In December, a source told E! News that Gomez' family is "not happy" about the couple's reconciliation.
Bieber and Gomez have been on and off over the years, but an insider recently told us that "everything is so different this time around."
"This time around, Justin is behaving like a gentlemen and showing how much he cares about her," the source shared. "He's is a lot more open about his feelings towards Selena, which has been a big sign of him maturing."