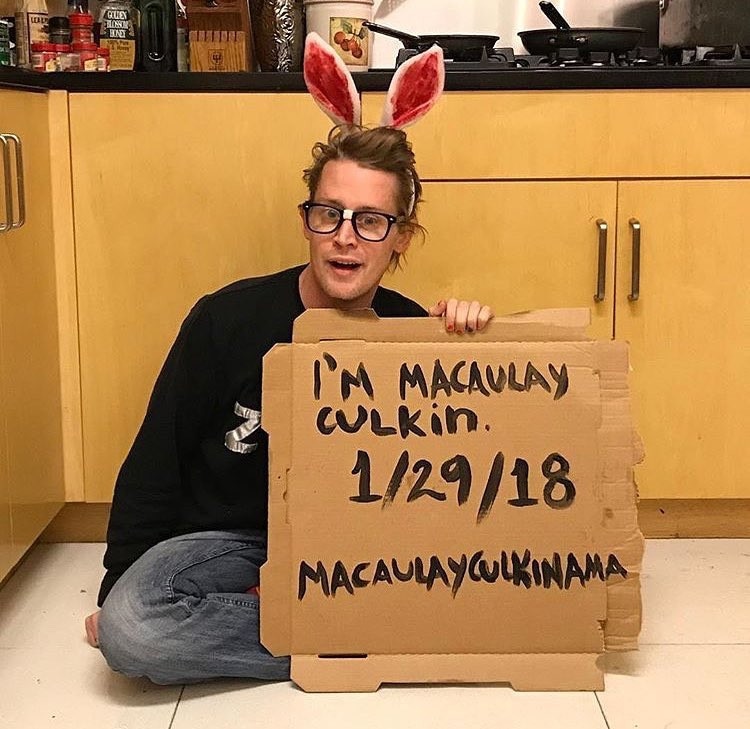 Instagram
Macaulay Culkin wants you to ask him anything!
The former child star participated in a Reddit AMA on Monday, responding to fan inquiries on topics including his friendship with Michael Jackson, substance abuse rumors and what it was really like working with Donald Trump on Home Alone 2. (Spoiler alert: Macaulay isn't the biggest fan...)
Culkin, 37, hopped on the world wide web to promote his new project, a podcast called Bunny Ears. The animal-inspired headband has become somewhat of a staple for Macaulay over the years, and even goddaughter Paris Jackson has joined in with rabbit ears of her own. 
So without further ado, here are seven things we learned from Macaulay's Reddit AMA: 
20th Century Fox Home Entertainment
He favors the first Home Alone: Culkin described the 1990 Christmas comedy as "more fun" than the sequel because in his words, "We didn't know what we were walking into and it was a lot less flying all over the place; it was all in Chicago." He added, "Also it had 100 [percent] less Trump."
The president made an appearance in the second Home Alone installment, but Culkin really emphasized just how brief Trump's time on set was. "I mean, the guy made like a half a second cameo," he recalled. "I wouldn't be surprised if that's how long he was literally on set for."
Is Macaulay down for a Home Alone remake?: Yes, but one one condition. "Only if it was set in the woods, à la Rambo," he quipped. 
Ray Fariall/ZUMAPRESS.com
He still has fond memories of M.J.: As a child, Culkin forged a close friendship with the late King of Pop. He described his most cherished time with Jackson, writing on Reddit, "When I almost crashed my golf cart into his and he called me 'Applehead.'
There's little truth to speculation about his drug use: Addiction rumors shadowed Culkin for much of his adult life, and in 2004 he was arrested for marijuana possession. From his perspective, "Yes, I consumed and imbibed in drugs in my life. Never as bad as people said. It's not really a thing in my life right now. I'm an adult. I like to drink."
Harrison Funk/The Jackson Family via Getty Images
Macaulay's romantic relationships are a sore subject: The Saved! star said he doesn't have a "biggest regret" per-say, later adding, "But most of my regrets involve women." Culkin was last romantically linked to Disney star Brenda Song. He famously dated Mila Kunis for several years in the early 2000s, and was previously married to Supernatural actress Rachel Miner. 
Yes, he's still a pizza aficionado: After all, he was a member of a band called The Pizza Underground. As for his favorite cheesy delicacy, Culkin recommended, "It's always Joe's Pizza (in NYC), and not to be all normal about it, but I do like a proper plain. That's how you can judge a place. I've been with lots of vegetarians so I can get with that, but I wouldn't kick a pepperoni and sausage out of bed."
He's taking another break from acting: These days, Culkin is focused on professional ventures outside of Hollywood. When asked about any stage roles in the works he responded, "I love doing theater—it's my favorite form, however I'm not really perusing anything at the moment. Not looking for any gigs."
Never say never, of course. The celeb also added, "But yah. Sure. What ya got?"
Were you surprised by any of Macaulay's answers? Let us know in the comments!