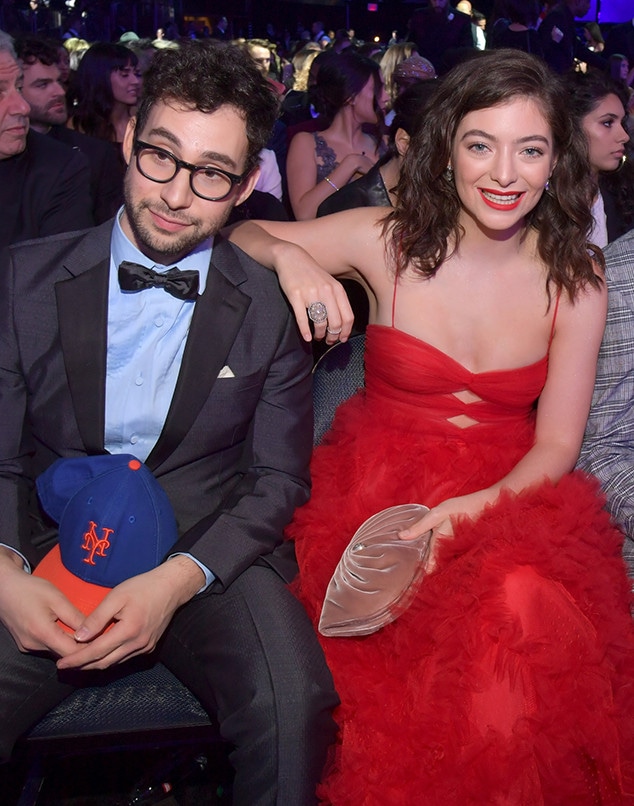 Lester Cohen/Getty Images for NARAS
Fans have their eyes on Lorde and Jack Antonoff. 
While the "Album of the Year" Grammy nominee and co-executive producer of her hit album, Melodrama, were taking in the 2018 Grammys from their seats inside Madison Square Garden, viewers at home kept their eyes peeled for the two famous faces. As the cameras would reveal, the musical duo were seated next to each other—flask included—as the show played out.  
The seating arrangement raised some eyebrows considering dating rumors have been swirling around the two since Antonoff's split from longtime girlfriend Lena Dunham. While the musician publicly dispelled such claims, that hasn't stopped many from keeping tabs on these two.
Prior to Sunday's ceremony, they attended Clive Davis and the Recording Academy's 2018 Pre-Grammy Gala honoring Jay-Z and were photographed seated side by side. 
Kevin Mazur/Getty Images for NARAS
Earlier in the week, the singers performed at Antonoff's Ally Coalition charity seated at a piano together. During an interview on Late Night With Seth Meyers Wednesday, the music producer got to talking about his friend and how he introduced her to American cereal. "We've introduced each other to a lot of things because it's [a] vastly different culture—New Zealand to the United States," Antonoff explained. 
Still, for any fans shipping these two, not so fast. "He's like my sibling now," Lorde told Meyers in July 2017. "He's like my work husband."
As for Antonoff, he addressed any claims to the contrary earlier this month. "Normally i would never address rumors but i resent having the most important friendships and working relationships in my life reduced to dumb hetero normative gossip," he tweeted. "Those relationships are deeply important and sacred. with that said, im not seeing anyone. lol."