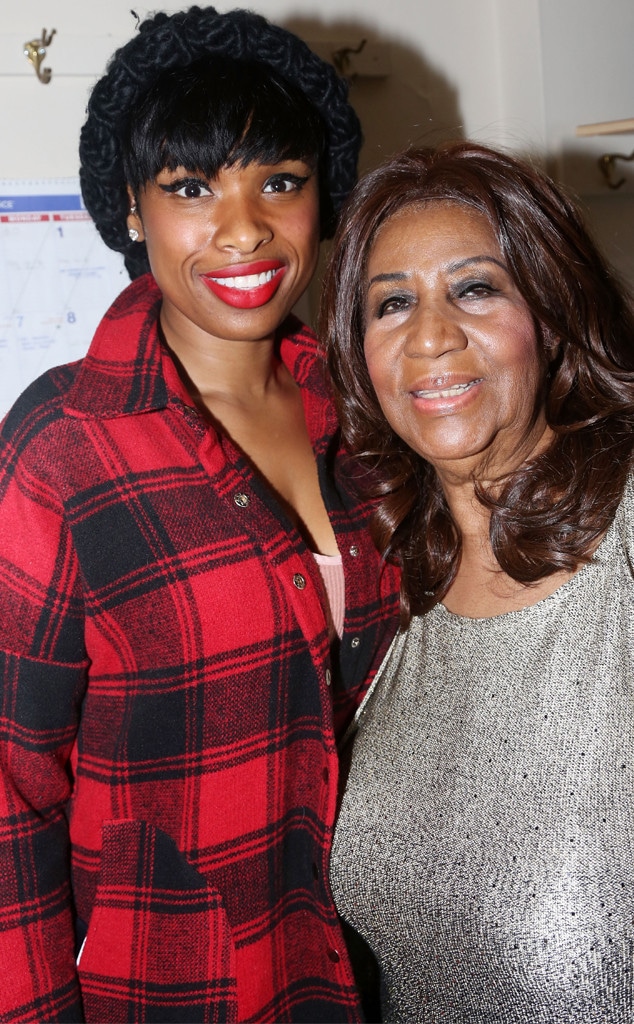 Bruce Glikas/FilmMagic
Jennifer Hudson has been cast in the forthcoming Aretha Franklin biopic.
Clive Davis revealed the news Saturday night at his annual pre-Grammys party, where the singer performed a medley of Franklin's hits—including "Respect," "Rock Steady" and "Think." While introducing her performance, Davis said Hudson had "been anointed by Aretha herself."
Calling Hudson "a transcendent performer," Davis—who signed both singers to his record label—added, "She stops any and every show she's in. Her voice is truly incredible. When they ask, 'Where's the next Aretha? Where will the next Aretha will come from?' I say, 'It's her." A "humbled" Hudson confirmed the casting news via Instagram Sunday, telling her 2 million followers, "I don't even know what to say...Look at God!" She also thanked Franklin for the role.
Reportedly, the Franklin biopic has quietly been in development at MGM. Straight Outta Compton producer Scott Bernstein will produce it alongside music producer Harvey Mason, Jr. Hudson covered Franklin's "Baby, I Love You" when she was a contestant on American Idol in 2004, and she later paid tribute to her at the 2011 Grammy Awards and the 2014 BET Awards.
Franklin previously said she wanted Halle Berry to play her, although the actress had expressed concerns about having to sing in the movie. "I told her, 'No, no one ever expected you to sing, Halle. I never thought of you as a singer,'" Franklin told Billboard in 2011, adding that the movie would primarily feature her own recordings. "A lot of movies come out where it's the original artist and their songs are lip-sung to. That is how it would turn out if it's Halle. If not—if, for instance, it's Jennifer Hudson—she might sing one or two, but the rest would still be my original records. We're definitely going to use the original records. I may re-record some things, too."
At the time, Franklin said the biopic would be a "pretty straight-up" account of her life—i.e., "a chronological depiction of my advent from Detroit to New York as a young, aspiring singer." While fans "already know" some details," it would also show "other things that are not known."
At one point, Franklin said, Audra McDonald was also in consideration to play her onscreen. The project, which does not yet have a release date, has been in the works for at least seven years. Two years ago, Franklin confirmed the film was finally moving forward. "We've agreed on all the key points. There's very little left now [to negotiate], very little," the music icon told the Associated Press (via Billboard). "They have given me creative control and that's all I wanted."