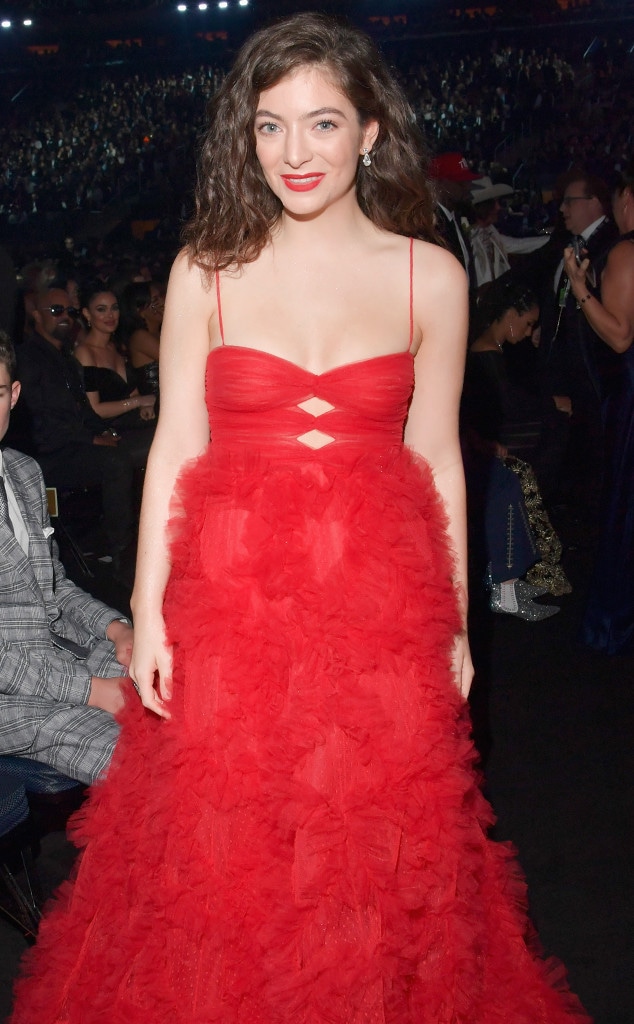 Lester Cohen/Getty Images
Leave it to Lorde to take it there.
While the 2018 Grammys proved to be a stage for politically charged statements (see: Joy Villa's pro-life gown), the "Royals" singer made the message behind her ensemble a little clearer…as in, she actually wrote it out for viewers to read. On the back of the New Zealander's beautiful, voluminous Maison Valentino dress was a piece of paper that read:
"Rejoice! Our times are intolerable. Take courage, for the worst is a harbinger of the best. Only dire circumstance can precipitate the overthrow of oppressors. The old and corrupt must be laid to waste before the just can triumph. Opposition indentifies and isolates the enemy. Conflict of interest must be seen for what it is. Do not support palliative gestures; they confuse the people and delay the inevitable confrontation. Delay is not tolerated for it jeopardizes the well-being of the majority. Contradiction will be heightened. The reckoning will be hastened by the staging of seed disturbances. The apocalypse will blossom."
Lester Cohen/Getty Images
The excerpt comes from neo-conceptual artist Jenny Holzer. Lorde took to explain the stylistic move on Instagram by captioning a photo of the back of her dress with: "My version of a white rose—THE APOCALYPSE WILL BLOSSOM—an excerpt from the greatest of all time, jenny holzer."
Many, if not the majority, of celebs arrived to the award show either wearing a white rose or holding one in solidarity of the Time's Up movement, an initiative to combat sexual harassment and inequality. 
While the sign may not have been visible from the front, it was sure to capture attention from behind. The Twittersphere also seemed to focus on another detail of the singer's ensemble: a matching red flask.
"Big mood: @lorde clapping with her flask #GRAMMYs #Grammys2018," wrote satan. 
Hey, it was all party in the front, business in the back.