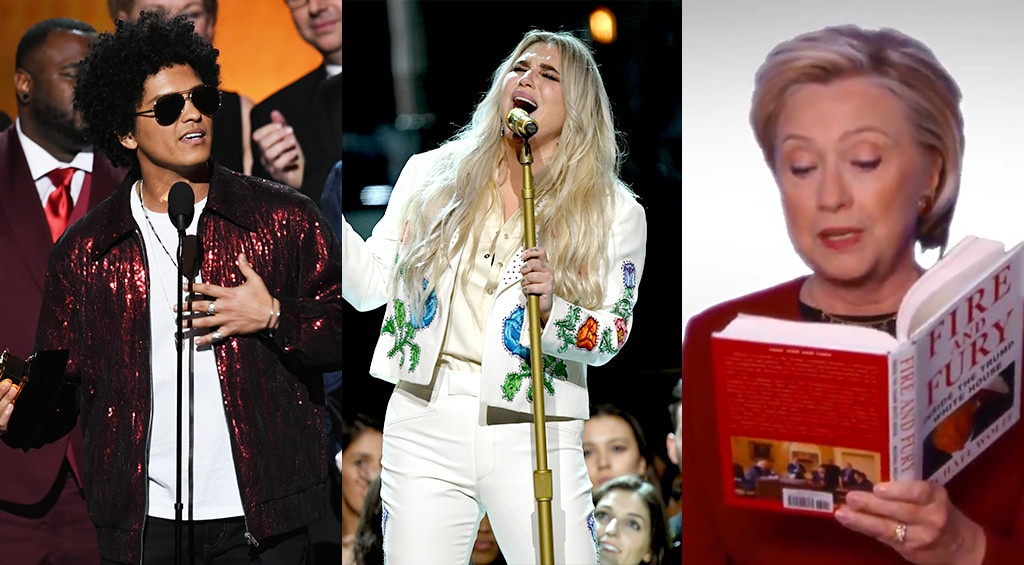 Getty Images
Oh, our bursting hearts.
Though every year it inevitably feels a little weird to press pause on the actors for a weekend and turn our attention entirely to music, that's just how the awards season calendar goes. (There's a Super Bowl to be played next Sunday, too!) Luckily, the Grammy Awards have the potential to go where the movie and TV awards, no matter how powerful the productions, can't quite reach—which is straight into our souls.
At the Grammys, you see performances that never before or never will again exist in nature. You see artists whose lives changed forever when they first heard their musical heroes, be it the Beatles or Rolling Stones, Cyndi Lauper or Michael Jackson, NWA or A Tribe Called Quest, and they've been trying to make it happen for themselves ever since. There's a genre for everyone and, though not every artist and technician gets his or her due on live TV, you can tell from the overall vibe in the audience—an audience that's on its feet way more than at any other award show—that rockin' out (or swaying, or crying) to live music almost never fails to bring people together, or to make your own musical idols look like any other ecstatic concertgoer.
And the 2018 Grammys did not disappoint in any of those departments, although surely there's already been plenty of disagreement over whether those little golden gramophones went to the right people last night. Here's what stood out at a show that reliably packs a punch or two:
1. Hot DAMN.: Experts and the generally hopeful guessed it had to be Kendrick Lamar's turn to reign triumphant in the Album of the Year category.
Well, it wasn't (and the last hip-hop act to win in the category remains Outkast in 2004). But producers assured that the evening would belong to Lamar in one way or another. When he opened the show, he the seven-time nominee had already won three off-camera Grammys; then he won the first Grammy handed out on-camera, Best Rap/Sung Performance for "LOYALTY.," shared with Rihanna.
The room was still quaking from his opener, though. First he was joined by U2 on "XXX," after which the band spliced in some "American Soul" before Lamar—one of the many artists sporting a white rose in support of Time's Up—proceeded to thunder through a medley of "DNA." and "King's Dead," off the forthcoming Black Panther: The Album soundtrack. Dancers in camouflage marched in military lockstep in front of a giant projected American flag, and by the end he was surrounded by b-boys in red sweatsuits doing their heart-pounding best before falling one by one to the stage to the unmistakable sound of percussion-cloaked gunshots.
Adding to the political cadence were a couple of spoken interludes from Dave Chappelle, who rhetorically queried, "Is this on cable? It's CBS? 'Cause it looks like he's singin' and dancin', but this man is taking enormous chances. Rumble, young man, rumble!"
Rumble he did, picking up five Grammys overall, including Best Rap Album for DAMN., and Best Rap Song, Rap Performance and Music Video for "HUMBLE.," to bring his career Grammy total to 12.
Meanwhile, the most-nominated artist of the night, Jay-Z, went 0 for 8—but he did get many shout-outs and a ringing endorsement. "Jay for president," Kendrick concluded his thank-yous for Best Rap Album. 
2. He's What We Like: Perhaps because his hits are just that smooth, it's easy to forget to get excited for Bruno Mars, who inevitably then slips in and slides off with seven Grammys—including Album of the Year for 24K Magic, Song of the Year for "That's What I Like" and Record of the Year for "24K Magic" (so, all three of the night's top awards)—as well as the evening's most immaculately choreographed, slickest performance.
Of a song called, fittingly, "Finesse."
By the end of the long night, however, he was just another grateful, slightly tipsy winner, pleading, "don't cut me off, Grammys, please," as he told a story about entertaining tourists in his native Hawaii when he was 15, at a show called "The Magic of Polynesia." "Later on in life I found out that those songs that I was singing were written by either Babyface, Jimmy Jam and Terry Lewis, or Teddy Riley. And with those songs I remember seeing it, I remember seeing it first hand, people dancing that had never met each other from two sides of the globe, dancing with each other, toasting with each other, celebrating together. All I wanted to do with this album was that. And you know, those sings were written with nothing but joy and for one reason, and for one reason only, and that's love."
Kevin Winter/Getty Images for NARAS
3. Scary Talented: It's Donald Glover's world, we're just living in it. After winning a Golden Globe for acting in a comedy series for Atlanta, which also earned him the Globe for best comedy series, and then winning two Emmys for acting and directing, the multifaceted star—who next will play the grown Simba in the hotly anticipated live-action remake of The Lion King—won a Grammy for Best Traditional R&B Performance for "Redbone" as his soulful hip-hop alter ego Childish Gambino. Even more exhilarating was his live performance of "Terrified," during which he was joined onstage by 10-year-old JD McCrary, who's playing young Simba.
But really, that falsetto. Too good. 
4. - (Minus): Ed Sheeran might've had himself a nice little night if he'd opted to attend. He won two Grammys, Best Pop Vocal Album for ÷ (Divide), the top-selling album of 2017, before the ceremony, and then Best Pop Solo Performance for "Shape of You" during. (He also won the latter in 2016, for "Thinking Out Loud.")
Perhaps he didn't think the trip worth it in light of his snub in the top categories—though really, who can blame him, especially since every prognosticator was dead wrong about what a lock he had on nominations for Album, Record and Song of the Year.
Kevin Winter/Getty Images for NARAS
5. Even More Than Usual to Be Haunted By: There's always something to be wistful and mournful about every year. One music great or many have always left this Earth in the 12 months since the previous Grammys. But 2017 was, frankly, awful. 
Maren Morris, Eric Church and the Brothers Osborne, all of whom performed over the weekend during the Route 91 Harvest festival in Las Vegas, teamed up to sing one of the saddest songs ever, Eric Clapton's "Tears in Heaven," in memory of the 58 people killed on Oct. 1 when a gunman opened fire while Jason Aldean was singing, as well as the 22 killed in the Manchester, England, terrorist attack outside an Ariana Grande concert on May 22.
Later the reliably emotional in memoriam segment began with Emmylou Harris and Chris Stapleton singing "Wildflowers" for Tom Petty, who died the day after the Vegas massacre. The montage of the departed concluded with Linkin Park frontman Chester Bennington, which fittingly segued into Logic, Alessia Cara and Khalid's performance of "1-800-273-8255." The song, whose title is the National Suicide Prevention Hotline, and its message about holding out for hope when it feels like there's no one out there who cares never fails to destroy.
6. Fire and Fury...on Twitter: The sketch in which artists including John Legend, Cher, DJ Khaled, Cardi B and Snoop Dogg tried out for the gig reading the audiobook version of Michael Wolff's controversial take on the Trump White House, only to be trumped by the vocal stylings of Hillary Clinton, was a massive hit in the room ("that might just be the biggest cheer of the night," host James Corden quipped) but caused instantaneous backlash on Twitter from those who don't care for politics mixed in with their music or award shows. 
Perhaps those people had been watching with the volume off up until then (or had been getting a snack during Camila Cabello's remarks in support of the Dreamers, undocumented immigrants brought to this country when they were children whose fate still hangs in the balance while the federal government tries to arrive at an agreement).
Figuring he may as well go all in after that, Corden whipped the audience into a momentary frenzy by pretending to announce Barack Obama before "realizing" he hadn't read the teleprompter the whole way through, instead introducing Recording Academy president Neil Portnow.
7. Raw Power: Kesha laid it all out on the stage with her searing comeback anthem "Praying," for which she probably should've won Best Pop Solo Performance (no offense, Ed Sheeran). Backed up by Cyndi Lauper, Andra Day, Camila Cabello, Bebe Rexha, Julia Michaels and the all-woman Resistance Revival Chorus, the Rainbow artist, whose career stalled for years while she battled producer Dr. Luke in court, had already received a warm welcome from her fans and fellow artists back into the pop fold—and the sentiment was fittingly punctuated by a standing ovation at the Grammys.
She was introduced by Janelle Monáe, who on behalf of the Time's Up movement coursing through the entertainment industry, declared that all of us ladies "come in peace, but we mean business."