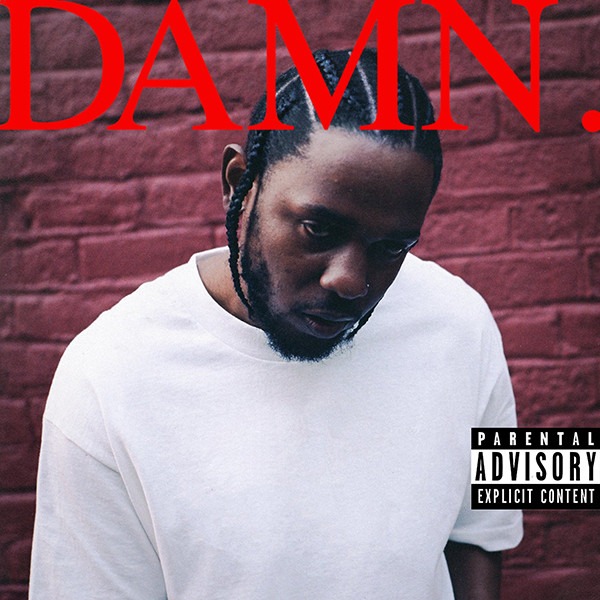 Top Dawg/Aftermath/Interscope
If Kendrick Lamar doesn't win Album of the Year at the 2018 Grammys this Sunday then, in the words of Adele, "What the f--k does he have to do to win Album of the Year?"
So the British chanteuse said last year about Beyoncé, whom she herself beat out, and that will be the response if Lamar's DAMN., his fourth studio album and third to be nominated in the category, is an also-ran.
"If I can make one person—or 10 million people—feel a certain type of euphoria in my music, that's the whole point," he told Rolling Stone last summer, happy about his commercial and critical success but looking to downplay its importance in how he operates. Not that he's had to pick one or the other lately.
Artistry-wise, all of the Compton-born rapper's nominated albums have been good enough to win Album of the Year. It's just that sometimes the train is speeding too fast in the other direction.
In 2014 Lamar was nominated for seven Grammys, including Best New Artist and Album of the Year, and went home empty-handed. The real shock, however, wasn't that his good kid, m.A.A.d City lost Album of the Year to Daft Punk's Random Access Memories. The helmet-sporting Frenchmen's grooves were so de rigeur at the time.
Rather, it was that Lamar lost out on Best New Artist and Best Rap Album, respectively, to Macklemore & Ryan Lewis and the duo's album The Heist. And it wasn't just Macklemore critics who found the pick controversial.
"You got robbed," Macklemore himself texted Kendrick Lamar, posting a screengrab of his message on Instagram. "I wanted you to win. You should have. It's weird and it sucks that I robbed you. I was gonna say that during the speech. Then the music started playing during my speech and I froze. Anyway you know what it is. Congrats on this year and your music."
(Last year, Adele made sure to devote half of her acceptance speeches for 25 to Beyoncé's Lemonade. So much winner's remorse!)
Macklemore continued in his caption, "He deserved best rap album. I'm honored and completely blown away to win anything much less 4 Grammys. But in that category, he should have won IMO."
Lamar remained philosophical about his loss and Macklemore's win, though his response was still open to interpretation.
"It's well deserved; he did what he did, man," the rapper told XXL a few days later. "He went out there and hustled and grinded. Everything happens for a reason; the universe comes back around, that's how it go."
Meanwhile, Macklemore later that year said he regretted making his text to Lamar public, a move that endeared him further to his own fans but didn't do much for his image to those who were already suspicious of his contributions to the genre. To Billboard in January 2015, Lamar called Macklemore "a genuine dude," adding, "I wish him much success."
Lamar won his first Grammys in 2015, Best Rap Song and Best Rap Performance for "i" off of To Pimp a Butterfly. Lamar would return to the Grammys in 2016 with 11 nominations, and he won five, including Best Rap Album for To Pimp a Butterfly and Best Music Video for his role in Taylor Swift's "Bad Blood," making him the most winning artist of the night.
But in the Album of the Year category, despite none other than President Barack Obama calling "How Much a Dollar Cost" his favorite song of 2015, Lamar was cut off at the pass by the 1989 train. Swift instead became the first solo female artist to win in the category twice (a year before Adele did the same).
Once again, there was plenty of Monday-morning quarterbacking over the still predominantly older, white, male Recording Academy's decision—a precursor to last year, when 25 trumped Lemonade in all four categories they crossed paths in. (Lamar was nominated for another two Grammys for his work on Bey's magnum opus as well.)
And Frank Ocean still wasn't over 2016 last year, either, writing before the 2017 ceremony (which he purposely didn't submit his albums Blonde and Endless for to protest lack of representation), "I've actually been tuning into CBS around this time of year for a while to see who gets the top honor and you know what's really not 'great TV' guys? 1989 getting album of the year over To Pimp A Butterfly. Hands down one of the most 'faulty' TV moments I've seen."
Unlike in 2014, Lamar had done more of that hustling and grinding he spoke of with To Pimp a Butterfly, which he was rightfully fiercely proud of. Billboard had him on the cover, and his team effectively maneuvered his political, poetic masterpiece into the mainstream limelight, even without a Top 40 hit. His celebrity circle of friends expanded to include everyone from...well, from the president to Taylor Swift. As much as he still was an artist who makes music to tell stories that he hopes will move people, he also had inarguably become a big huge star.
So he ended up in what ultimately amounted to a two-album race between an apple and an orange, with 1989 enjoying the advantage as far as sales and commercial appeal but To Pimp a Butterfly (also a No. 1 album) overflowing with raw purpose and lyrical might.
Asked about his ever-growing fan base of fellow artists, Lamar humbly told E!'s Ryan Seacrest on the 2016 Grammys red carpet, "It's a mutual thing. We challenge each other just to make great music out here and now it's time to celebrate."
He talked recently about how he ended up working with Swift, with whom he shares a fastidious approach to making music.
"You gotta have a great business mind and integrity and a great team," he told Howard Stern in December, talking about his contributions to "Bad Blood." "The number one thing we talk about is how does the music sound, how far...in the pop world is the sound. So the first thing is, let's hear the music because the music is going to dictate the idea and the concept of where we can take this idea."
"With this particular record, it was me just vibing and catching her lyrics," Lamar said. "I didn't want to get in her head too crazy. I just wanted to have my own inspiration and see where it took it...Fortunately the vibe was right and it didn't take too many takes and we was really locked in on the chemistry and we really felt what was going on."
This Sunday, however, DAMN. is considered the front runner to win Album of the Year. Overall he has seven nominations this year, including his first-ever for Record of the Year, for "HUMBLE."
Ironically, award prognosticators, while predicting a win for Lamar, also have to consider the possibility that his support may end up being split in several different ways.
In 2014, after he lost to Macklemore & Ryan Lewis for Best Album and Daft Punk for Album of the Year, Lamar expressed hope to XXL that rap would find increasing representation at these types of award shows as a reflection of its ever-growing influence as a musical and cultural force.
"I definitely feel like they should always have more of the culture up in there, for sure, because we definitely stand out just like any other genre," he said. "We part of the world. We part of the movement. So I think any awards, including the Grammys, should always push for more hip-hop because it's music as a whole, it's not just splitting different regions. Everything moves as far as sound and vibrations, and that's how it goes. And we are a part of that."
It took a few years, but this year's crop of Album of the Year nominees includes three hip-hop albums: Lamar is sharing that spotlight with Jay-Z's confessional 4:44 and Childish Gambino's Awaken, My Love!, and the Donald Glover train has been chugging at full speed with no sign of slowing down. In fact, for the first time, there is no white male artist nominated in the category (much to Ed Sheeran's surprise, his ÷ (Divide) having been proclaimed a shoo-in for a nomination by everyone who ventured a guess). Lorde's "Melodrama" and Bruno Mars 24K Magic round it out.
If any of the three rappers win it'll be only the third hip-hop album to ever win in that category, after Lauryn Hill's The Miseducation of Lauryn Hill in 1999 and Outkast's Speakerboxxx/The Love Below in 2004.
But it's got to be Kendrick Lamar...right?
He told Billboard in 2015 that winning awards was "not my overall goal. I appreciate them recognizing me. It's best to just go and enjoy the festivities."
He'll be opening the Grammys this year with U2 and pal Dave Chappelle, who interviewed him for Interview magazine last summer.
"As I've grown as an artist, I've learned that my mission statement is really self-expression," Lamar said. "I don't want anybody to classify my music. I want them to say, 'This is somebody who's recognizing his true feelings, his true emotions, ideas, thoughts, opinions, and views on the world, all on one record.'"
DAMN. sold 2.4 million copies (combining streaming, track equivalent and album sales) to make it the best-selling hip-hop album of 2017.  Rolling Stone and others nonchalantly refer to Kendrick Lamar as "the greatest rapper alive." The Economist called him "the most utterly compelling thing the genre has right now."
The Recording Academy seemingly loves to throw people for a loop by taking the temperature of the environment outside its own hallowed halls and ignoring it altogether. But this year, wouldn't it make more sense to honor the album that critics and fans—and the climate—can agree on?