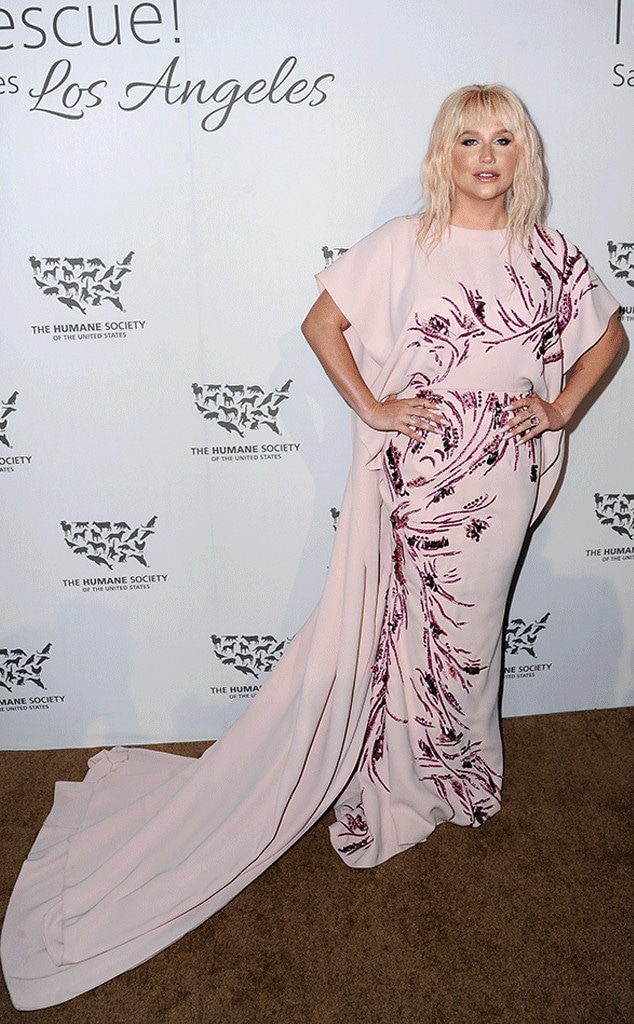 Angela Weiss/Getty Images for The Humane Society Of The United States
Kesha took some time to reflect on her personal journey to healing a day before she is set to take the stage at the 2018 Grammy Awards.
The singer is set to perform her Grammy-nominated ballad "Praying," which she co-wrote amid legal turmoil with producer Dr. Luke.
"When I wrote 'Praying,' with Ben Abraham and Ryan Lewis, I just felt as if I had gotten a huge weight off of my shoulders," Kesha said on Twitter on Saturday, alongside a photo of the Grammys venue, New York's Madison Square Garden. "It felt like an emotional raw victory for myself, one step closer to healing. I never could have known what would've happened these past few years."
"I just want to say that i needed this song in a very real way," she said. "I'm so proud and nervous and overwhelmed to be performing it at the Grammys on Sunday, and if you need it, I hope this song finds you."
The song is featured on her new album Rainbow, which is also nominated for a Grammy. These mark the first Grammy nominations for Kesha, who began her music career almost a decade ago.
Her new music was released amid an ongoing legal battle with Dr. Luke that began more than three years ago, in which she claimed sexual assault and battery and tried to invalidate her recording contracts with him. He denied her allegations and filed a countersuit for defamation. In 2016, she dropped her sexual abuse claims.
Grammys producer Ken Ehrlich had told Yahoo! Entertainment several days ago that Kesha's performance of "Praying" is "definitely going to reflect what has happened to her in the past couple of years."
"I think people will come away with the sense that we are supporting or allowing the artist to make a statement," he said.
The 2018 Grammy Awards will air live from Madison Square Garden in New York City on CBS on Sunday, January 28 at 7:30 p.m. ET / 4:30 p.m. PT.