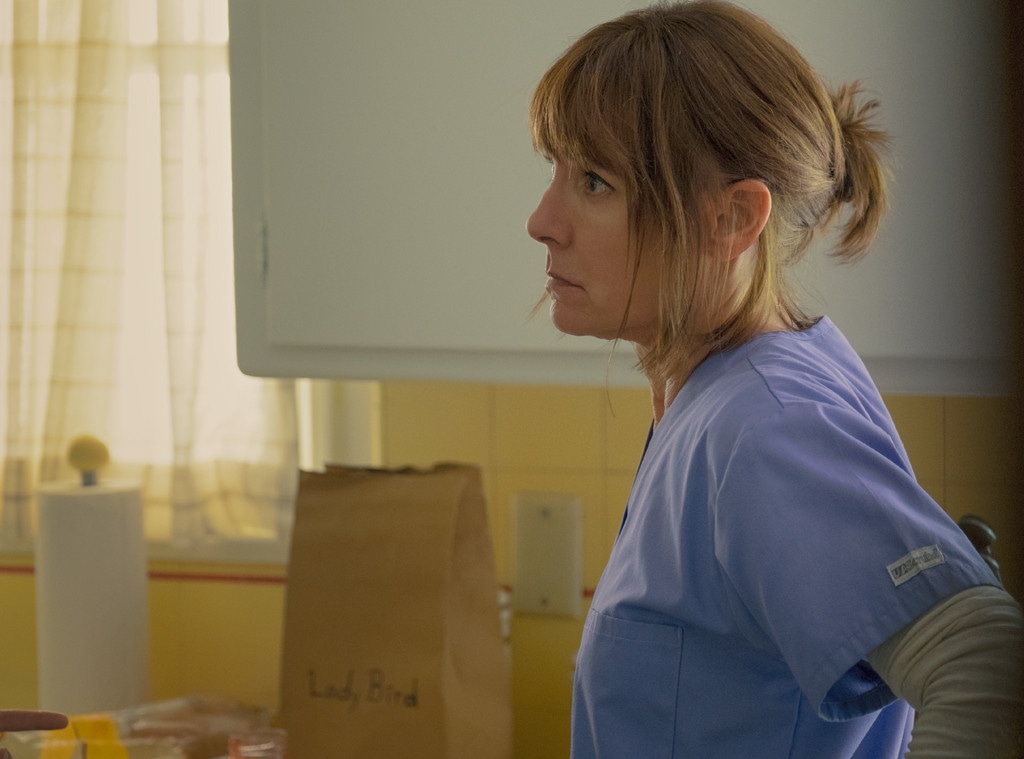 A24
Laurie Metcalf considers herself a new kid on the block. Yes, the three-time Emmy winner, seven-time Emmy nominee, Tony winner and three-time Golden Globe nominee who as been working steadily since the 1980s is the new kid on the block when it comes to the Oscars. Metcalf picked up her first nomination—ever!—for her work in Greta Gerwig's Lady Bird.
The actress was already up going about her day, preparing for her first day of rehearsal for her latest Broadway play Three Tall Women, when she got the call about her nomination.
"This is like a super day. These days don't happen. This is crazy," she told E! News in a phone interview.
Lady Bird is Metcalf's first movie in about 10 years. Her last physical appearance was in 2008's Stop-Loss, but her voice can be heard in Toy Story 3.
"Yeah, I think I'm spoiled for good now. It was a wonderful experience. Greta, you never would've known it was her solo-directing debut. [Saoirse Ronan] is like the best screen partner any actor could ask for. The script was beautiful, Greta's direction was so solid and everybody felt confident. We all felt so cared for by her. Yeah, I'm spoiled. I don't know how to top it, frankly," Metcalf said about her first movie experience in about a decade.
In addition to the Best Supporting Actress Oscar nomination, Metcalf picked up Golden Globe and Screen Actors Guild Awards nominations.
Watch:
Laurie Metcalf Teases Jackie's Return in "Roseanne" Reboot
In Lady Bird, Metcalf played Marion McPherson, the mom to Ronan's Christine "Lady Bird" McPherson. The coming of age tale often put the two characters on opposite sides of many arguments. How close were you with your mother as a 17-year-old high school senior? The movie features one particularly emotional moment where Metcalf's character drops Ronan's off at the airport and Metcalf's Marion is left alone in the car, faced with her daughter leaving home—on not so great terms. It's a scene that Metcalf said she could only do twice and it left a lasting impression on audiences, but did it on Metcalf?
"That was a hard day," she said with a laugh. "I don't know. It's hard for me to gauge it, you know? It's hard for me to watch it frankly—myself in something, I mean. But I really wanted to watch—usually I wait a period of few years to watch something I'm in so I can forget everything. I did watch this one because I wanted to see the rest of the movie! I only got to do things basically inside in the house, and so I missed all of the high school stuff. I loved—what an ensemble. I loved seeing all that. I couldn't be happier for Saoirse and Greta."
When viewers approach her about the movie, they tell a familiar tale: parents and kids, particularly mothers and daughters, have a new look on their relationship. It happened for Metcalf too.
"I've had so many mothers and daughters say they saw it together, and they usually say they had a bit of and epiphany. There are a handful of moments that have been resonating with parents and their kids. And they turn to each other and they say just what you said, they see each other through different eyes. They can see the other side," she said. "It's done with such a delicate touch in the writing. They are very small moments but they really resonate."
Metcalf has a way with making her characters resonate, from Jackie Harris on Roseanne to Dr. Jenna James on the critically-acclaimed, yet short-lived, HBO comedy Getting On. In Getting On, Metcalf played the harried doctor of a geriatric extended care facility who often seemed checked out of caring about her ward until a little glimmer of humanity would slip through. How does Metcalf do it?
"I don't know. I just try to be present in the moment and keep it real, keep it as grounded as it could be. But I love playing characters who have a lot of flaws. Jenna James, oh my god do I miss playing that! I loved—I miss Getting On so much," Metcalf said. "Again, it starts with the writing. Both those projects had gorgeous writing and really flawed characters. It's fun to lean into the flaws and not shy away from them because you trust the material. Even Jenna James could be forgiven at certain moments. You saw, oh there's a heart in there! [Laughs.]"
If her Lady Bird Oscar nomination has the power to bring Getting On back, well, "that would be a dream," Metcalf said. "That was a dream job. I don't know that they'd ever bring Getting On back, but I'd be first in line if they did."
For now, Metcalf is heading to Oscars, and she's got a friend there. Allison Janney, who is also known primarily for stage and TV work, picked up a Supporting Actress nomination as well for her work in I, Tonya.
"We seek each other out at all these events because we're really good friends, and we go—I don't even know how far back we go back," Metcalf said. "We were both just in New York doing plays at the same time, seeing each other every Thursday at Sardi's for drinks. We're the new kids on the block this year, so we're sort of taking this ride together."
The Oscars air Sunday, March 4 on ABC with host Jimmy Kimmel.