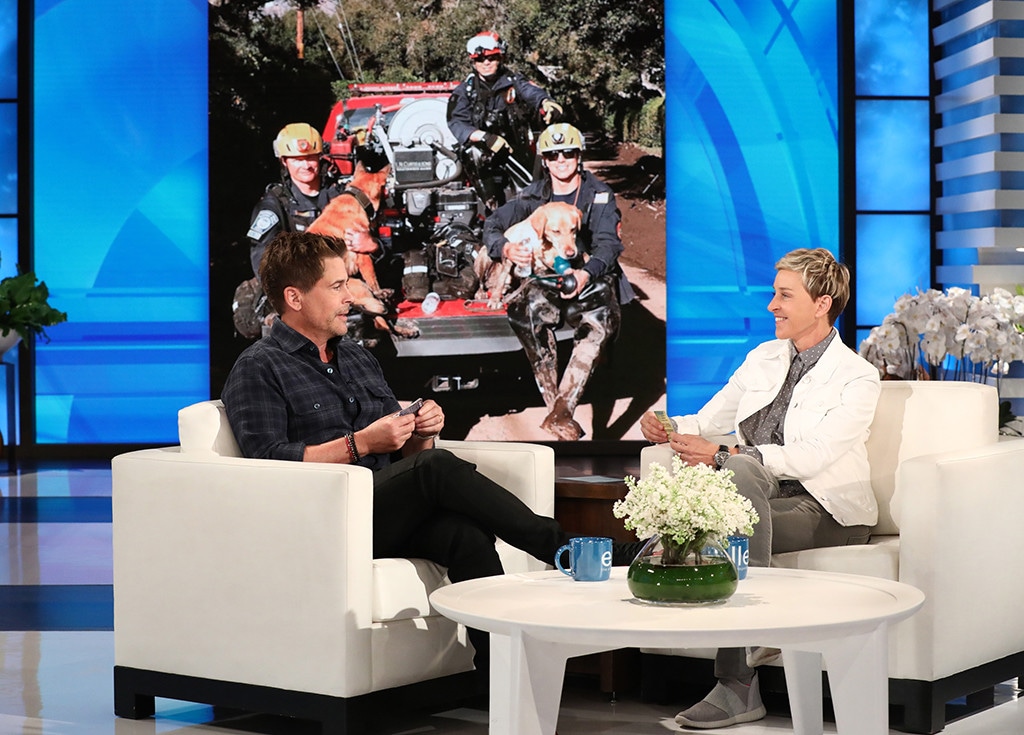 Michael Rozman/Warner Bros.
One day after getting an update on Montecito from county supervisor Das Williams, Ellen DeGeneres invited resident Rob Lowe on her show today to discuss the ongoing relief efforts. "It's been a really difficult week," Lowe confessed. "The sadness...I can't kind of get beyond it." DeGeneres, who had dinner with Lowe a few days ago, understood. "I think people who live there, we kind of are holding onto each other," she said, "'cause we really know what it's like."
To date, 20 people have been found dead and three people are still missing. "They did find one of the missing alive two days ago," Lowe said, offering some hope. The actor added that 179 homes have been destroyed and more than 200 homes are damaged. "They'll have to be scraped. I brought you some film I shot up there, and you'll see. When they talk about the destroyed [homes], they're really destroyed. The homes that are still standing will eventually have to be wiped out," he said. "They don't really talk about those, because it's so expensive."
Lowe explained that his elder son stayed in Montecito the night of the mudslide, as they were only under voluntary evacuation. "We'd all gone through this 200-year fire event that burned all of our hills around our little community," he said. "Then they came to evacuate us. My son, Matthew, decided to stay. I had a meeting out of town. And at 4 o'clock in the morning, I got a FaceTime from Matthew panicking. I think I sent it to you guys. You'll see the FaceTime in a minute, but fires [were] everywhere because gas lines were rupturing. It was like Armageddon."
"People who saw the fires, they woke up, went out to see what was going on, and then were washed away," he said, describing the confusion. "It was, truly, a perfect storm of bad events." He then shared footage of himself on the ground, doing his part to help rebuild the community.
"There are good stories," DeGeneres said. "There are stories of hope that we have to focus on." As an example, she mentioned a couple who found their cat after tracking its footprints in the mud. "The first responders, when I was up there, we obviously looked for people first," Lowe said. "There are so many pets that nobody talks about. One of the big, huge, tough firemen had tears in his eyes talking about rescuing an iguana. I was like, 'Yeah! Iguanas are people, too!'"