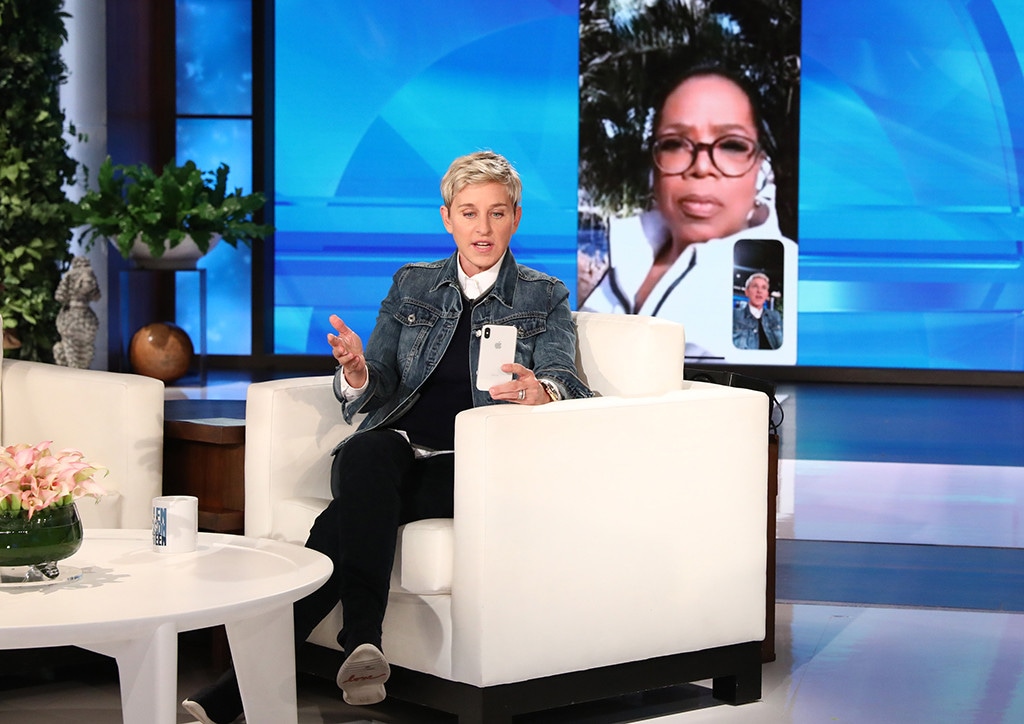 Michael Rozman/Warner Bros.
Ellen DeGeneres FaceTimed with her neighbor Oprah Winfrey on Thursday's episode of The Ellen DeGeneres Show and discussed how the deadly mudslides impacted them and their community.
During the call, Winfrey recalled being woken up by her dogs the morning after the Golden Globes and seeing a sky that appeared to be "on fire." 
"I didn't know at the time that there were some gas fires, something exploded. So that at least explained what was going on," Winfrey, who had just received the Cecil B. DeMille Award the night before, said. "And at the same time, I didn't know that the mudslides were occurring."
In fact, it wasn't until Winfrey went outside later on that she realized her property had been damaged.
"I walked out back, you know where we share a fenceline, and the neighbors out back, their house are gone, just gone," she said. "It is as devastating as it could be."
Winfrey was able to further update DeGeneres with a little help from a group of firefighters who were searching a debris field for victims. There were also helicopters overhead to assist with a rescue; although, the firefighters hadn't rescued anyone in the designated area at the time of the call.
Because Winfrey's home is located on a hill, she wasn't forced to evacuate. However, she was still impacted by the mudslides.
"Yesterday, the [fire] captain came by and told me I wouldn't have running water and I wouldn't have the conveniences—we were told the gas was going to be turned off last night—but I feel safe. I feel really safe," she said. "I am blessed, and I am going to do whatever I can for the rest of the community."
She then gave the firefighters a shout-out for their hard work.
"We all just love the firefighters. Every time I see them, I go, 'You guys were so great during the Thomas Fire' and still at it."
Winfrey has also documented how the mudslides have affected her home on social media.
In addition to FaceTiming with Winfrey, DeGeneres opened up about how the natural disaster has impacted her personally.
"So many times over the past 15 years, people have come up to me and say to me that when they're going through a tough time this show gets them through it," she said. "Today, I need you because there's a lot going on in my life right now."
DeGeneres revealed she and her wife Portia de Rossi returned to their house on Dec. 27 after being evacuated due to the Thomas Fire. However, they were then forced to evacuate their home again on Sunday due to the mudslides.
The talk show host reported that 15 people have been confirmed dead due to the natural disaster and that many are missing. She then praised the firefighters and her "tight-knit" community. 
"I work in L.A., but I consider Montecito my home," she said. "I live there, Oprah lives there. It's not just a wealth community. It's filled with a lot of different types of people from all backgrounds."
"There are people who are missing family members. They're finding people and bodies," she later added, at times pausing to take a breath. "You hear the word mudslides and you have no idea the impact that it has. But after the largest fire in California history, it's catastrophic, it's beyond recognizable."
Watch the videos to see the full discussions.
To see the full episode, watch The Ellen DeGeneres Show today at 3:00 p.m. EST.