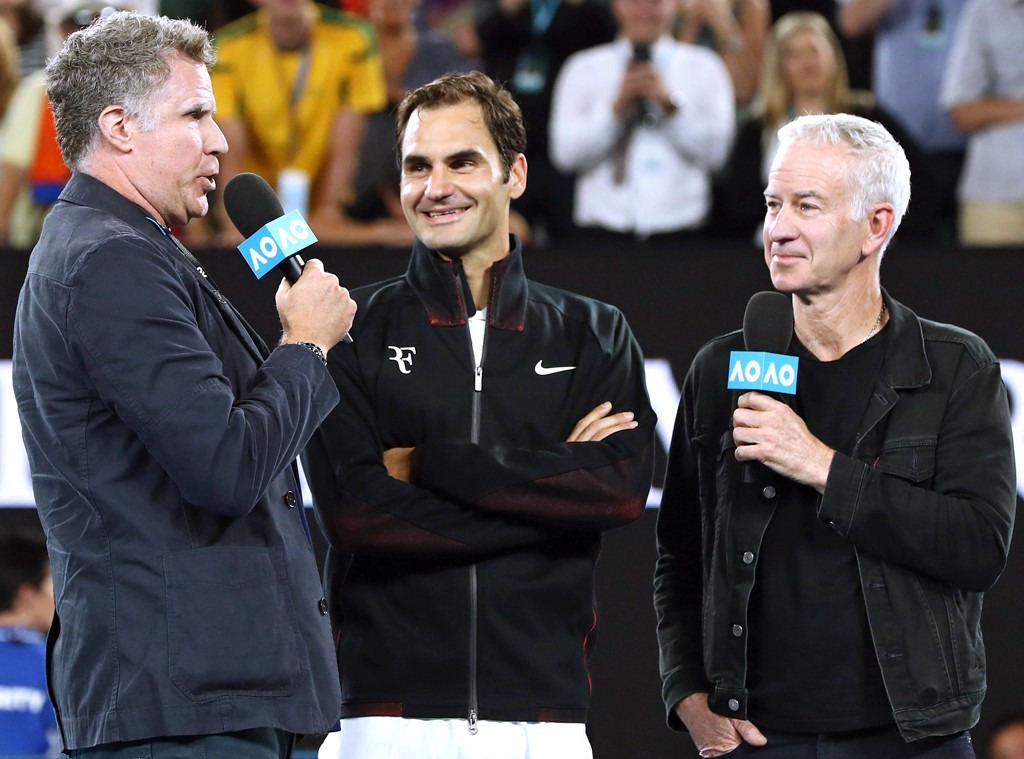 Ryan Pierse/Getty Images
Roger Federer has had his fair share of harrowing experiences on the tennis court, but last night's awkward and hilarious court-side chat with Will Ferrell at the Australian Open was definitely a first. 
On Tuesday night, tennis legend John McEnroe was speaking to Federer in front of the masses after he'd had just won the Open's first round against Aljaz Bedene and in a surprise move called up the comedy king to the court.
Quickly, the showman channeled his famous Anchorman character Ron Burgundy and said to Federer in front of the masses, "In the immortal words of Ron Burgundy, it's great to be here with two tennis legends: Roger Federer and John Macintosh," purposefully butchering McEnroe's last name.  
Then, Ferrell got right down to business, doing a post-match mock interview. 
"Tonight you seemed like a gazelle out there on the court," he commented. "Would you describe your game as a silky gazelle?"
Chuckling, Federer responded, "Maybe, maybe not. Don't they get eaten at the end?"
Ferrell swiftly answered, "Not if they're fast enough."
The 40-year-old Elf actor then went on to comment on 36-year-old Federer's apparent agelessness, asking if the tennis champ is either a witch or a vampire. 
McEnroe chimed in, "which one's better?" 
"Probably a vampire," Ferrell said. 
Staying in character until the very end, Ferrell served up a few more unconventional questions in true Ron Burgundy fashion. He wrapped up the interview with one final thought. With a cheeky grin on his face, Ferrell told the cheering crowd, "Stay classy, Melbourne."
It's been quite a few years since Ferrell reprised his role as Ron Burgundy, but this interview crashing could certainly leave viewers wanting more.
In 2014, Ferrell brought the character back for Stand Up To Cancer. The videos followed the 2013 release of Anchorman 2: The Legend Continues.
Most recently, Ferrell starred in Daddy's Home 2, with co-stars Mark Wahlberg, Mel Gibson, and John Lithgow.