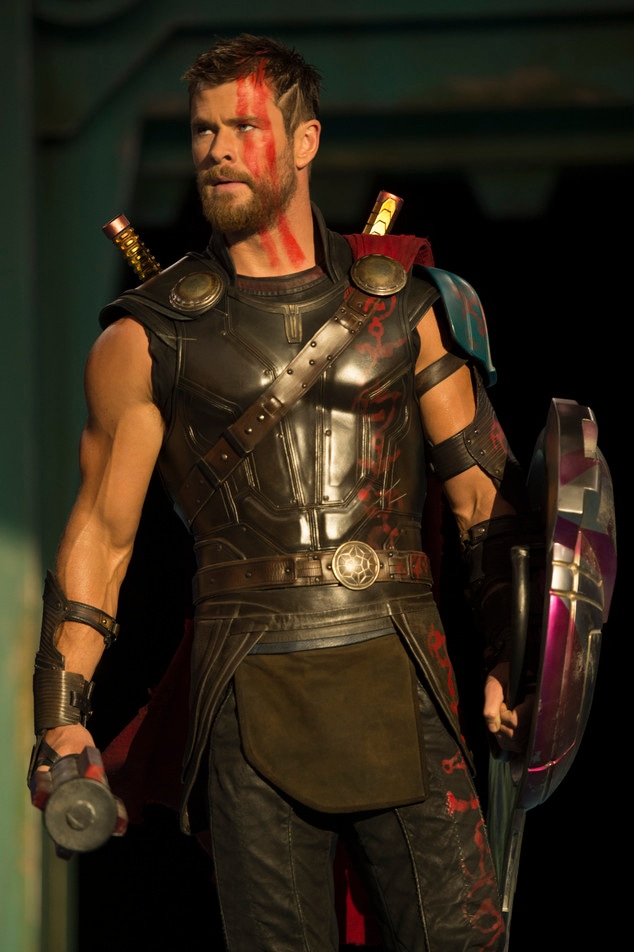 Jasin Boland/Marvel Studios
Chris Hemsworth's reign as Thor could be coming to an end in 2019.
"Two days I ago, I was in Atlanta finishing Avengers in my Thor garb," the Australian star told USA Today earlier this week. "It's really been two years of non-stop. I'm exhausted, but good."
Hemsworth and his co-stars just wrapped production on Avengers 4, set for release on May 3, 2019; the Marvel Studios blockbuster is a follow-up to Avengers: infinity War, premiering May 4. Hemsworth made his debut as the prince of Asgard in 2011's Thor, reprising his role as the hammer-wielding hero in 2012's The Avengers, 2013's Thor: The Dark World, 2015's Avengers: Age of Ultron and 2017's Thor: Ragnarok (plus a post-credits scene in 2016's Doctor Strange). "Contractually, right now—yeah, this is it," he told the newspaper. "I'm done. I won't be playing the character again." Hemsworth called the idea of hanging up his cape "a scary thought," explaining, "This really seemed like this never-ending thing. And now it's potentially finishing."
But not all hope is lost. Hemsworth celebrated News Year's Eve with Thor: Ragnarok director Taika Waititi and tossed around ideas for a fourth Thor film. "We gave cheers...a few times," says Hemsworth. "To Thor 3, but it also was like, 'What could we do with 4? We could do this and this.' We were throwing ideas around." Thanks to Waititi, Hemsworth said they "re-invented" his role with Ragnarok. "There is a bigger platform now to continue if we want to."
Hemsworth later discussed the possibilities with Marvel president Kevin Feige. "He said, 'Look, we just have to concentrate on [Avengers] now.' So who knows? There are 76 cast members in these two Avengers films. They will be the biggest films of all time, far bigger than my character," he said. "It's a conversation for further down the road, if it was going to happen."
Watch Daily Pop weekdays at 12:30 p.m., only on E!