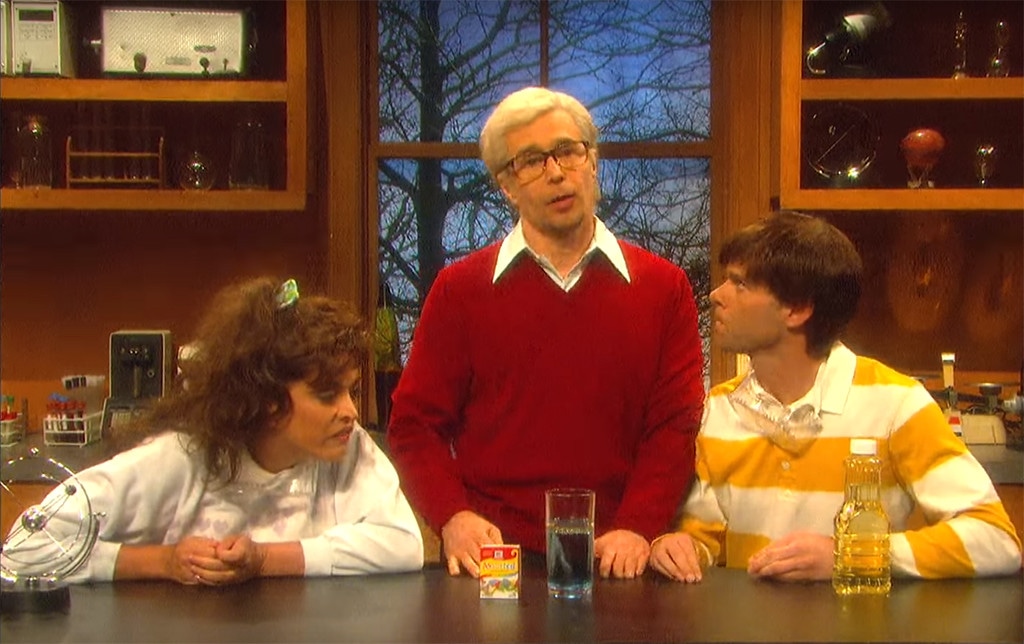 NBC
Sam Rockwell made quite an impression in his SNL hosting debut.
The Confessions of a Dangerous Mind star, who last weekend won a 2018 Golden Globe for his performance in the film Three Billboards Outside Ebbing, Missouri, dropped an F-bomb while playing a science teacher in a sketch parodying an PBS Kids show.
"I just poured the oil into the water. The oil is..." he asked his students, played by Cecily Strong and Mike Day.
"False," Day's character answers.
"This isn't a true or false [question], Josh," Rockwell's character says. "You can't be this f--king stupid. I'm Sorry. Kids aren't stupid."
During the broadcast, Rockwell also starred in a prerecorded music video that pays tribute to fellow character actor Stanley Tucci.
Sample lyrics include, "Thirty-two years in the biz /  I'm a big fan of his / I got mad respect for his range / He should have been Doctor Strange / The Devil Wears Prada was sick / If you don't like Stan, you're a dick / He adds value to your flick / If you don't like Stan, you a bitch."
The episode's Cold Open parodied the MSNBC show Morning Joe and featured cameos from former cast member Fred Armisen as author Michael Wolff, who recently published a book that criticizes President Donald Trump's first year as U.S. president, and Bill Murray as Trump's former chief strategist Steve Bannon, who had previously been depicted on the sketch series as a masked Grim Reaper and was played by Day.
"Look, no one gets the Bannon fired," Murray said. "No one."
"Except me," Armisen said. "I did."