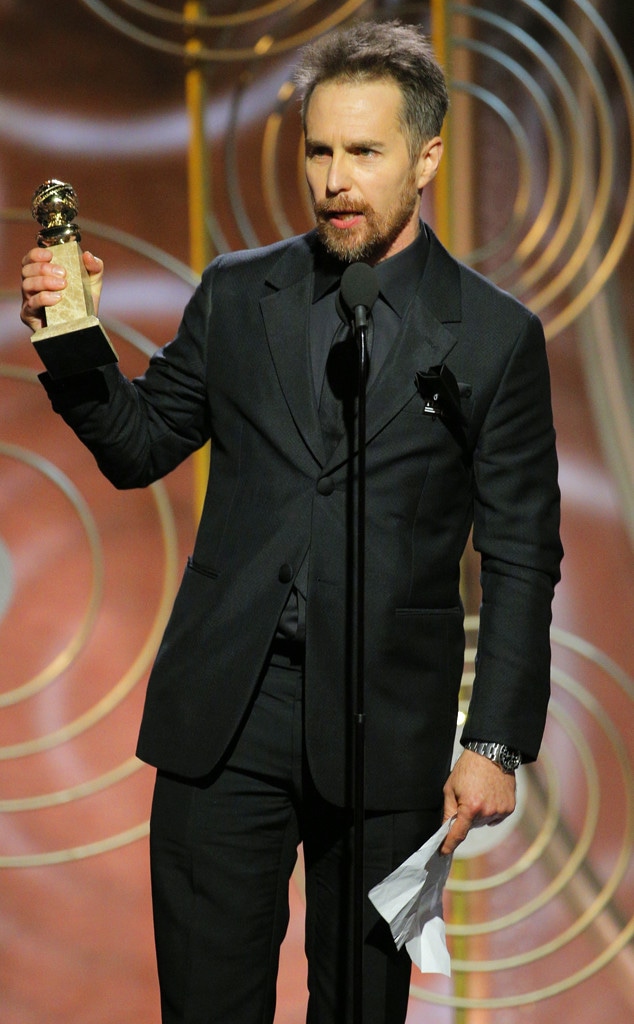 Paul Drinkwater/NBC
Sam Rockwell is now a Golden Globe winner.
He just took home Best Supporting Actor in a Motion Picture for his portrayal as Jason Dixon in Three Billboards Outside of Ebbing Missouri.
"I've been in a lot of indies and it's nice to be in a movie that people see. You know? Martin Mcdonagh. I'm shaking. My hands are shaking. I'm forever grateful to you for this amazing part. Where are you, Martin? Every actor knows to say great words is a blessing and these are such beautiful words. You're such an actor-friendly director. Thanks for not being a dick," Rockwell said.
Rockwell also thanked his co-star, Frances McDormand, "Frances McDormand. I've said it before, you're a bad ass, you're a force of nature. And it was -- it was really fun to be your sparring partner and thanks for making me a better actor," He added.
Watch:
Sam Rockwell Talks Time's Up Initiative at 2018 Globes
Just like McDormand, Rockwell used his platform to speak on the talk of the night, the Time's Up Initiative. In an interview with E!'s Giuliana Rancic, Rockwell said it's time to listen, "I think that it's really powerful that women feel empowered to speak and I think it's time for the rest of us to listen."
Rockwell was a big winner tonight, but he was up against some tough competition including The Florida Project's William Dafoe, Call Me By Your Name's Armie Hammer, The Shape of Water's Richard Jenkins and All the Money in the World's Christopher Plummer whose last minute performance saved the movie and catapulted it to countless nominations this award season.
Three Billboards Outside of Ebbing Missouri was a big winner, with Frances McDormand taking home the Golden Globe for Best Performance By an Actress in a Drama Motion Picture, Martin McDonagh wining for Best Screenplay of a Motion Picture and the film itself taking home the award for Best Drama Motion Picture.
This was Rockwell's first Golden Globe win and first nomination.