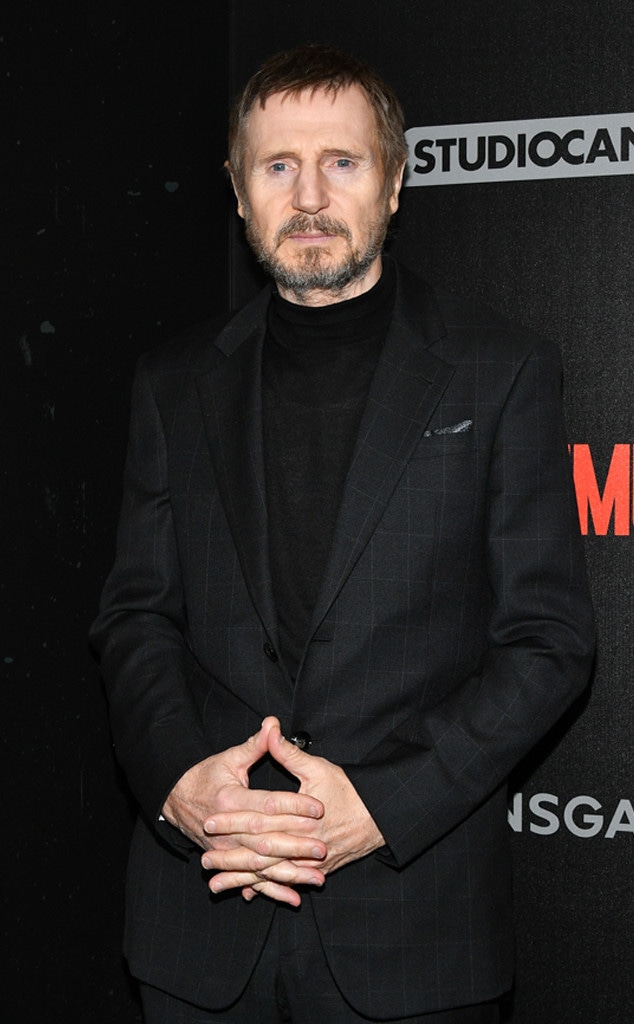 Jamie McCarthy/Getty Images
Liam Neeson says the growing number of sexual misconduct allegations launched against famous people has spurred a "witch hunt."
The Oscar-nominated actor, who has not been accused of inappropriate behavior towards anyone, made his comments on The Late Late Show on Irish channel RTÉ One in an interview posted online on Friday. For the past few months, sexual misconduct allegations have been launched against a growing number of powerful men in and outside of Hollywood, mostly inspired by the dozens of accusations made against producer Harvey Weinstein. In his interview, Neeson commented on accusations made against Dustin Hoffman and Minnesota Public Radio host Garrison Keillor.
"There is a bit of a witch hunt happening," Neeson said. "There's some people, famous people, being suddenly accused of touching some girl's knee or something and suddenly they're being dropped from their program or something."
"There are Harvey Weinstein stuff, which is...Kevin [Spacey] too, the Dustin Hoffman thing, I, I...I'm on the fence with that," he said. "Because when you're doing a play and you're with your family—other actors, technicians, you do silly things, you do silly things, and it becomes kind of superstitious—if you don't do it every night, you think it's gonna jinx the show. I think Dustin Hoffman was...I'm not saying I've done similar things like with what he did, you know, he apparently touched another girl's breasts and stuff, but it's childhood stuff."
In November, a woman said Hoffman had sexually harassed her when she was a 17-year-old intern on the Death of a Salesman TV movie. The actor responded at the time, "I have the utmost respect for women and feel terrible that anything I might have done could have put her in an uncomfortable situation. I am sorry. It is not reflective of who I am." Several other women then launched their own accusations of sexual misconduct against the actor. Variety quoted Hoffman's attorney as saying the allegations were "defamatory falsehoods."
In late October, Star Trek: Discovery actor Anthony Rapp said Spacey made an unwanted sexual advance toward him when he was 14. The star apologized, said he did not remember the encounter, and came out publicly as gay. Netflix then severed ties with the actor, who starred on the streaming service's show House of Cards. Since then, more sexual misconduct allegations have been made against Spacey.
In November, Keillor, who is also a famous author, who was fired from Minnesota Public Radio after he was accused of inappropriate behavior with a co-worker.
He told the Minnesota Star Tribune that he had put his hand "on a woman's bare back," adding, "I meant to pat her back after she told me about her unhappiness and her shirt was open and my hand went up it about six inches. She recoiled. I apologized. I sent her an email of apology later and she replied that she had forgiven me and not to think about it." He later said on Facebook, "I think I have to leave the country in order to walk around in public and not feel accusing glances."
Neeson talked about him in his interview, saying, "Garrison Keillor, extraordinary writer, radio star...he was listening to a sad story from a female friend of his and at the end of this, he put his hand to her back...and she had a blouse on and it was her bare back—I don't know what the blouse was like. And he immediately took his hand away and apologized. And she said, 'Don't worry about it, forget about it.' Anyway, they went their separate ways. He emailed her because he was concerned...months later, he gets a call from a lawyer, or his radio station does in Minnesota Public Radio, saying he inappropriately touched this lady and he was dropped like that." 
Growing discourse about sexual harassment, assault and consent have given rise to the #MeToo movement and the "Time's Up" campaign to help victims of misconduct and spurred stars to wear black in solidarity at the 2018 Golden Globes.
"There is a movement happening and it's healthy and it's across every industry," Neeson said. "The focus seems to be on Hollywood, isn't it. But it's across every industry. I'm a UNICEF Goodwill Ambassador, a very proud one, and I get sent facts and figures and stuff and if you read the stuff I've read about how female laborers are being treated in farms, ranches and all the rest of it, it's, it's chilling."