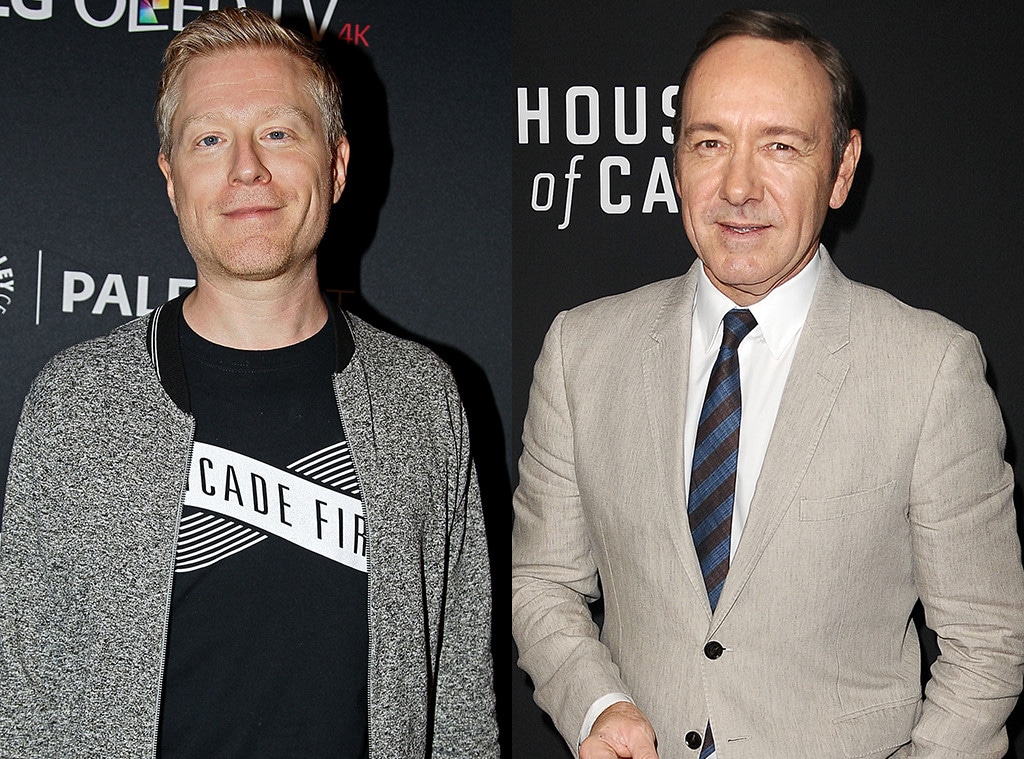 WireImage/FilmMagic
Kevin Spacey has come out as a gay man and issued an apology to Anthony Rapp after the Star Trek: Discovery star gave an interview to Buzzfeed News on Sunday, in which the Broadway vet publicly accused the House of Cards star of making a pass at him when he was just 14 years old. 
Soon after the story hit, the two-time Oscar winner apologized in a lengthy statement on social media.
"I have a lot of respect and admiration for Anthony Rapp as an actor," he wrote. "I am beyond horrified to hear his story. I honestly do not remember the encounter as it would have been over 30 years ago. But if I did behave then as he describes I owe him the sincerest apology for what would have been deeply inappropriate drunken behavior and I am sorry for the feelings he described having carried with him all these years."
Spacey also wrote, "This story has encouraged me to address other things in my life...I have loved and had romantic encounters with men throughout my life, and I choose now to live as a gay man."
A few minutes after Spacey's shared his post, Rapp tweeted, "Everything I wanted to say about my experience is in that article, and I have no further comment about it at this time."
While many fans have reacted in support of Spacey's coming out about his long-rumored sexuality, there has also been a big backlash online over his decision to come out in an apology for his past behavior. Commenters have called out the 58-year-old actor for "deflecting" from what they feel is the true issue at hand—being sexually inappropriate with an underage boy.
On Sunday, Rapp, who is now 46, alleged that the inappropriate interaction occurred when Spacey befriended the young star while they were both performing on Broadway. The School Ties actor says he went to party at the then 26-year-old actor's apartment.
"He was trying to seduce me," Rapp said to the publication. "I don't know if I would have used that language. But I was aware that he was trying to get with me sexually."
Rapp, who was starring in Precious Sons opposite Ed Harris at the time of the alleged event, claims that he went into the actor's bedroom to watch TV because he got bored. He says that he did not realize everyone had left and when Spacey came back into the bedroom. He claims that the actor picked him up, climbed on top of him and made a sexual advance. 
In the interview, Rapp said, "My memory was that I thought, 'Oh, everybody's gone. Well, yeah, I should probably go home.'"
He recalled that "[Spacey] sort of stood in the doorway, kind of swaying. My impression when he came in the room was that he was drunk."
Rapp also claims that Spacey "picked me up like a groom picks up the bride over the threshold. But I don't, like, squirm away initially, because I'm like, 'What's going on?' And then he lays down on top of me."
Rapp said he felt compelled to come forward after many women have come forward with allegations of rape, sexual assault and harassment against the former CEO of The Wienstein Company Harvey Weinstein, who has denied any claims of non-consensual sex. 
"And not to simply air a grievance," Rapp said, "but to try to shine another light on the decades of behavior that have been allowed to continue because many people, including myself, being silent. … I'm feeling really awake to the moment that we're living in, and I'm hopeful that this can make a difference."
The former Rent star also says that to this day, seeing Spacey upsets him.
"My stomach churns," Rapp said. "I still to this day can't wrap my head around so many aspects of it. It's just deeply confusing to me."
What do you think of Spacey's statement? Sound off in the comments!