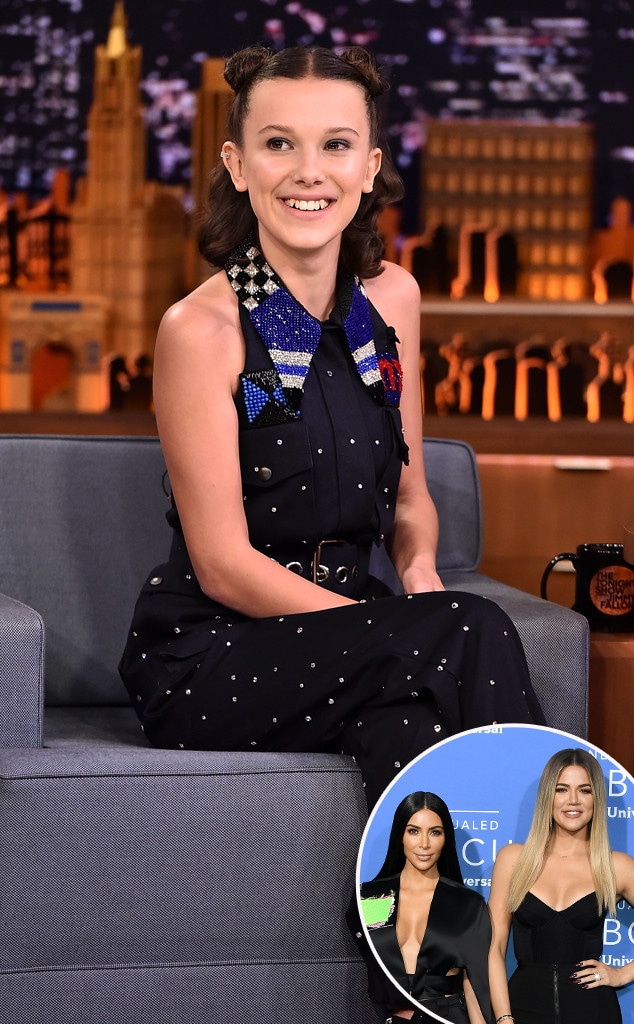 Getty Images
Millie Bobby Brown and the Kardashians are officially BFFs!
The Stranger Things actress might've been watching an episode of Keeping Up With the Kardashians on Thursday when she tweeted to her followers, "honestly, all i want is for Kourtney K to shake my salad." Later on in the day, Kourtney Kardashian saw Millie's tweet and replied, "Let's shake it," along with a salad bowl emoji.
Kim Kardashian also saw Millie's tweet Thursday and told the actress, "I can arrange this!" And Millie is holding her to it because she replied, "KIM! Grab your calendar it's happenin. My dream has come true."
These adorable Twitter exchanges come two months after Millie gushed about her love for KUWTK on The Tonight Show. When host Jimmy Fallon asked about a show she's obsessed with, Millie replied, "Keeping Up With the Kardashians all the way. I love them."
She went on to say, "I'm obsessed with them. I follow them on social media. I think that they are just like really great. They're so entertaining. They have their own like language. Like instead of saying I swear they're like 'Bible!' And then they're like, 'Okurrr!' It means like OK. It's like, 'Okurrr!'"
After seeing Millie's interview, the Kardashians took to Twitter to let Millie know the love was mutual! "OMG @milliebbrown we love you bible!!!!" Kim tweeted.
Watch the video above to see Millie's interview about her love for KUWTK!