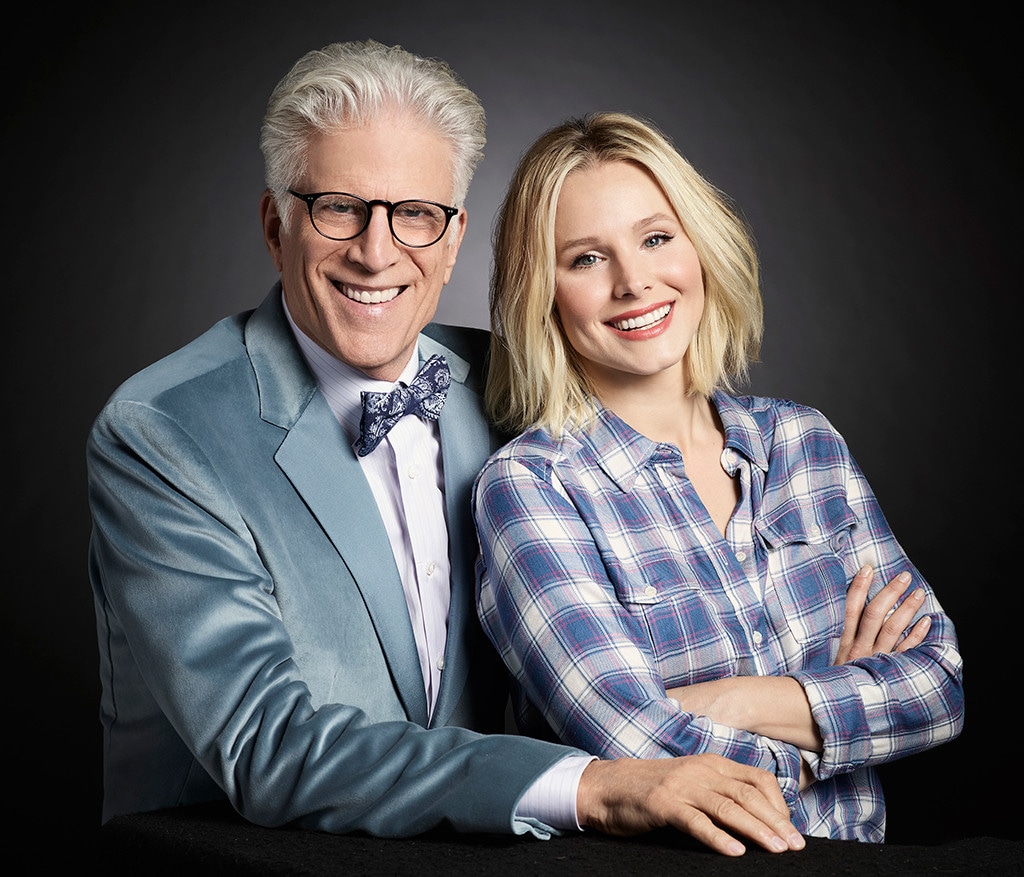 NBC
The Good Place, one of the best shows on television week in and week out, features an ensemble cast doing some of the best work of their careers—and that cast includes Kristen Bell and Ted Danson.
When E! News spoke with Bell for a larger story on her career, from her start with Veronica Mars to The Good Place, the topic of Danson, whom Bell refers to as "my Teddy bear," naturally came up. After all, Danson, a TV legend thanks to Cheers, Damages, Curb Your Enthusiasm, Bored to Death, Fargo, CSI, Becker…need we go on? Danson is a TV veteran who inspires, Bell said.
"What have I learned from my Teddy bear? I learned you never really have to grow up. That you can stay as excited about this career when you're 70 years old…I've always felt that since everyone wants to be in this business—it's incredibly competitive—and I'm so lucky to be here, I have a responsibility to be happy," Bell said, noting that of course there are the times when actors are exhausted. "But for the most part, you should be excited to have this job every day, otherwise you don't really deserve it, in my opinion, in my humble, tough love opinion that I apply to myself. And Ted is such a shining example of that, he loves what he does, and I mean that not just from a craft perspective, whereas he will put the work in to figuring out the funniest way to have a mental breakdown on camera, but I also mean that in his demeanor on set.
"He's incredibly excited to be at work all day. He is a big kid, and that's a really important life lesson, I think, more than just because he's a comedy god, his real-life personality is so joyful. It reminds me to be happy about what I'm doing because we're so incredibly lucky," she continued.
On The Good Place, Bell plays Eleanor, a dead woman who—SPOILER ALERT—originally believed she was in heaven, known as the Good Place, as a mistake. She would later discover Danson's Michael, an otherworldly being in the afterlife, was really her torturer—she and her counterparts played by Jameela Jamil, William Jackson Harper and Manny Jacinto, were really in hell. Now Eleanor, who was being taught how to be a good person by Harper's character Chidi, is helping Michael learn what it's like to be human. The bond extends off screen as well.
"The other day, less than a week ago, I get a voicemail—Who leaves voicemails anymore? No one— just Ted saying, 'Hey, baby doll. Just thinking about you and the girls and Dax, hoping you guys are well. That's all.' That was it! He just has this sort of old world charm that is infectious," Bell said in an interview in December. "He's not needy at all, he's just happy. There's something very, very special about that. He's a little bit magic. And then I guess from an actor's perspective, he's incredibly easy to talk to as a person, which makes him easy to talk to as an actor. He looks in your eyes...he's incredibly present, which is kind of acting 101, but for some reason not everyone does it.
"You have in your head what you think your character should be doing and sometimes you come and actually pretend. Ted doesn't really pretend, he just is. He just bes…if that word makes any sense," she said with a laugh.
The Good Place season two airs Thursdays, 8:30 p.m. on NBC. The network has already ordered a third season.
(E! and NBC are both part of the NBCUniversal family.)